Omaha Westside's Chase Thompson grew up wanting to be a college basketball player. And as he grew, he worked on his game.
He'd shoot a lot. Dribble a lot. The problem was, he also weighed a lot.
It's a touchy subject, high school kids and outward appearances. Who's to say if someone is too, well, rotund? Nobody, in the normal world.
In the world of sports, though, at some point, the issue of size is unavoidable. Too big. Too short. Too thin. It's why everyone can't be a college basketball player.
For Thompson, the aha moment came sometime during the weekend of April 20-22, 2018, in Indianapolis at an AAU tournament.
Playing with a group of Omaha's top players against some of the nation's top prospects, Thompson had enough.
All the shooting and ball-handling drills in the world weren't going to save him. At 6-foot-7, the junior at Omaha Westside weighed 270 pounds.
Opponents were running past him with ease. Skying for a rebound? Against these guys? Forget it.
"I realized it needed to change," Thompson said. "I wasn't keeping up as well as I needed to be.
"Those guys are men. They are athletes. No matter how skilled you are, you have to have some type of athleticism to keep up with them. Playing against those high-major guys helped me realize I needed to change."
He worked hard on his game to that point, but the hardest work of all had to begin. Life-changing work.
"The first thing that needed to change was my diet," he said. Off the dinner plate went bread, pasta, cereal. "Anything with a lot of carbs" was out.
"Everything was home cooked unless we went to a spot and I got grilled chicken or some salad. Of course, no sugary drinks, and that is still out of my life now."
He didn't stop eating, he just changed what he ate. Thompson eats six to seven smaller meals a day, mainly fruits, vegetables, oats and meat.
Changing the way he ate took discipline, and it helped to watch game tape of himself from his junior year. What he saw didn't look to him like a guy who could play Division I or Division II basketball. That image kept him on his diet.
"When you are younger, you are blind," he said. "I needed to get smaller and quick. ... I needed to realize it myself."
With his diet squared away, Thompson executed the second part of creating Chase 2.0: the workout phase, something he now calls "pretty ridiculous."
A typical summer day went something like this: Get up early and hit First Pick Performance for supervised agility and plyometric workouts. Next stop, join Westside's football workout at 8 a.m. then jump into the Warriors' basketball workout. After that, it was back to First Pick for weight training.
And remember, no simple carbohydrates or sugary drinks. He stayed the course.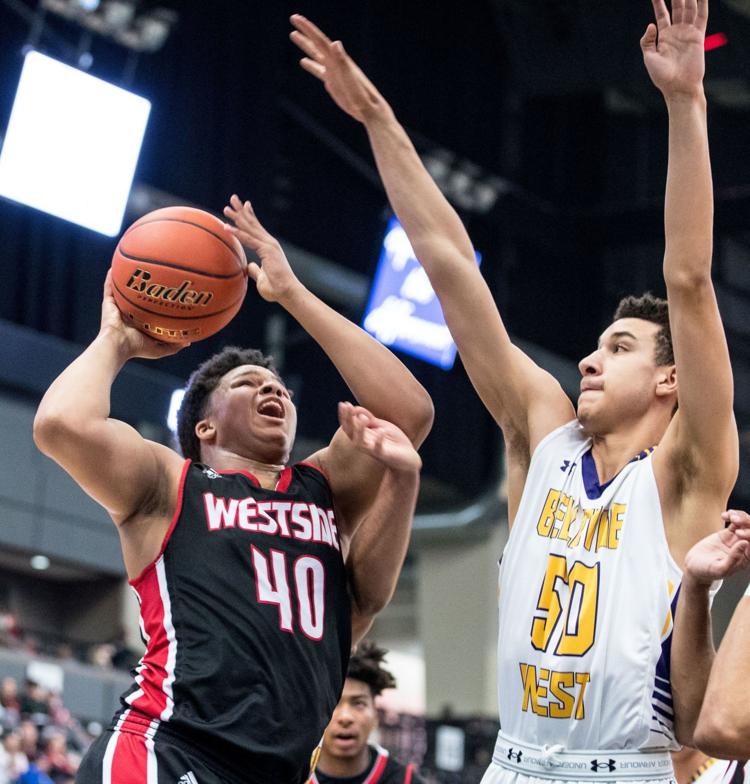 Then the payoff. Ten months later, the senior is a muscled 230 pounds and averaging 21.4 points and 7.4 rebounds through 16 games for sixth-ranked Westside. People who haven't seen him since last season have to look twice.
His father, Charles, well-known in local basketball circles after playing college ball at Colorado and UNO, watched his son's transformation.
"He understood what was important to him," the elder Thompson said. "He set some goals and created a plan for himself."
Said Chase: "My dad was the first one to notice. That is what has been the greatest. Hearing him say this was you and you did this."
And don't forget mom, Alysia.
"My mom was the one helping do it," Thompson said. "She did the cooking for me every single night. Even when people wanted fast food, she said, 'No, I'll cook for you.'"
Westside coach Jim Simons said Thompson's work ethic is to be commended, and the transformation speaks for itself.
"He's able to play harder for long stretches of time and he's playing smarter," Simons said. "He took ownership of where he was at and went to work to better himself."
College coaches have taken note. Thompson has received offers from Division II Wayne State and NAIA Peru State since the start of his senior year, and interest is yet to peak. Division I UNO is in touch, as are Western Nebraska Community College, UNK and the University of Sioux Falls.
There's no going back now. Opportunity awaits. But that's not the only thing Thompson says will keep him on his regimen.
"What keeps me going is that I feel great," he said. "I looked at my old pictures and said, 'Who is that guy?' "
And, it's a lot easier to dunk at 230 pounds.
"Before I was stretch dunking," he said. "Now I can throw it down."
Sign up for daily headlines from NEPrepZone
Get a daily roundup of game recaps, player features and more in your inbox.
2018 NebHSRecruiting Top 50 Basketball Showcase testing results
The state's best boys basketball players came together for the NebHSRecruiting Top 50 showcase on Aug. 1. Here are the results from the testing portion of the camp, including height/weight, wingspan, standing reach, no-step vertical jump and handsize. All players are listed alphabetically by last name.