LINCOLN — After what Wahoo did to Pierce, stopping it cold for a 38-0 victory on a wintry day in Memorial Stadium, the Warriors rate as one of the best defenses ever in Class C-1.
They can't be No. 1 — Battle Creek's 1986 champions may hold that distinction forever with 12 points allowed in 12 games. But their 4.2-per-game average — 54 points with six shutouts — is the best by a champion and third-best for all teams since then.
Their final performance, for the school's first football title, was the best. Pierce came in averaging 450 yards a game rushing and 513 overall. It mustered 94 total yards on Wahoo, 43 in the first half, and only three first downs.
Pierce's running-game triplets — returning all-staters Carson Oestreich, Brett Tinker and Dalton Freeman — ran for more than 9,400 yards in their careers. Against Wahoo, they got 27, 33 and 17, respectively.
"They have a powerhouse offense," senior Kole Bordovsky said. "We switched some stuff up, but we kept it how we were all year and it showed today. We kept them scoreless and we dominated the whole game on defense."
Unable to move and going minus-4 in turnovers, the Bluejays could not answer or stop Trevin Luben. The future Husker walk-on scored every Wahoo touchdown while carrying the load with 268 yards on 41 carries.
"There's a reason why he's been asked to walk on," Pierce coach Mark Brahmer said. "He does a nice job of turning his hips and getting sideways, and then he also does a good job of just running with power. It's a nice combination of reasons he's run for a couple-thousand yards these last couple years."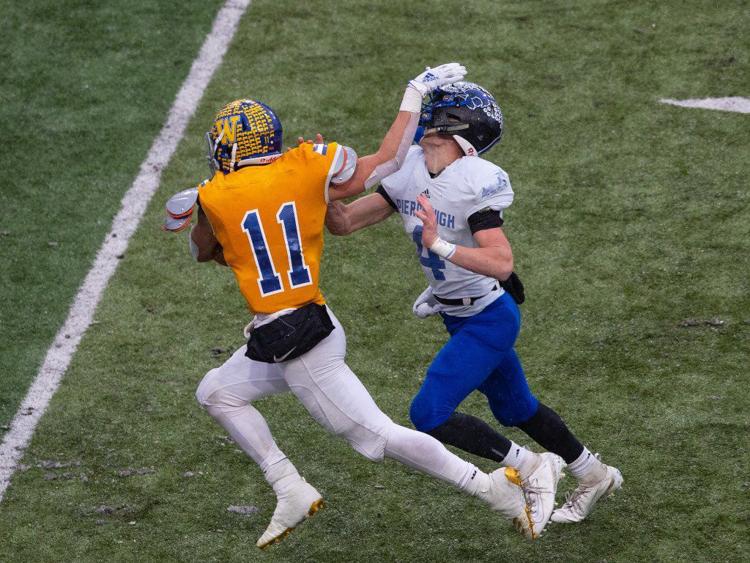 While the snow never accumulated during the game, Luben said he loved playing through the flakes. "It's incredible to finally do it."
Pierce's best scoring opportunity was fleeting. Luben midway through the first quarter fumbled on a punt return, caused by Michael Kruntorad and recovered by Carter Rohrich at the Wahoo 18. On second down, Bordovsky returned an interception 78 yards to the Pierce 13, and Luben scored on the next play for a 7-0 lead.
"We were dialed in," Wahoo coach Chad Fox said. "We definitely knew they were going to run the ball, they were going to test us in every gap that they could, and our guys answered the challenge. It was a great defensive performance."
A somber note was an injury to Pierce senior lineman Seth Valverde that required a stretcher and precautionary trip to the hospital. His head hit the turf on a third-quarter play. Brahmer said Valverde was able to move arms and legs, and the player was seen giving a thumbs up while leaving the field.
Wahoo's seniors had been to the semifinals the past two years only to lose to the eventual champions, Norfolk Catholic in 2017 and Aurora in 2018.
"It's really sweet," Bordovsky said. "It took a long three years to get there after losing two times in a row. It means more because of that."
Wahoo (13-0)…10/14/0/14—38
W: Trevin Luben 13 run (Jesus Zaragoza kick)
W: Luben 2 run (Zaragoza kick)
W: Luben 4 run (Zaragoza kick)
W: Luben 3 run (Zaragoza kick)
W: Luben 11 run (Zaragoza kick)
Rushing: P, Brett Tinker 8-33, Carson Oestreich 14-27, Dalton Freeman 7-17, Jeremiah Kruntorad 1-8. W, Luben 41-268, Colin Ludvik 10-40, Thomas Waido 8-30, Peyten Walling 2-6, team 1-minus 2.
Passing: P, Freeman 3-8-3 9. W, Waido 4-6-0 51.
Receiving: P, Tinker 1-6, Benjamin Brahmer 1-4, Oestreich 1-minus 1. W, Cooper Hancock 2-40, Luke Partridge 1-10, Luben 1-1.
Tackles (unassisted-assisted-total): P, Garret Meier 9-3-12, Tinker 7-3-10, Kage Helsinger 5-4-9, Dylan Kuehler 5-3-8, Colton Fritz 2-5-7, Cruz Gleason 0-6-6, Freeman 4-1-5, Seth Valverde 2-3-5, Oestreich 1-4-5, Carter Rohrich 3-1-4, Jakob Edins 3-0-3, Dylan Svoboda 0-3-3, Colbby Richart 0-3-3, Michael Kruntorad 1-0-1, Ritter Oestreich 0-1-1, Logan Moeller 0-1-1, Chaden Roth 0-1-1. W, Grant Kolterman 6-8-14, Kole Bordovsky 3-7-10, Brandon Swahn 3-4-7, Gunner Vanek 3-0-3, Luben 2-1-3, Hancock 1-2-3, Waido 1-2-3, Callan Phillips 2-0-2, Carson Lavaley 1-1-2, Partridge 1-1-2, Ludvik 1-0-1, Walling 1-0-1, Connor Grandgen 0-1-1, Kalon Cooper 0-1-1.
Fumble recoveries: P, Rohrich. W, Swahn, Waido.
Fumbles forced: P, M. Kruntorad. W, Vanek, Phillips.
Interceptions-yards: P, none. W, Bordovsky 1-78, Luben 1-20, Partridge 1-0.
Photos: 2019 Nebraska State football title games Tuesday