GRAND ISLAND, Neb. — Millard North should hit the road.
So says Sean McAloon, the coach of IMG Academy — before and after his team dunked on the Mustangs 21 times and yet didn't get a blowout in the marquee game of Saturday's Heartland Hoops Classic.
The 74-69 win attracted the second full house — 6,146 paid admissions for the day — in the 13 years of the showcase event.
McAloon is a believer that the Mustangs could do well against national competition, for which this state has a short history.
"I told ESPN the other day I thought that they were extremely well coached. You could tell they really like each other. You could tell that they really move the heck out of the ball. And the way that they mix up their zones makes it tough for you," he said.
"(Hunter) Sallis is a fantastic talent. Actually, they all are. Truthfully, I think the only reason they're not ranked in the country is because they haven't stepped outside of Nebraska. But if everybody was willing to make a trip they'd find out they're really good."
The challenge for Millard North (19-3) as it protects its No. 1 ranking this week against ranked teams Lincoln North Star and Omaha Central is to approach the level of their play against the Ascenders.
With Husker coach Fred Hoiberg in the front row, Sallis had 23 points and sophomore Jasen Green had 16. NU has offered both.
Stanford-bound Max Murrell had 10 of his 12 points in the first quarter. Saint Thomas kept the Mustangs afloat in the second quarter with half of his 12.
IMG played Millard North straight up in man defense, as Bellevue West did in Friday's 70-60 loss to the Mustangs. It was a refreshing weekend for them after seeing so many zones, their only apparent kryptonite.
Millard North at times slowed the Ascenders. But then would come another dunk. And another. Five of their first six baskets of the second half were slammed home.
"You'd like not to give up 21 dunks, but sometimes we're on the other end of that," Millard North coach Tim Cannon said. "We all want to win and everybody's competitive and nobody likes to accept losing, but I feel good and I think the team feels good about what they did."
About the only time it seemed as if IMG (19-6) was on the verge of a blowout was with its first double-digit lead at 64-53 midway through the final quarter. Millard North then matched baskets before scoring the final six points.
Never did Cannon see a deer-in-the-headlights look, though his bench was teetering when Millard North led 23-21 after the first quarter before IMG surged ahead 29-25 and never trailed again.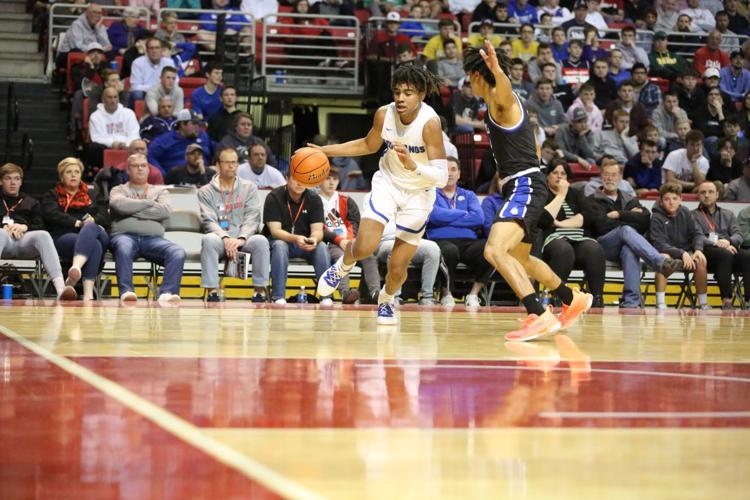 "I didn't wonder about the guys on the floor, but our bench is always into it and they got a little quiet. And then we came back," he said. "The guys we have are real competitors and there's a lot of toughness from the kids we have who are so skinny and frail, especially the alpha."
That would be Sallis, the No. 20 junior on one national recruiting list who made 9 of 18 shots against the IMG "forest." IMG was short its 7-foot-3 Canadian center, Purdue-bound Zach Edey, who stayed home in concussion protocol.
"I feel like IMG came out thinking like this is a team from Nebraska, and we punched them in the mouth," Sallis said. He passed the 1,000-point career threshold during the game.
Duke 7-1 signee Mark Williams had 18 points and Mississippi-bound Matthew Murrell 16 for the Ascenders.
Cannon said Millard North is being considered for national events in 2020-21, when all in the lineup return expect Murrell.
So here's a final testimonial for them from McAloon, who's still hoping that IMG will get the call to defend its Geico national championship:
"We've played some teams that are ranked in the country and they're significantly better. Their game can travel. Wherever they get invited, they deserve it."
Millard North (19-3).....23  10  17  19—69
IMG Academy (19-6)....21  14  19  20—74
MN: Hunter Sallis 23, Jasen Green 16, Max Murrell 12, Saint Thomas 12, Noah Erickson 6.
IMG: Mark Williams 18, Matthew Murrell 16, Jarace Walker 13, Brandon Huntley-Hatfield 9, Eric Dailey Jr. 8, Jaden Springer 6, Lynn Kidd 2, Chikara Tanaka.
Auburn 73, Ogallala 68
Cam Binder wasn't focused on what gum flavor Ogallala's Carter Brown was chewing, but he could have the way he was being hounded.
"He was doing really good, but we did what we needed to do to win the game," Binder said after helping Class C-1 No. 1 Auburn (22-0) win its 29th game in a row.
Brown had 23 points and held Binder to 12, but the Bulldogs had three more double-digit scorers. Josh Lambert, their vastly improved 6-8 center, had a team-high 21 points, CJ Hughes 19 and Ryan Binder 12.
"That's what we've been doing the whole season, and I don't think it's going to stop," Binder said. "CJ, Ryan of course, Josh every night, Daniel (Frary), and Kade Pitzel's rebounding late in the game, all those guys are stepping in when people really focus on me. And when they lose that focus, that's when I can really facilitate and do what I do."
Ogallala (17-4) dropped its second game in a row after losing 88-85 Thursday night at Mitchell. Kadyn Marhenke had 16 points and Adam Kroeger 14 as the Indians whittled a double-digit deficit in the first half down to three, the last time on a Marhenke free throw with 36 seconds left before Auburn went 5 of 6 at the line to seal it.
Auburn (22-0)......24  15  13  21—73
Ogallala (17-4)....12  17  13  26—68
A: Josh Lambert 21, CJ Hughes 19, Cam Binder 12, Ryan Binder 12, Ian Frary 8, Kade Patzel 1.
O: Carter Brown 23, Kadyn Marhenke 16, Adam Kroeger 14, Corbin Murphy 8, Clayton Murphy 5, Quenten Gillen 2.
BRLD 61, Hastings 57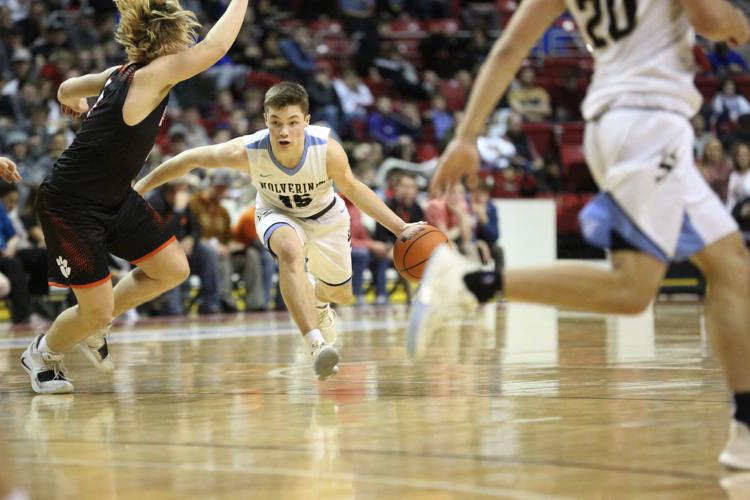 C-2's No. 1 team extended the state's longest active winning streak to 45 games — tied for 14th all time — by holding off Class B No. 2 Hastings (18-3).
Returning all-stater Lucas Vogt made six free throws in the final 44 seconds.
BRLD (22-0) has had only four games decided by 10 points or fewer this season, and this was a rare late-game pressure situation for the Wolverines.
Vogt said the win showed maturity. Coach Cory Meyer said it showed a renewed hunger.
"They kind of went on a run to start the second half and then we knocked down some big shots to get the momentum back," Vogt said. "They kind of nagged at us most of the fourth quarter and then we knocked down some free throws to seal it."
With Hastings training its defense on him, Vogt fed Darwin Snyder often as the latter made six 3s in scoring a game-high 24 points.
"That's always nice when a guy like me can't get it going and then when I drive I can kick it out to him and I have confidence in him knocking that down," Vogt said.
Connor Creech led Hastings with 23 points.
BRLD (22-0).........21   9   11  20—61
Hastings (18-3)...13  10  17  17—57
BRLD: Darwin Snyder 24, Lucas Vogt 12, Dylan Beutler 11, Will Gatzemeyer 7, Jaxon Johnson 6, Brayden Anderson 1.
H: Connor Creech 23, Jake Schroeder 11, Haggan Hilgendorf 10, Mike Boeve 10, Jarrett Synek 3.
Other games:
GRAND ISLAND 62, GRAND ISLAND CENTRAL CATHOLIC 56
The Class A No. 10 Islanders (14-7) pulled away from C-2 No. 3 Central Catholic (19-3) in the first meeting between the city's public and private high schools after trailing until the third quarter. Jayden Byabato had 21 points for Grand Island, Koby Bales 22 for GICC.
Grand Island CC (19-3)...18    9  13  16—56
Grand Island (14-7)..........8  16  14  24—62
GICC: Russ Martinez 7, Koby Bales 22, Tanner Turek 3, Isaac Herbek 6, Dei Jengmer 4, Gil Dengmer 4, Marcus Lowry 7, Brayden Wenzl 3.
GI: Jayden Byabato 22, Them Koang 15, Isaac Traudt 8, Caleb Francl 6, Jay Gustafson 5, Blake Leiting 4, Broc Douglass 2.
SUNRISE CHRISTIAN (KANSAS) 78, BISHIP WALSH (MARYLAND) 37
Kendall Brown, whose 16 college offers include those from Nebraska and Creighton, and Northwestern-bound Ty Berry each had 18 points.
KEARNEY 73, ELKHORN MOUNT MICHAEL 50
Colin Murray set a school and Heartland Hoops Classic record with his eight 3-pointers. The Bearcats (11-10), who lost Friday night at home to Lincoln North Star, led 22-4 after the first quarter against the Class B No. 5 Knights (17-4). Murray had 26 points and Seth Stroh 12.
Kearney (11-10)....................22  15  18  18—73
Elkhorn Mt. Michael (17-4)......4  15  13  18—50
K: Colin Murray 26, Seth Stroh 12, Easton Bruce 9, Jack Johnson 9, Will Vanderbeek 8, Nate Jacobsen 4, Trevor Cumpston 3, Preston Pearson 2.
EMM: Kaleb Brink 9, Greg Gonzalez 8, Airan Lopez 8, Kyle Pelan 8, Brad Bennett 8, Joe Brueggeman 4, Ethan Meduna 3, Joseph Chouinard 2.
Sign up for daily headlines from NEPrepZone
Get a daily roundup of game recaps, player features and more in your inbox.
FALLS CITY SACRED HEART 47, FULLERTON 38
Tyler Witt scored 14 points and Jack Fiegener 13 for the D-2 No. 2 Irish (22-1).
Falls City Sacred Heart (22-1).....10  13  11  13—47
Fullerton (15-5)..........................16    4  10    8—38
SH: Tyler Witt 14, Jake Fiegener 13, Jarrot Simon 10, Jakob Jordan 6, Jake Hoy 4.
F: Isaac Gleason 10, Jordan Maxfield 9, Hunter Haughton 7, Brandon Rasmussen 5, Tresden Gonsior 5, Kyle Knopik 2.
Trey Knudsen had 20 points, Brady Timm 17 and Will Hays 14 as the Class C-2 No. 2 Chieftains improved to 18-3.
Yutan (18-3)..............16  17  22  12—67
Elm Creek (13-8).......10    8  19    9—46
Y: Trey Knudsen 20, Brady Timm 17, Will Hays 14, Colby Tichota 7, Sam Petersen 4, Isaiah Daniell 3, Joel Pleskac 2.
EC: Gage Clabaugh 18, Trey Miner 11, Karsten McCarter 9, Troy Brumels 4, Beau Knapp 3.
Photos: 2020 Heartland Hoops Classic in Grand Island