When it comes to high school baseball, you can always count on Mother Nature to break off a few curveballs.
Such was the case Thursday when American Legion teams could play games for the first time, as per Gov. Pete Ricketts' COVID-19 guidelines. Some games were played, but some fell victim to the first appreciable rain we've had in what seemed like months.
Coaches and players already had missed out on the spring varsity season that was canceled because of the coronavirus. Then the Legion season was delayed until practice could begin June 1, which led up to Thursday.
Playing early in the day helped some teams get in their games before the rains hit. Two of those sites were Orval Smith Field in Ralston and Omaha Burke.
The game between the Junior Bluejays (Omaha Creighton Prep #2) and Ralston Post 373/SOS Heating and Cooling was perhaps the first of the Legion season. Social distancing guidelines were being observed and immediate family members — fans can start attending games Monday — sat in lawn chairs or stood behind the park fence for the 10 a.m. game.
One of those fans was Joel Holm, who was there to watch his son Kaleb. The Wayne State pledge started for Ralston and helped his team post a 10-8 victory.
"I usually stand over there with all of the dads," Joel Holm said. "But we're trying to follow the rules and spread out today as much as we can."
Joel said the loss of the varsity season was tough on his son, who batted .459 as a junior in the spring last year and was 4-1 last summer on the mound.
"He was really excited to get out here today," the dad said. "His whole summer revolves around Legion ball."
That excitement also went for the Prep squad. The mother of one player said her son woke up at 6 a.m., four hours before game time.
"That doesn't surprise me one bit," Bluejays coach Jeff Wellwood said. "Even when guys struck out, they seemed to take it pretty well because at least we were playing."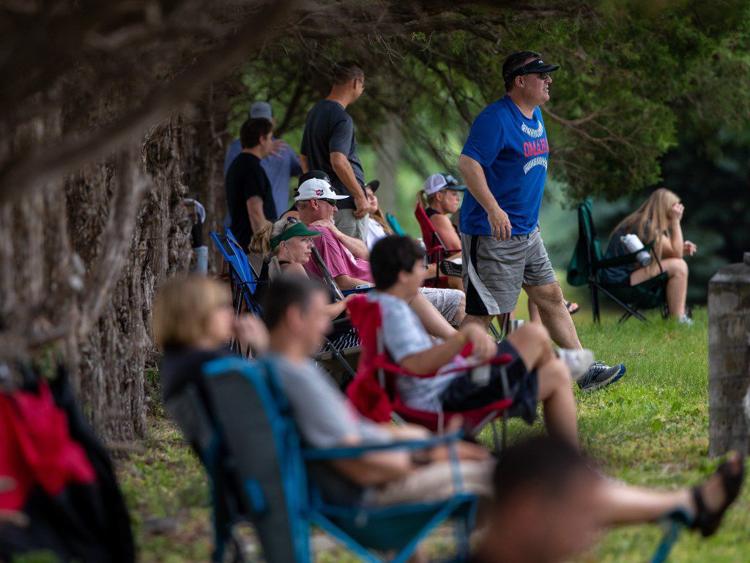 Sadly, COVID-19 restrictions will mean few concession stands will be open this summer. That really hits home at Orval Smith, where fans returning foul balls usually are rewarded with either a hot dog or a pop.
(I've seen players run out of the dugout and sports writers run out of the press box in pursuit of foul balls there, something you rarely see anywhere else).
By 11:30 a.m., the sky was threatening at Burke before the scheduled noon game between Gretna Post 216 and the host PrimeTime Sports Bulldogs. Gretna finished as the Class A Legion state runner-up to Fremont last year but graduated several players off that squad.
The teams played through some early rain, which didn't seem to affect PrimeTime starter Layne Knop. The Morningside recruit pitched four shutout innings as the Bulldogs posted a 5-0 victory.
"It felt good to be back out here competing with my teammates," he said. "I was hitting my spots today and getting ahead of batters."
PrimeTime went ahead in the second inning on an outfield error and an RBI single by Nate Lueders. The Bulldogs tacked on three more runs in the fifth on a wild pitch, a fielder's choice and a run-scoring single by Aaron Klenda.
Jayden White pitched two innings for PrimeTime and Thomas Sydow pitched the seventh.
"The weather didn't look great for us at the start," PrimeTime coach Scott Hodges said. "But just the fact we were able to play today means everybody wins."
Hodges added that it was a nice start for the young Bulldogs, who have just five players with varsity experience.
"I figure that we're going to have some growing pains this summer," he said. "But I thought we did a pretty good job today."
Two bright spots for Gretna were starter Zach Wiese and third baseman Colton Munn. Wiese allowed no earned runs in four innings and Munn had a pair of singles.
"This experience was almost completely new to a lot of our guys," Gretna coach Brian O'Flynn said. "But I could tell they were just happy to be playing."
Those sentiments probably were being shared by every Legion player who took the field Thursday.
Gretna Post 216 (0-1) … 000 000 0 – 0 4 1
PrimeTime Bulldogs (1-0) … 020 030 x – 5 6 0
Photos: Teams from Gretna and Omaha Burke open Legion baseball season
Gretna Post 216 and PrimeTime Bulldogs (Omaha Burke) were two of the American Legion teams to square off Thursday, the first day youth baseball teams could play games amid loosened coronavirus restrictions.