It's his senior year, and Adam Murphy spent part of Thursday worried that there wouldn't be a Metro Conference cross country meet.
"My heart kind of sunk," he said.
Murphy's mood brightened when he got the word the meet was on for Friday, and he shook off the cold and occasional snowflake at Walnut Creek Recreation Area to win the title and lead Millard West to its first team crown since 2015.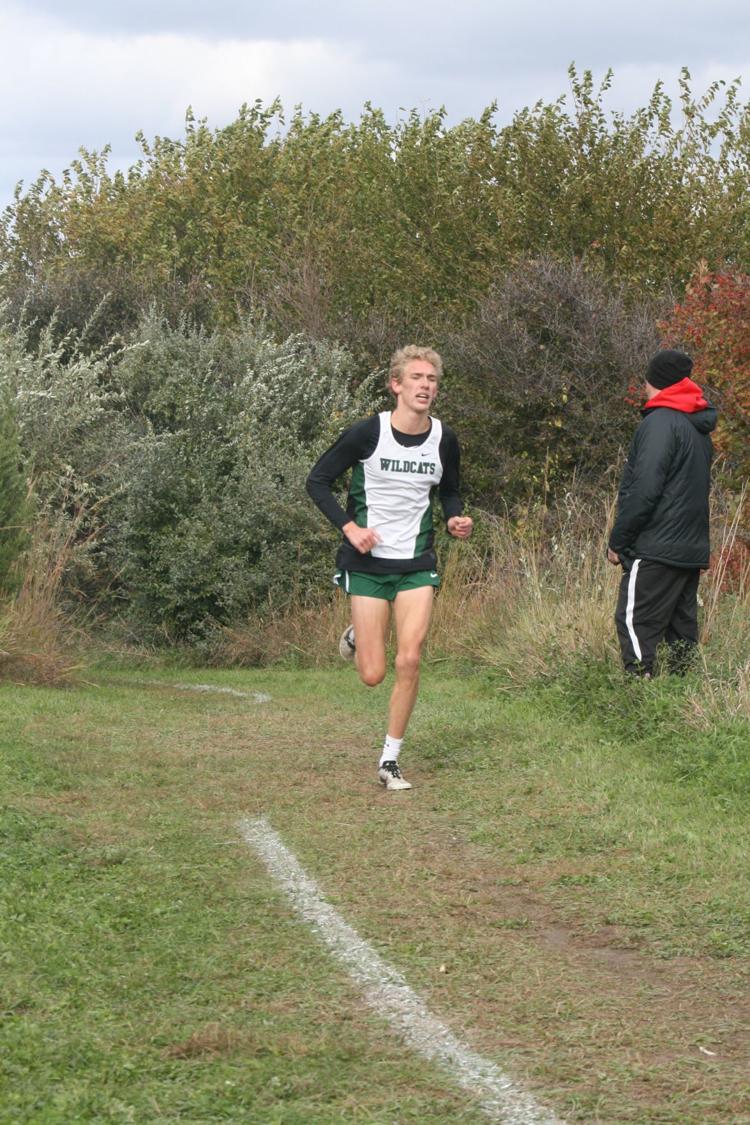 "It's one of my last meets. It's a great meet with a lot of good competition and I'd been looking forward to it," said Murphy, who was 13th at Metro last year. "(Winning) is something I've worked for for four years now, and just to know I'm the best in the Metro is an amazing feeling."
Papillion-La Vista South repeated as girls team champion and Olivia Rosenthal kept the individual title in the Titan family. She beat her junior teammate, defending champion Kaylie Crews, in the homestretch by less than one second over the 5,000-meter course softened by Thursday's rain.
"She has a mid-distance background so she's able to really get that kick in, whereas I'm more of a long-distance runner," Crews said. "So when it came to the finishing 200, I knew I'd really have to just turn it on to try to beat her and she was just able to get there sooner."
Murphy finished 17 seconds ahead of runner-up Dillon McNeill of boys team runner-up Papio South. Sam Kirchner was seventh, Tony Miller 11th and Austin Goetsche 12th for Millard West as it had 48 points to 61 for the Titans.
Behind the 1-2 finish, the Titan girls had Anna Jennings take fourth, Bethany Schumacher 11th and Emma Ralston 14th. They outdistanced runner-up Elkhorn South 48-88.
Boys Team scoring: Millard West 48, Papillion-La Vista South 61, Gretna 61, Elkhorn South 134, Omaha Burke 139, Omaha Creighton Prep 169, Millard North 178, Omaha South 226, Papillion-La Vista 275, Omaha Central 292, Bellevue West 316, Omaha Westside 338, Omaha Bryan 457, Omaha North 475, Bellevue East 499, Omaha Northwest 561.
Individual leaders: 1, Adam Murphy, MW, 16:26.9. 2, Dillon McNeill, PLVS, 16:43.9. 3, Kellen McLaughlin, Gretna, 17:03.8. 4, Logan Hauschild, Burke, 17:08.8. 5, Felix Cruz, Omaha South, 17:10.6. 6, Derek Madden, ES, 17:20.1. 7, Sam Kirchner, MW, 17:20.5. 8, Colby Erdkamp, Gretna, 17:21.4. 9, Aidan Furley, Gretna, 17:22.0. 10, Zack Jones, PLVS, 17:22.7. 11, Tony Miller, MW, 17:24.9. 12, Austin Goetsche, MW, 17:25.8. 13, Dillon Johnson, PLVS, 17:27.2. 14, Gabe Hinrichs, ES, 17:27.3. 15, Peyton Anthony, PLVS, 17:27.8.
Girls Team scoring: Papillion-La Vista South 48, Elkhorn South 88, Millard West 108, Omaha Marian 125, Millard North 143, Omaha South 173, Omaha Central 175, Gretna 186, Papillion-La Vista 197, Bellevue West 345, Omaha North 36, Omaha Burke 373, Bellevue East 381, Omaha Westside 381
Individual leaders: 1, Olivia Rosenthal, PLVS, 19:32.3. 2, Kaylie Crews, PLVS, 19:32.9. 3, Allison Louthan, MN, 20:05.9. 4, Anna Jennings, PLVS, 20:10.5. 5, Lauren Anderson, Central, 20:16.5. 6, Ally Schilmoeller, ES, 20:19.3. 7, Jaci Sievers, ES, 20:22.2. 8, Isabelle Hartnett, MW, 20:23.1. 9, Kayla Adams, Gretna, 20:27.5. 10, Regan Ehlert, Gretna, 20:37.3. 11, Bethany Schumacher, PLVS, 20:43.3. 12, Elise Madden, ES, 20:43.5. 13, Mohussin Abakar, Central, 20:44.3. 14, Emma Ralston, PLVS, 20:46.7. 15, Emily Salzman, Marian, 20:47.4.
The Nebraska 100: Our greatest athletes
The Nebraska 100, originally selected in 2005 and then updated and re-ranked in 2015, came from a pool of nearly 500 names from the ranks of high school, college, amateur and professional sports from the past 140 years. Assistance came from a panel of veteran sports observers from across the state, with the newspaper's sports staff determining the final rankings.