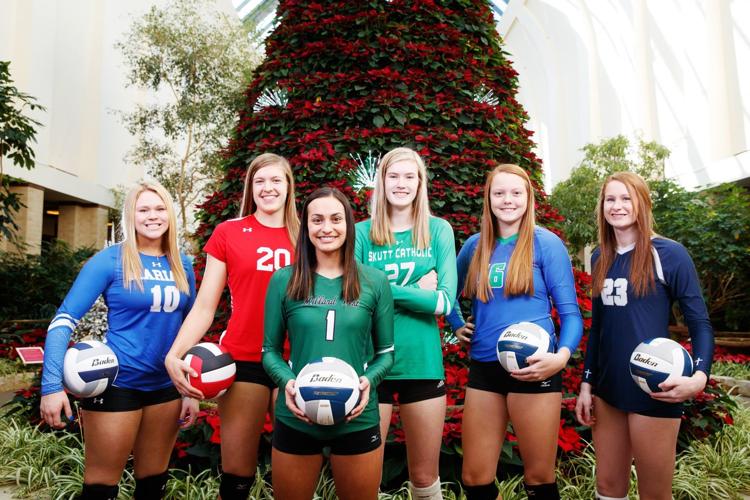 'Twas quite a season for the state's best
Two seasons at Omaha Skutt, two state championships.
Lindsay Krause couldn't ask for more, unless it's to be named honorary captain of the All-Nebraska team.
The 6-foot-3 Nebraska recruit earned that distinction after helping the SkyHawks capture their fourth consecutive Class B title. She finished with 260 kills and 40 blocks despite missing the first seven matches while competing for the USA Volleyball under-18 team in Honduras. Krause averaged 15 kills in three matches at state for Skutt, which finished 27-5.
Krause is one of three returning All-Nebraska first-teamers along with Kalynn Meyer of Superior and Emily Bressman of Omaha Marian.
New to the first team are the Millard North duo of Izzy Lukens and McKenna Ruch, Marriah Buss of Lincoln Lutheran and Jaiden Centeno of Millard West. Ruch and Buss were on the second team last season.
This year's second-team selections are Fallon Stutheit of Johnson-Brock, Rylee Gray of Elkhorn South, Norah Sis of Papillion-La Vista, Mya Larson and Elle Glock of Wahoo, Kelsie Cada of Wahoo Neumann and Emma Gabel of Lincoln Pius X.
On the third team are Emmy Grant of Millard North, Mayah Delgado of Omaha Duchesne, Kamryn Schuler of Gretna, Kyla Swanson of Wahoo, Lauren Taubenheim of Lincoln Pius X, Allie Gray of Omaha Skutt and Jordan McCormick of Elkhorn South.
Selections for the All-Nebraska and all-class teams are based on observations by World-Herald staff writers and nominations by coaches.
Sign up for daily headlines from NEPrepZone
Get a daily roundup of game recaps, player features and more in your inbox.
Video: Behind the scenes of the All-Nebraska shoot
Lindsay Krause*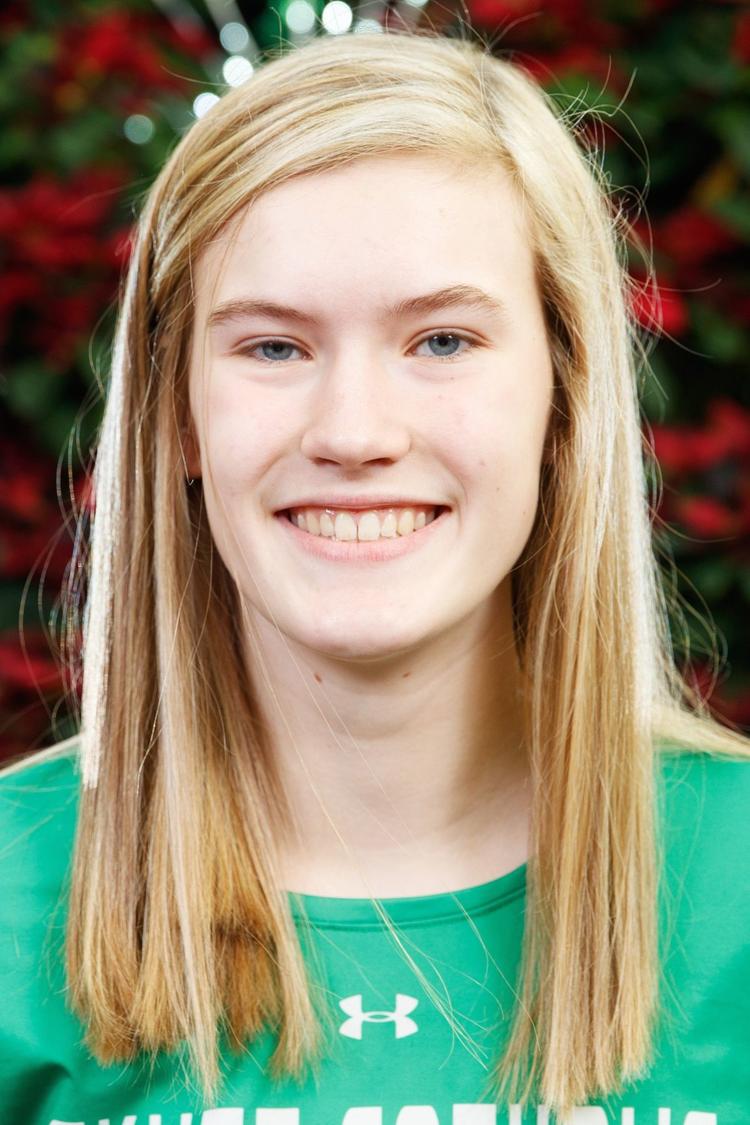 * Denotes honorary captain
Omaha Skutt, Hitter, 6-3, So.
Krause continues to excel since committing to the Huskers before her varsity career began. She was the only freshman named to last year's first team and makes it two in a row this season.
She got off to a slower start after missing Skutt's early matches while dealing with a thumb injury that occurred at Nebraska's summer camp.
"I think when she came back from the USA team, Lindsay felt that she needed to be great," SkyHawks coach Renee Saunders said. "It just took her a little time to get back into rhythm."
Though she didn't amass as many kills as last season, Krause continued to be a force. She had 215 kills entering state, then picked up her game even more.
She had 14 kills in a first-round win over Elkhorn and 16 in the semifinals against Duchesne. In the final against Elkhorn South, she pounded a match-high 15 kills in a sweep.
"At state, she terminated every chance she got," Saunders said. "She played consistently and didn't try to do too much."
Krause, who is playing basketball this winter, said two late- season losses helped refocus the SkyHawks.
"That set a fire under all of us," she said. "I think we had shown some complacency in those matches so we knew that we all had to step it up."
Krause added that a fifth straight SkyHawk championship is not out of the question.
"I think we're driven by how well the teams before us have done," she said. "We return a lot of our players so I think we have a very good chance."
Kalynn Meyer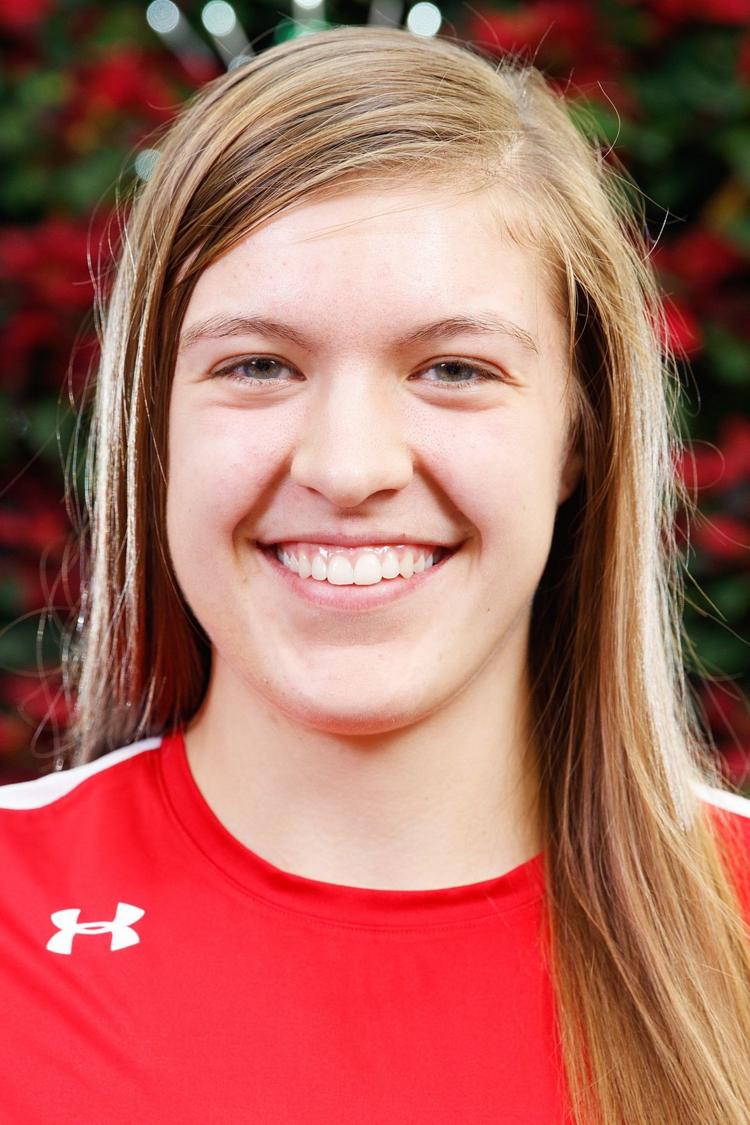 Superior, Hitter, 6-3, Jr.
Though she was unable to lead her team to a second straight Class C-2 title, the 6-foot-3 Nebraska recruit put up big numbers again.
The junior finished with 504 kills as Superior made its third state tournament appearance. Meyer had 57 kills in three state matches, including 30 in a first-round win over Freeman. But the Wildcats were defeated in the semifinals by Hartington Cedar Catholic, the team they beat in the 2017 final.
"It wasn't quite the amazing run that we had last year," coach Kelsea Blevins said. "But Kalynn played at a high level all seasonlong and she proved again that she's one of the best in the state."
Meyer finished with more than 500 kills for the second straight season. She had 545 last year and followed up with strong performances in basketball and track to be named The World-Herald's girls athlete of the year.
"Kalynn helped set the bar super high for our program last season," Blevins said. "She has such a strong frame and a powerful arm swing that she's tough to stop."
The coach added that Meyer works hard to keep improving.
"I think seeing her walk into gyms can be intimidating for other teams," Blevins said. "She's got a pretty big reputation and she's able to back it up."
Meyer said she was proud the way her team played while dealing with the pressure of being the defending champions.
"That was something totally new for us," she said. "We all knew everybody was after us but I feel as though we handled it really well."
Emily Bressman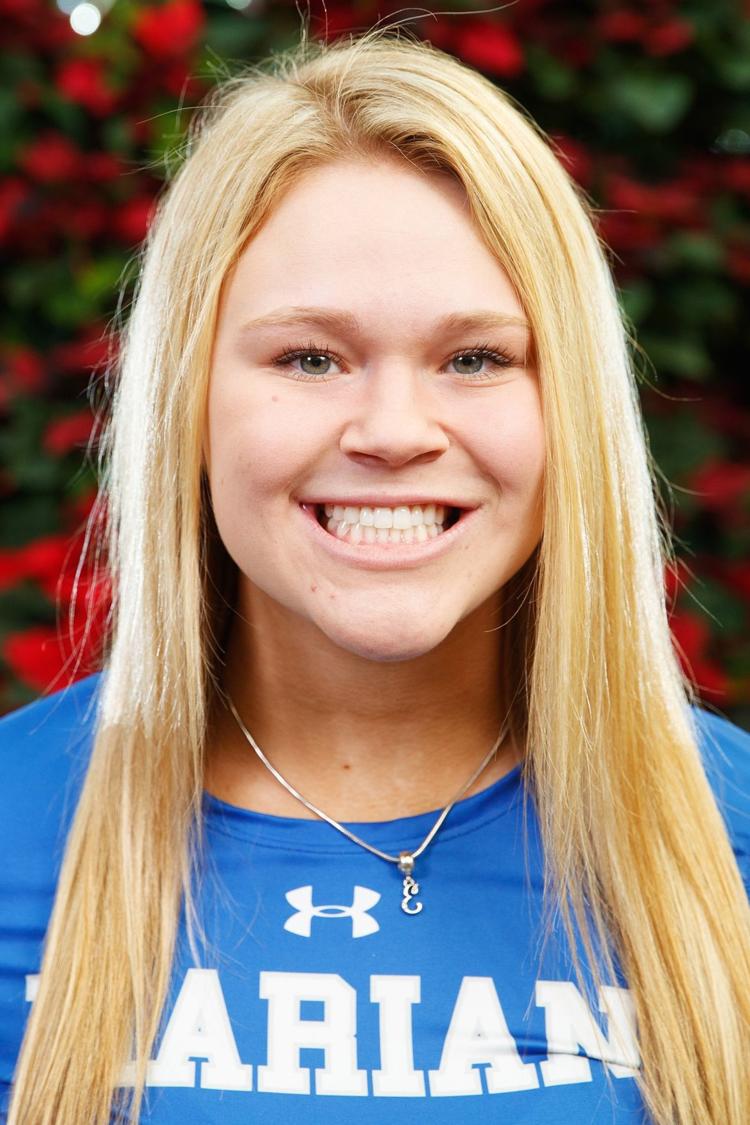 Omaha Marian, Hitter, 5-10, Sr. 
The 5-10 Creighton recruit, recognized as one of the hardest hitters in the state, repeats as a first-team selection.
She finished with 434 kills, making her Marian's all-time leader in that category. Bressman had 33 kills in two state tournament matches, including 21 in a first-round win over Papillion-La Vista.
She also was a strong defensive presence, leading the Crusaders in digs (419).
"Everybody knew that she was our go-to player," Marian coach Amy McLeay said. "But she handled the pressure well."
McLeay said Bressman had a new role this season as one of six seniors on the squad.
"Emily reached out to the younger kids and helped them a lot," she said. "She realized this was her final season and wanted to do the best she could."
Bressman and her teammates saved one of their best matches for last, falling to Lincoln Pius X in a five-set state semifinal. Bressman had 12 kills and 21 digs, but the Crusaders fell just short.
"I couldn't have been more proud of Emily and our entire team after that match," McLeay said. "It was tough to lose but we gave it everything we had."
Bressman, a varsity player since her freshman year, said she always will have fond memories of playing at Marian.
"I'm sad it's over," she said. "But I need to thank Amy (McLeay) for making me the player I am today and for pushing me to be my best."
Izzy Lukens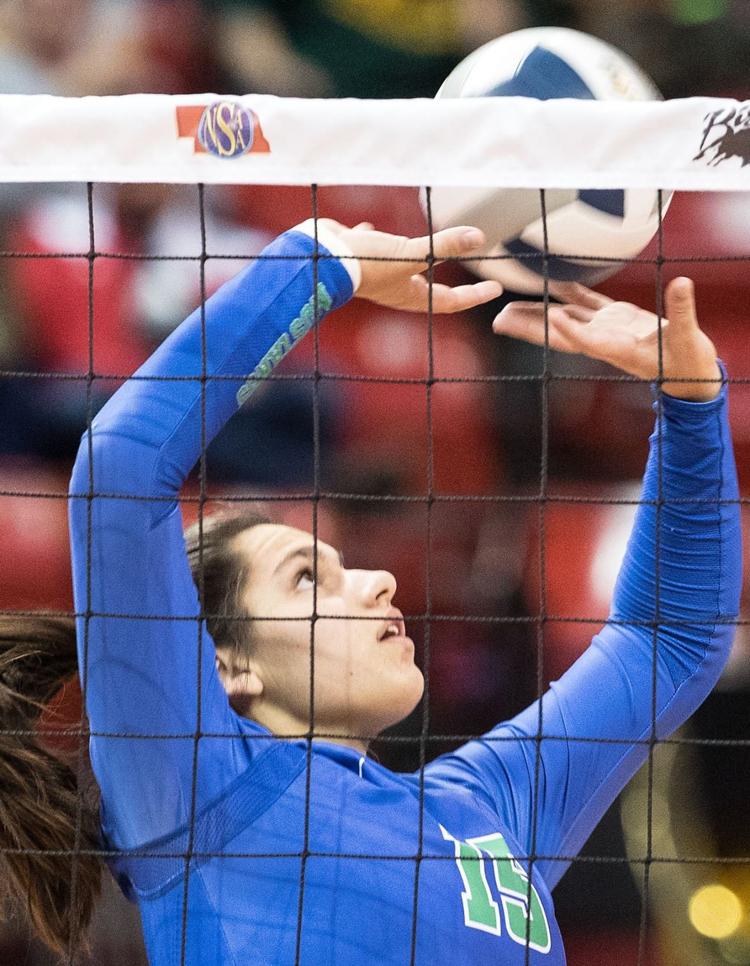 Millard North, Setter, 5-11, Jr.
An Arkansas State recruit, the 5-11 junior setter helped lead Millard North to its second state title in three years.
Lukens finished with 1,104 assists, including 111 in three state tourney matches. She also kept defenses honest with 123 kills to go with 43 aces.
She usually was the first Mustang to serve, which often set the tone for the match.
"She has this low, floating serve that teams found hard to handle," Millard North coach Lindsay Peterson said. "And she was always aggressive with it, so it usually helped us get off to a good start."
The coach added that Lukens had the perfect personality to lead the talented Mustangs, who were ranked in the top 20 nationally much of the season.
"She has ice water in her veins," Peterson said. "She might be nervous inside but she never showed it, and the rest of the team picked up on that."
Peterson said Lukens did more than distribute the ball to the team's hitters.
"She's a threat offensively because she reads the opposing defense so well," the coach said. "She provided a real veteran presence for us."
Peterson said Lukens got the opportunity to shine in the Metro Conference after the graduation of Marian's Lily Heim, the first-team All-Nebraska setter last year.
"Lily was great and deserved what she got," the coach said. "But I think Izzy was overshadowed by her in the past and she really stepped it up for us this season."
McKenna Ruch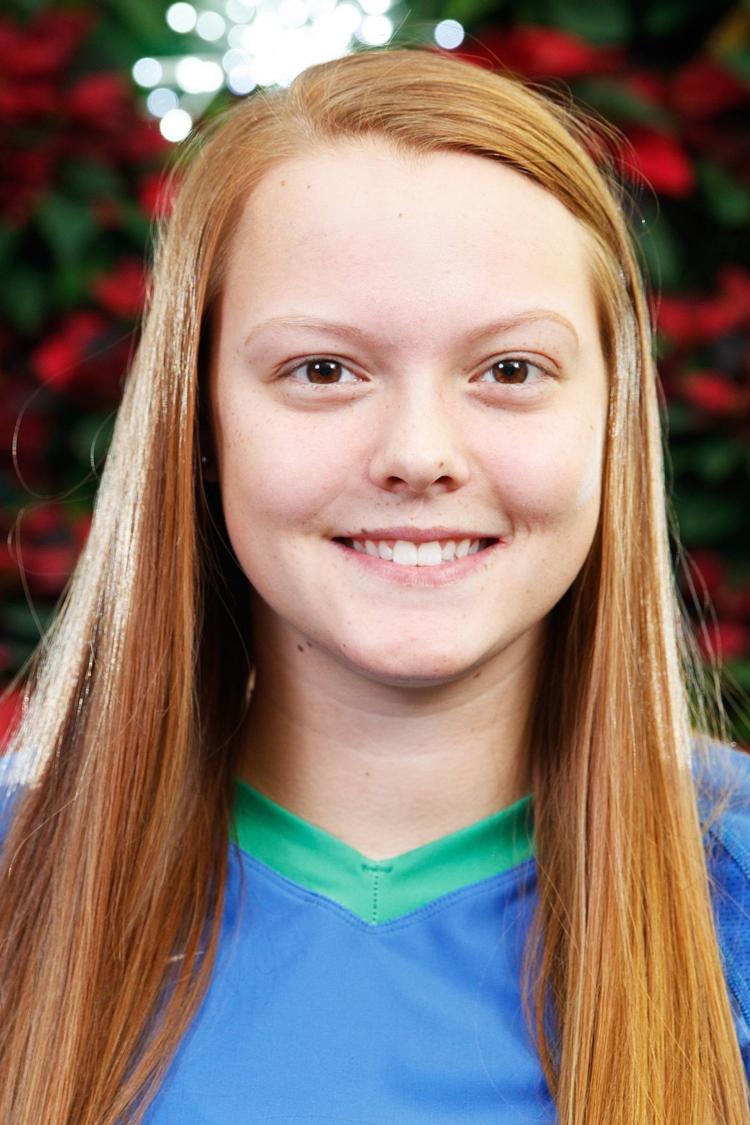 Millard North, Hitter, 6-2, Jr.
Ruch provided much of the offense along Millard North's front line.
The UNO recruit led the team in kills (362) and was second in digs (363) and blocks (75). In three state tournament matches, Ruch had 34 kills.
"McKenna got the opportunity to be a six-rotation player and she made the most of it," Peterson said. "She was one of our most consistent players."
The coach said the 6-2 junior also brought intelligence.
"Her volleyball IQ is strong," Peterson said. "And it always helped that her best friend Izzy (Lukens) was setting her."
Ruch had 11 kills and 12 digs against Pius in the Class A final. She also drew some smiles in the postmatch press conference when she said she was ready to start working hard for next season.
"McKenna can play any position on the front line," Peterson said. "She's a massive impact player but she's also extremely humble."
Ruch said the Mustangs embraced their No. 1 ranking throughout the season.
"The pressure was always there," she said. "But we got used to it and I think it helped us grow and get better."
She added that she wasn't kidding when she mentioned looking ahead to next season, her last at Millard North.
"We know that we have a lot to live up to," Ruch said. "It will be another challenge for us but I can't wait to get started again."
Marriah Buss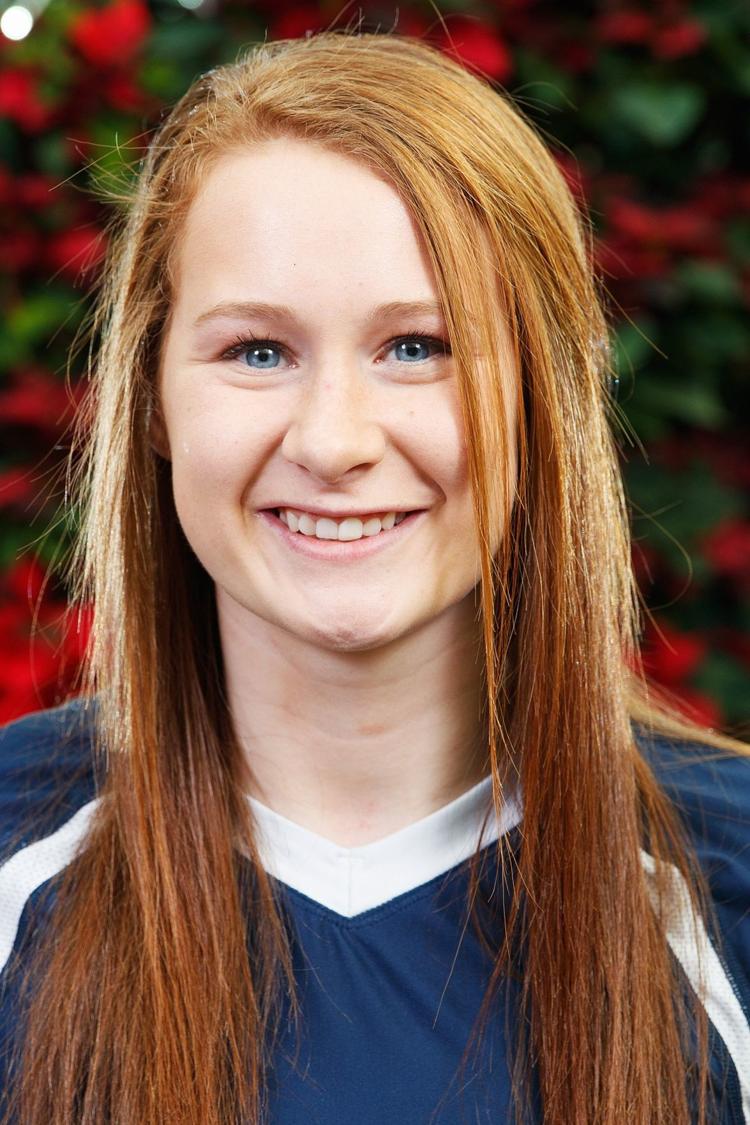 Lincoln Lutheran, Hitter, 6-1, Jr.
A Wichita State recruit, the 6-1 junior played through pain to put up big numbers for the third straight year.
Buss led the state with 637 kills despite tears in her hip flexor. She already has broken the career record for kills in Class C-1 and still has one  season left.
"Marriah definitely had the desire to play regardless of the pain," Lincoln Lutheran coach Sue Ziegler said. "She knew that she'd be having surgery right after the season but she stuck it out."
Fans got a glimpse of Buss' strong play at state. She averaged 28 kills in three matches, including 28 in the C-1 final loss to Wahoo.
"Marriah has a great vertical jump and a great shot," Ziegler said. "She sees the court well and keeps the defense guessing."
Buss played her freshman year at Beatrice before transferring to Lincoln Lutheran. She had an impact for the Lady Orange, too, pounding a Class B-record 38 kills in one match.
She set the C-1 single-season record for kills last year (684) and moved past Chadron's Jadyn McCartney this season as the career C-1 leader.
"She has a lot of kills but her hitting efficiency is also very high," the coach said. "She plays with confidence and our whole team feeds off of that."
Buss, who recently underwent surgery, said she is looking forward to next season.
"I'm determined to come back even stronger," she said. "And after finishing second at state this season, that's going to be great motivation for all of us."
Jaiden Centeno
Millard West, Libero, 5-7, Sr.
Recognized by opposing coaches as one of the state's top liberos, Centeno will play at Iowa State.
The 5-7 senior had 623 digs for the 21-10 Wildcats, who reached state for the 10th time. She had 32 digs in Millard West's first-round loss against Gretna.
"Sometimes liberos don't get the credit they deserve," Millard West coach Joe Wessel said. "Jaiden made it possible for us to make plays, and she consistently did that every match."
Centeno came back strong in her final two seasons after missing her sophomore year with an injury.
"She was determined," Wessel said. "She had a bright future when she was a freshman and she worked hard to become even better."
Centeno put up solid numbers this season, though one of her biggest fans — her mother Tammie — was undergoing treatment for breast cancer.
"Jaiden has dealt with a lot this season," Wessel said. "It's a credit to her that she's been able to compete at such a high level."
The coach added that an example of her ability came in a tough match against Papillion-La Vista and its big hitter, Creighton recruit Norah Sis.
"Norah smashed two balls that looked like sure kills and Jaiden somehow got them both," Wessel said. "I remember thinking that this girl already is playing past the high school level."
Centeno said she is eager to begin her collegiate career.
"I'm proud of what I've helped accomplish here at Millard West," she said. "But I'm looking forward to ISU and the next chapter in my life."
MORE ALL-NEBRASKA SELECTIONS
Fallon Stutheit, Johnson-Brock, hitter, 6-2, Sr.
Rylee Gray, Elkhorn South, hitter, 6-4, So.
Norah Sis, Papillion-La Vista, hitter, 6-1, So.
Mya Larson, Wahoo, hitter, 5-11, Fr.
Kelsie Cada, Wahoo Neumann, hitter, 6-1, Sr.
Elle Glock, Wahoo, setter, 6-0, So.
Emma Gabel, Lincoln Pius X, libero, 5-8, Sr.
Emmy Grant, Millard North, hitter, 6-1, Sr.
Mayah Delgado, Omaha Duchesne, hitter, 6-0, Jr.
Kamryn Schuler, Gretna, hitter, 5-10, Sr.
Kyla Swanson, Wahoo, hitter, 6-4, Sr.
Lauren Taubenheim, Lincoln Pius X, hitter, 6-2, Jr.
Allie Gray, Omaha Skutt, setter, 5-11, So.
Jordan McCormick, Elkhorn South, libero, 5-9, Sr.