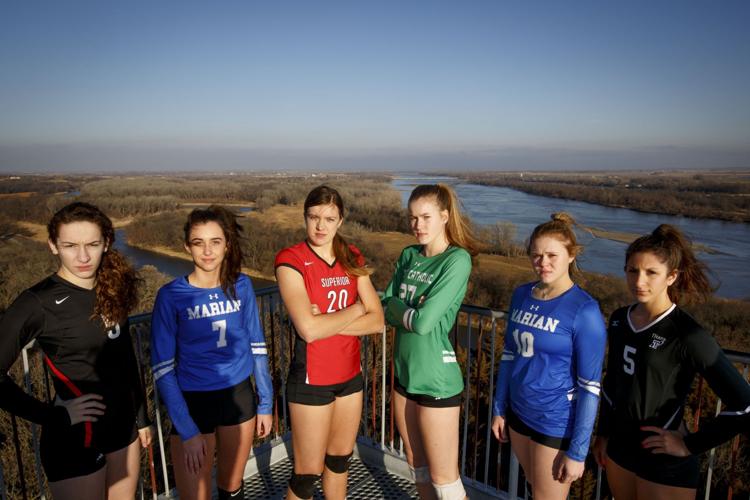 Above the rest: State's best kept rising to the occasion
From the first practice, redemption was the key word at Omaha Marian.
In 2016, the Crusaders fell short of a fourth consecutive state title, losing in the semifinals. So for senior Lily Heim, winning a championship this year was the only goal.
Heim and her teammates accomplished that, capturing the school's fourth Class A title in five years and eighth overall. Marian finished 38-2 with the help of Heim, who dished out 1,130 assists.
For her performance this season, Heim is the honorary captain of The World-Herald All-Nebraska volleyball team. The 6-foot setter will continue her career at SMU.
Joining her on the first team are Emily Bressman of Marian, Lindsay Krause of Omaha Skutt, Jaela Zimmerman of Malcolm, Kalynn Meyer of Superior, Fallon Stutheit of Johnson-Brock and Taliyah Flores of Papillion-La Vista South.
Second-team selections are McKenna Ruch and Madison Evans of Millard North, Jaden Ferguson of Lincoln Southwest, Elly Larson of Wahoo, Lily Heyne of Skutt, Marriah Buss of Lincoln Lutheran and Emma Worthington of Omaha Duchesne.
Members of the third team are Sarah Wing and Maggie Mullen of Marian, Megan Woods of Grand Island Central Catholic, Julianna Kalil of Duchesne, Kristin Lux of North Bend, Jessie Brandl of Stanton and Delaney Saucier of Skutt.
Selections for the All-Nebraska and all-class teams are based on observations by World-Herald staff writers and nominations by coaches.
Lily Heim*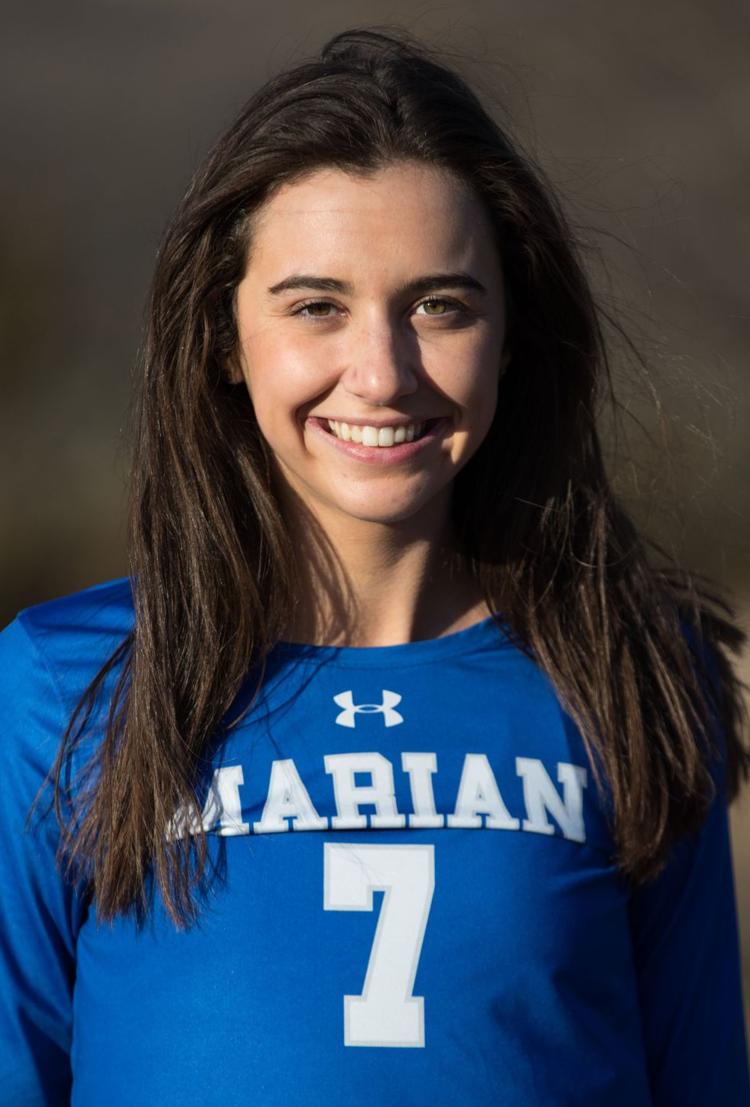 * Denotes honorary captain
Omaha Marian, Setter, 6-0, Sr.
Like the quarterback in football, the setter plays a pivotal role in running the offense. Heim was recognized by several opposing coaches for her consistent play that elevated the Crusaders.
"It seemed as though she got better every day," Marian coach Amy McLeay said. "Mentally or physically, she always was on top of it for every point."
Heim was on top of it when Marian needed her most — at the state tournament. She had 42 assists in a first-round win over Lincoln Southeast and 36 in a semifinal against Papillion-La Vista South.
Facing defending champion Millard North in the final, Heim had 51 assists in a four-set victory.
McLeay said Heim's ability to communicate with hitters — five Crusaders finished with more than 175 kills — led to success.
"She got their feedback and knew exactly where to put the ball," McLeay said. "She knew how to find that hot hitter and when to stay with them."
The coach added that Heim was a strong leader, something every coach wants to see in a setter.
"She held people accountable," McLeay said. "We put a lot on her shoulders this season, and she really responded for us."
Emily Bressman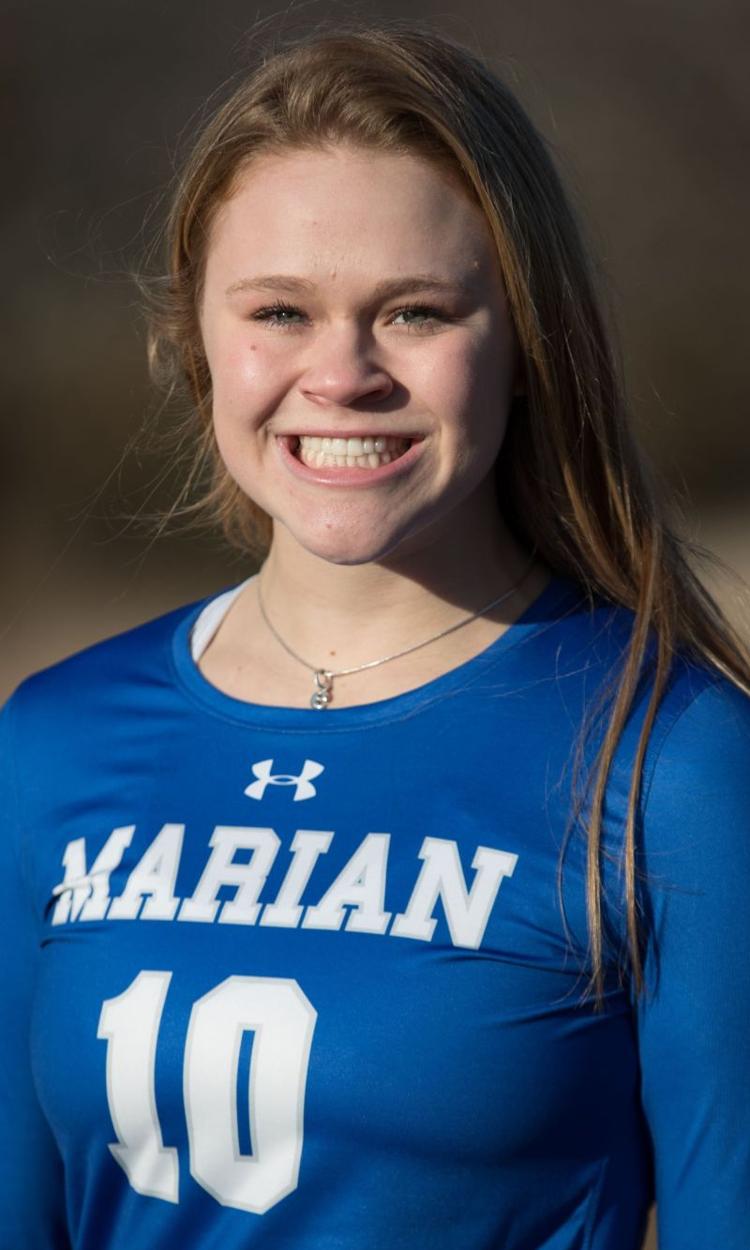 Omaha Marian, Hitter, 5-11, Jr.
Marian's go-to hitter, the 5-11 Bressman was one of the hardest hitters in Class A.
The Creighton recruit finished with 428 kills, including 51 at the state tournament. That included a 29-kill effort in the final against the Mustangs that had Heim referring to her as "The Big Dog" after the match.
"She's a kid that never backs down from a challenge," McLeay said. "Whether it's practice or in a match, she's a great competitor."
The coach said Bressman always was a powerful hitter, but the junior worked hard on shot selection this season.
"She knew how to get around the block when she had to," McLeay said. "But our middles also deserve credit for helping open things up on the outside for her."
McLeay said Bressman's performance in the final is something she won't forget.
"That was just complete determination on her part," the coach said. "She hit harder and harder as she kept rising to the occasion."
McLeay added that Bressman wanted to send Marian's eight seniors out with a victory.
"She had been playing with those girls a long time," the coach said. "She wanted them leaving here on a high note."
Lindsay Krause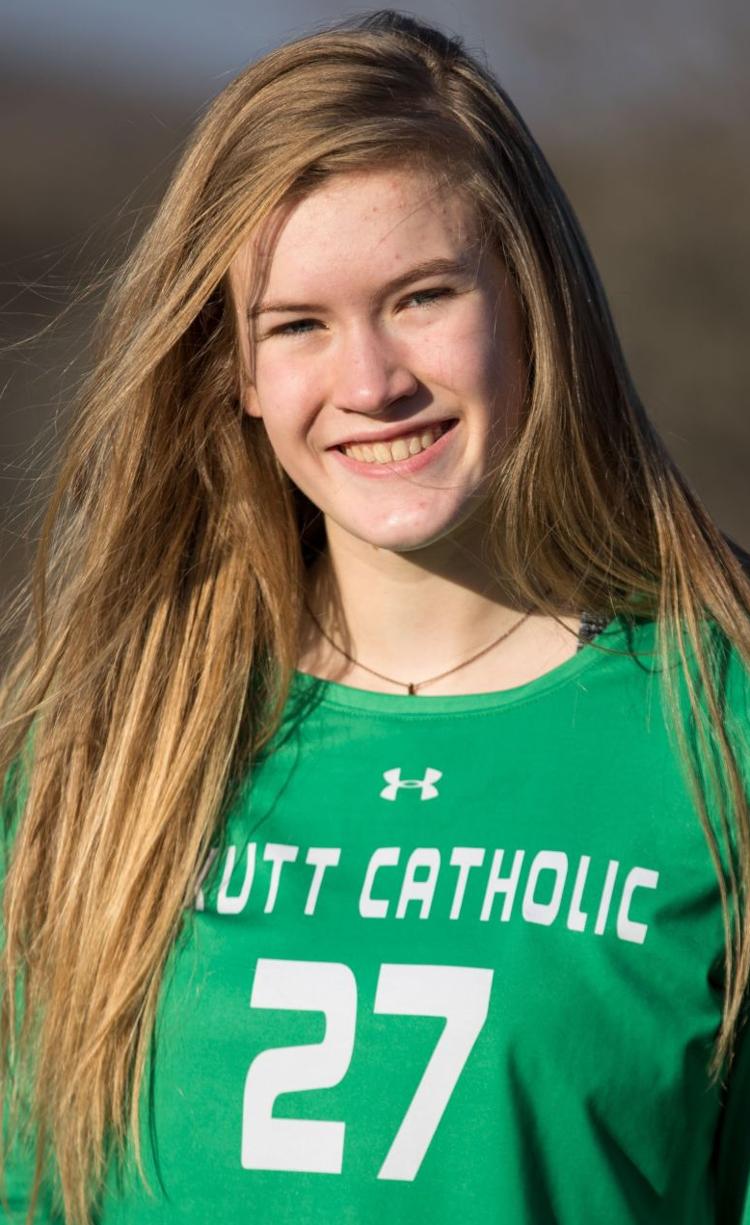 Omaha Skutt, Hitter, 6-3, Fr.
The 6-3 freshman and Nebraska recruit led the SkyHawks with 397 kills as Skutt won its third Class B title in a row. Krause averaged 17 kills in three state tournament matches, including 18 in a four-set victory over Omaha Duchesne in the final.
"She's the real deal," SkyHawks coach Renee Saunders said. "She was in the limelight before she even played a match for us but she really responded to the challenge."
Krause committed to the Huskers before she began her varsity career.
"We didn't know what to expect from her because it's a big jump up to varsity," Saunders said. "But for a freshman, she was a very low-error player."
Saunders, a former standout for the Huskers, said NU will be getting a good one when Krause's time comes.
"Her height, her arm speed and her jumping ability already have helped set her apart," the coach said. "And she's only going to keep getting better."
Saunders added that she had no concern whether Krause could handle the spotlight of the state tournament.
"If you're on the varsity, it's something you've got to handle," she said. "And Lindsay was lights-out for us at the tournament."
Jaela Zimmerman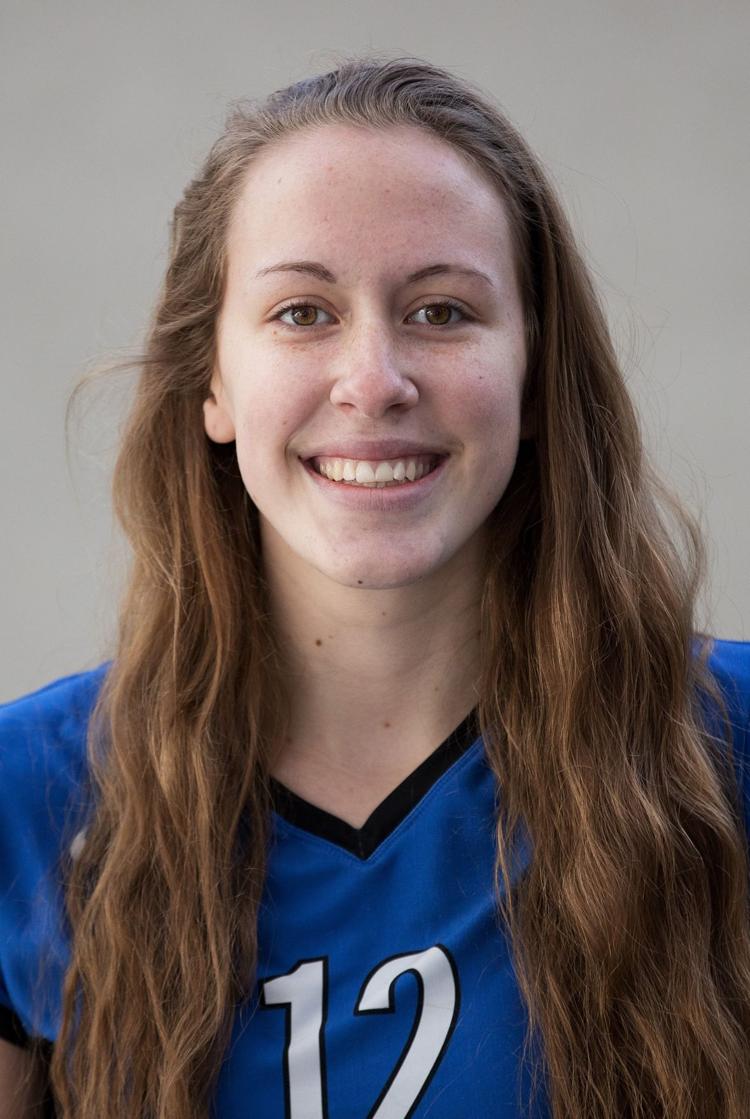 Malcolm, Hitter, 6-1, Sr.
A repeat first-team selection, the 6-1 Creighton recruit had 543 kills for 28-4 Malcolm. Zimmerman also had 266 digs, 34 aces, 23 assists and 18 blocks.
"She's a great all-around player," Clippers coach Amber Dolliver said. "She understands that there's more to the game than power, and that finesse plays a big role."
Zimmerman, who helped Malcolm finish as the C-1 runner-up in 2016, led the Clippers back to state this year. She had 25 kills and eight digs but it wasn't enough as Malcolm lost to North Bend in the first round.
Dolliver said she has enjoyed coaching her star player.
"It's been fun to watch her grow," the coach said. "She's an amazing player and an even better person."
Dolliver added that Zimmerman's attitude helped elevate the play of the entire team.
"It's never once been about her," she said. "Her leadership was so important for us because she was never concerned about her own statistics."
Kalynn Meyer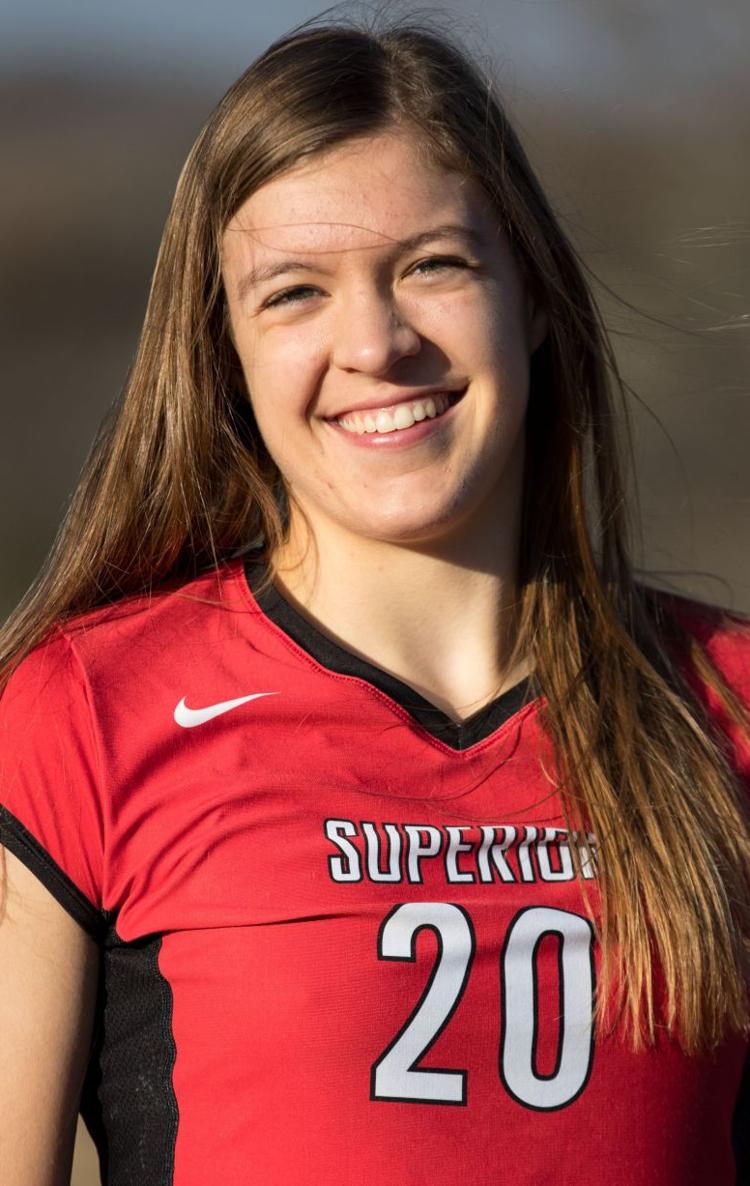 Superior, Hitter, 6-3, So.
The 6-3 sophomore was second in the state in kills (545), but it was her strong play at the state tournament that set her apart.
The Nebraska recruit led the Wildcats to their first title in their second trip to state. That journey included state tourney wins over Nebraska Christian and Hartington Cedar Catholic, the last two unbeaten teams in the state.
"Kalynn is such a team player and a great person to be around," Superior coach Kelsea Blevins said. "She works really hard, on and off the court."
That hard work was on display at state, starting with a 32-kill performance in a first-round win over Centura. Meyer followed with 18 kills in a semifinal sweep over Nebraska Christian.
In the final against Hartington Cedar Catholic, Meyer had 27 kills and 12 digs as the Wildcats won in five sets to claim the title.
Blevins said Meyer's work ethic is the key to her on-court success.
"She got done lifting one day and then told me that she does 1,000 sit-ups every night," the coach said. "She's a workhorse, and that's what sets her apart."
Blevins added that Meyer also is a smart player, who constantly is seeking ways to beat the block.
"She was relentless, and those blockers would get tired," Blevins said. "She's an outstanding player already and I'm really happy that we'll have her for two more years."
Fallon Stutheit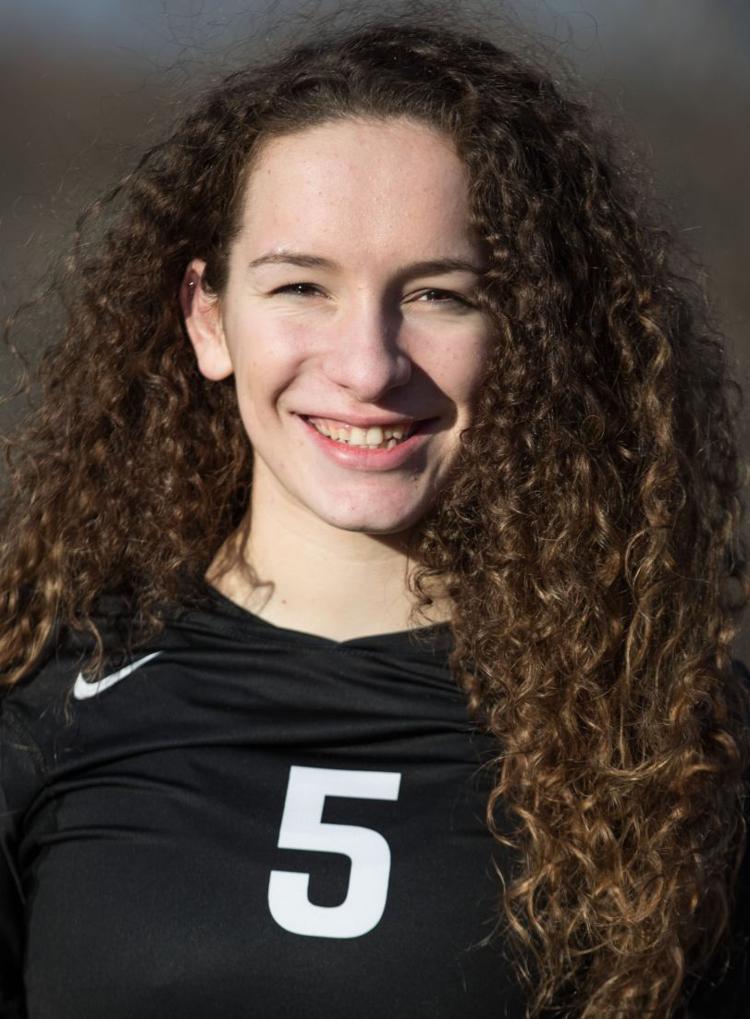 Johnson-Brock, Hitter, 6-1, Jr.
Another repeat selection, the 6-1 junior led Class D-1 in kills with 526 while helping Johnson-Brock capture its third consecutive state title.
"She had the numbers again offensively but we relied on her more this year defensively," said her mother, Eagles coach Tera Stutheit. "She became more of an all-around player for us."
The Eagles needed a big effort from Stutheit to turn back a strong challenge by Meridian. Those teams were ranked 1-2 most of the year, and Johnson-Brock faced the Mustangs in the state final.
Stutheit, who averaged 22 kills in the first two tourney wins, was at her best in the final. She had 19 kills and 16 digs as the Eagles prevailed in four sets, winning the last 25-23.
"When it came down to that fourth set, Fallon told our setter that she needed the ball," Tera Stutheit said. "She really has a determination that as a coach and a mom, you love to see."
Tera Stutheit said her daughter's court vision and ability to score a kill when it was needed are two of Fallon's strongest assets.
"She's really grown into that role as far as knowing what has to happen for us to win," Tera Stutheit said. "She uses a lot of different shots and that versatility is a big key to her success."
Like Krause and Meyer, Stutheit is a future Husker.
"I've got her for one more year here," Tera Stutheit said. "We'll have some rebuilding to do but it will be nice having her back."
Taliyah Flores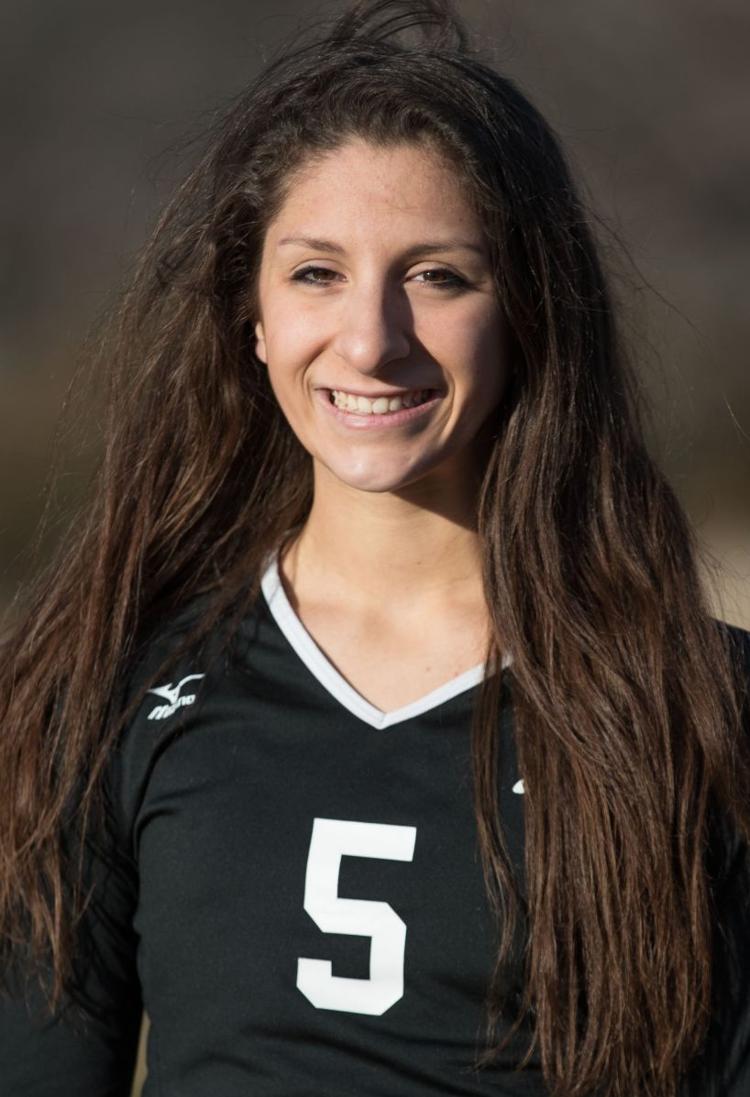 Papillion-La Vista South, Libero, 5-8, Sr.
While technically not a libero, the North Dakota recruit is regarded as one of the state's top defensive players.
Flores, a repeat selection, helped the Titans offensively and defensively. She had 432 kills and 403 digs as Papio South reached state for the ninth time.
"It's a tribute to her that she's been able to put up numbers like that," Titans coach Brad Reichmuth said. "I'm glad she was on our side of the net."
Flores also had 50 blocks and 25 aces for the 30-10 Titans.
Reichmuth said being a top-notch defensive player was something Flores worked hard to achieve.
"Defense is her wheelhouse," he said. "She was much more comfortable on defense and that helped make us a really tough team."
The coach added that fans often talk about Flores and her ability to save a point.
"She has made five to 10 defensive plays here that have just been unbelievable," Reichmuth said. "People will talk about the way she was able to run down a ball when nobody thought she had a chance."
Video: Breaking down the All-Nebraska volleyball team
World-Herald staff writers Mike Patterson and Mike Sautter share their thoughts on this year's All-Nebraska volleyball team.
MORE ALL-NEBRASKA SELECTIONS
McKenna Ruch, Millard North, Hitter, 6-1, So.
Jaden Ferguson, Lincoln Southwest, Hitter, 5-11, Jr.
Elly Larson, Wahoo, Hitter, 6-0, Jr.
Marriah Buss, Lincoln Lutheran, Hitter, 6-0, So.
Lily Heyne, Omaha Skutt, Hitter, 6-1, Jr.
Emma Worthington, Omaha Duchesne, Hitter/Setter, 5-10, Jr.
Madison Evans, Millard North, Libero, 5-4, Sr.
Sarah Wing, Omaha Marian, Hitter, 6-1, Sr.
Megan Woods, Grand Island CC, Hitter, 5-10, Jr.
Julianna Kalil, Omaha Duchesne, Hitter, 5-9, Sr.
Kristin Lux, North Bend, Hitter, 6-1, Sr.
Jessie Brandl, Stanton, Hitter, 5-8, Jr.
Delaney Saucier, Omaha Skutt, Setter, 5-8, Sr.
Maggie Mullen, Omaha Marian, Libero, 5-3, Sr.