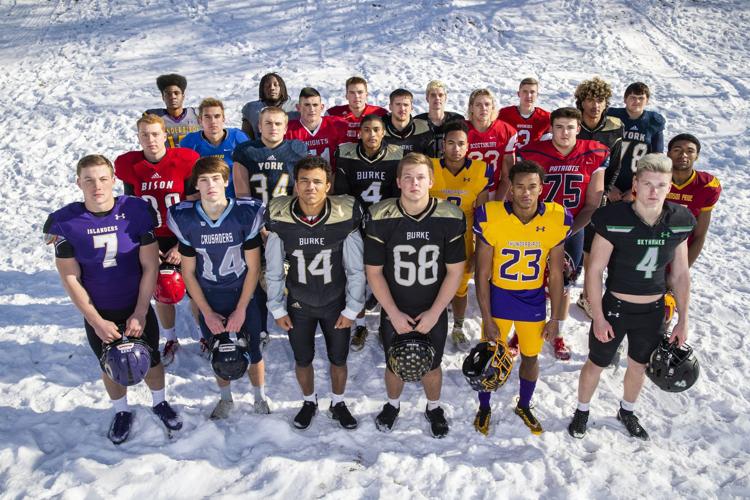 Snowball effect: Awards piling up for state's best
You've learned the names the past two years.
Snodgrass. Nelson. Hickman and Henrich. Piper. Betts. Burks. Butler.
The octet comprises a record class of multiyear selections for the All-Nebraska team, now 98 years old. They were among the 10 eligible returners who were honored in 2017.
The first five on the list are to sign their letters of intent with Nebraska next week — Garrett Snodgrass of York, Garrett Nelson of Scottsbluff, the Omaha Burke tandem of Chris Hickman and Nick Henrich and Ethan Piper of Norfolk Catholic.
The other three are Zavier Betts of Bellevue West, James Burks of Burke and Mekhi Butler of Omaha North.
The 2018 team, like last year, includes players from the Wyoming state line (Nelson) to the Missouri River (Betts and West teammates Shane Dailey and Jay Ducker). But unprecedented is that half of the 24 selections are from outside Class A. It's three more than last year. The team is older, not surprisingly — all but five are seniors, compared to 10 in 2017.
Burks and Henrich head the All-Nebraska team as the honorary captains. They contributed greatly to Burke's first state championship season.
Burks, who's a three-time state wrestling champ, was the Bulldogs' first 2,000-yard rusher and is their career rushing leader with 4,395.
Henrich, despite missing four games and making it through one quarter of the 24-20 win over Grand Island in the state final, was their leading tackler.
"Can't believe the jump this kid has made from younger in his career," Bellevue West coach Mike Huffman said of Henrich. "He has always been fast but he has added physical to his game and can't wait for him to be a Blackshirt."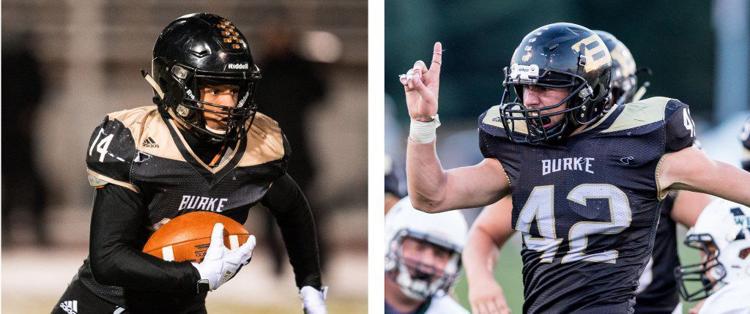 On the All-Nebraska offense are Betts and Dailey as receivers; Dylan Sales of Burke, Noah Stafursky of York, Kohl Herbolsheimer of Millard South, Butler and Piper as linemen; Baylor Scheierman of Class C-1 champ Aurora as quarterback; Jarod Epperson of Class B champion Omaha Skutt, Burks and Ducker as running backs and Class C-2 field goal record-setter Dietrick Stolz of Grand Island Central Catholic as kicker.
On the All-Nebraska defense are Caden Johnson of Wahoo Neumann, Hickman and Nelson as linemen; D.J. Gross of McCook, Sam Sims of Grand Island, Snodgrass and Henrich at linebacker, Xavier Watts of Burke, Tyson Gordon of Skutt as defensive backs and Joseph Krause of Seward as an athlete/punter.
Also noteworthy about the All-Nebraska team:
» The juniors are Betts, Herbolsheimer, Ducker, Watts and Gordon.
» Burke's five selections are the most for any school. Bellevue West has three. York and Skutt have two apiece. Class B has nine players chosen, Class C-1 two and Class C-2 one.
» Zander Gray of Omaha North and Ryan Bena of Omaha Creighton Prep are on the second team after making the first team in 2017. Each dealt with injuries during the season.
» Rodgers is the first honored from Roncalli since Matt Bowers in 2003.
Honor selections are based on nominations by high school coaches and observations by The World- Herald staff. All coaches were sent nomination forms by email.
Prep Zone Report: All-Nebraska breakdown
On a new episode of the Prep Zone Report podcast, hosts Mike Sautter and Jake Anderson are joined by staff writer Stu Pospisil to share their analysis of this year's All-Nebraska football team. Don't want to miss an episode? Get the podcast on iTunes, check it out on Google Play Music or grab this link for pretty much everything else.