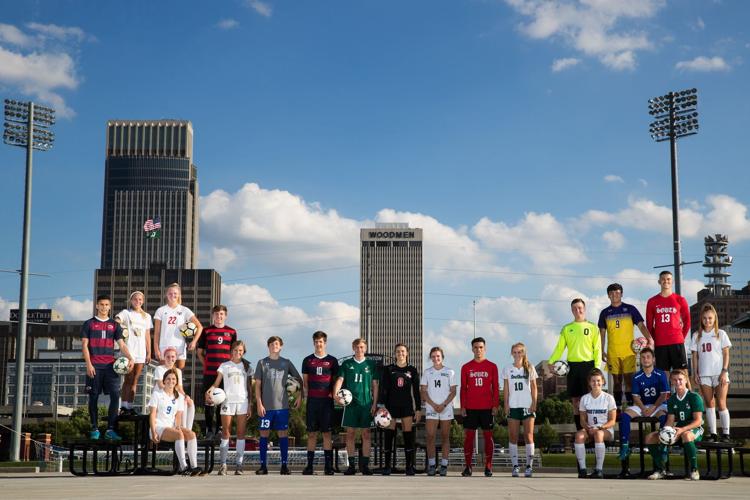 With sky-high potential, captains Peter Novoa and Skylar Heinrich are always on the ball
Peter Novoa loves the physicality of soccer. Skylar Heinrich prefers the speed.
While the two may go about their business between the lines in different manners, both get the job done.
Novoa capped a standout senior season with 23 goals — racking up the most points in the state — to help Omaha Westside to the Class A final. Heinrich wrapped up her high school career with a 31-goal junior season, including two in a Class B championship win.
Yes, they're honorary captains of The World-Herald's All-Nebraska teams for a reason. Selections are based on staff observations and the nominations of coaches.
If you talk to the captains' coaches, you get a sense of how much Novoa and Heinrich meant to their teams.
"She's a difference-maker," Elkhorn coach Troy Stoller said. "She's the best I've ever seen."
A third consecutive season with at least 31 goals was the last for Heinrich, who will graduate early to get a jump on her soccer career at Creighton.
She finished her three years with the Antlers as the school's all-time leading scorer.
Stoller said her burst has been evident since Day 1. Heinrich regularly zips around defenders like it's a video game and she's the only one with a turbo button.
Where she has added another level, the coach said, is her tactical awareness.
"She'll burn them with a move now, too," Stoller said. "Everyone has speed at that next level, but Sky still separates herself because of her understanding of the game."
Heinrich spent time with FC Kansas City's developmental academy team, testing her game against some of the country's best. It opened her eyes to a different standard and played a role in her decision to leave Elkhorn a year early.
"I can't really get to that level until I'm at that level," Heinrich said. "I need to play against those types of players if I want to get better."
Everything is on the table, Stoller said. While he's careful not to set expectations too high, he believes Heinrich is capable of a professional career.
Heinrich is OK with that.
"Ever since I was little, that's what I wanted to do," she said. "But I never thought it was within reach. Coaches have brought it out of me."
When she trades Elkhorn red for Creighton blue in August, the Bluejays will have gotten the hometown advantage. Big programs came calling. But Heinrich, who shagged balls for the Jays when she was younger, said she wanted to stay close to home.
"Nothing's the same as being home," she said.
Playing at CU's Morrison Stadium during the past two state tournaments showed just how dangerous Heinrich is with room to roam.
"When she sees that space," Stoller said, "there was nothing stopping her."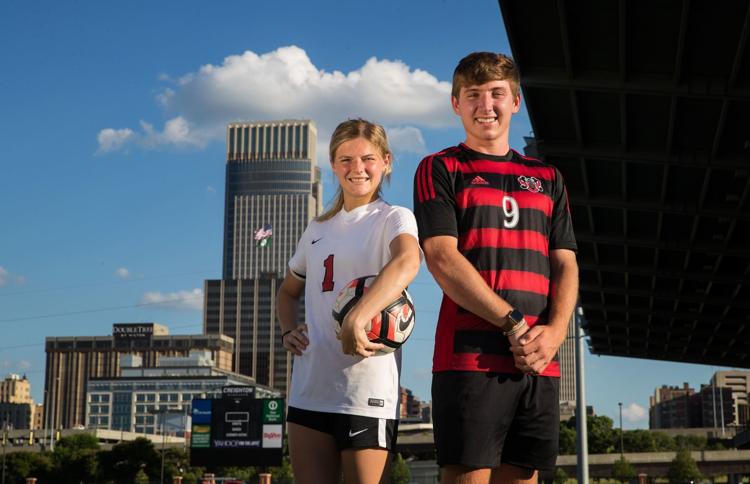 While Heinrich may work best in space, Novoa hopes to have a future there. He will head in August to MIT, where he plans to study engineering, specifically astronautical or aeronautical.
So it's no surprise that Westside coach John Brian says that Novoa, the son of two doctors, is "very analytical."
"You'll give him feedback," Brian said, "and he'll break it down in his head like he's watching film on it."
Don't be mistaken, though. Nerd comparisons end there.
At 6-foot and 180 pounds, Novoa has the kind of frame that made him hard to push off of the ball.
"Pete doesn't go down," Brian said. "He just stays up."
He calls his style "aggressive and physical."
"I like to get after it," he said. "I like to be attacking and dangerous as much as I can."
His aggressive style caught up with him at the state tournament, ending his high school career one match early.
A second yellow card in an overtime win over Lincoln Southwest in the semifinals forced Novoa to miss the championship match.
Brian said Novoa was "absolutely devastated" to miss the final, a 1-0 loss to Kearney. In fact, he wore his jersey under another shirt while on the Warriors' sideline that night.
"It was really tough to watch and not be able to change the outcome of the game at all," Novoa said. "But I learned that life is going to throw things that you can't change at you. You've just got to do your best, take it and run with it. Because when something happens and you can't change it, there's no use looking back on it. You just have to look forward."
Which is exactly what he's doing now. Novoa called the opportunity to play soccer — MIT is Division III — while getting a top education a "dream come true."
"I think it's just a perfect fit for me," he said.
Just like he was in the middle of the Warrior attack.
The three-year starter on a team that reached the past two championship matches lifted his level of play this season, Brian said. The Warriors finished 18-2, winning the Metro Conference tournament along the way.
"We almost accomplished every goal we set this season," Novoa said. "We came up a little short, but it was really fun to be able to represent Westside."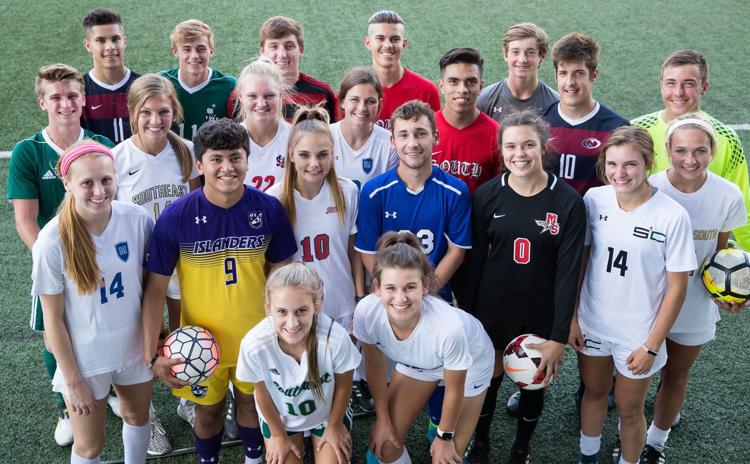 F - Carlos Salazar, Omaha South, Jr.
F - Jonathan Velasquez, Lincoln North Star, Sr.
F - Duncan McGuire, Omaha Creighton Prep, Jr.
M - Royce Austen, Kearney, Jr.
M - Cole Quandt, Lincoln Southwest, Sr.
M - Peter Novoa, Omaha Westside, Sr.
M - Luka Nedic, Lincoln North Star, Jr.
D – Brian Covarrubias, Grand Island, Sr.
D - Johan Centeno, Omaha South, Sr.
D- Tyler Sanne, Lincoln Southwest, Sr.
K - Jacob Hardy, Kearney, Jr.
F - Simon Joseph, Lincoln High, Sr.
F - Jason Moneymaker, Bellevue West, Sr.
F - Lester Perez, Lexington, Sr.
M - Michael Monico, Omaha Gross, Jr.
M - David Salazar, Omaha South, Sr.
M - Pierce O'Brien, Omaha Creighton Prep, Sr.
M - Sam Mormino, Omaha Westside, Sr.
M - Anudan Thapa, Millard South, Sr.
D - Matt Stute, Kearney, Sr.
D - Michael Ambrose, Omaha Creighton Prep, Jr.
K - Griffin Trude, Omaha Westside, Sr.
F - Skylar Heinrich, Elkhorn, Jr.
F - Lindsay Prokop, Millard South, Jr.
F – Delaney Gunn, Omaha Marian, Sr.
F – Laurin Mertz, Omaha Skutt, Jr.
M - Gwen Lane, Lincoln Southwest, So.
M - Regan Zimmers, Millard North, Jr.
M - Emma Wilson, Omaha Westside, Sr.
M - Delaney Stekr, Omaha Marian, Sr.
D - Mackenzie Boeve, Lincoln Southeast, So.
D - Rylie Albers, Elkhorn South, Sr.
K - Maddie Smith, Millard South, Jr.
F - Samantha Powell, Omaha Concordia, Sr.
F - Aleyse Evers, Papillion-La Vista South, Jr.
F - Kelly Elwood, Millard North, Jr.
F - Tiannah Moore, Lincoln Northeast, Sr.
F - Mo Gohr, Elkhorn South, So.
M - Gracie Parsons, Omaha Burke, So.
M- Syd Peitzmeier, Elkhorn South, Sr.
M - Leah Kirchner, Millard West, Sr.
M - Kisa Omerovic, Lincoln East, Sr.
D - Megan Valenzuela, Omaha Marian, Sr.
K - Sidney Anderson, Millard North, Fr.