Dylan Phillips one of state's best anywhere on field
Is Dylan Phillips a better hitter or a better pitcher?
You can make the call, though it won't be easy.
The Omaha Creighton Prep senior had an outstanding season — both at the plate and on the mound — that helped lead to the Junior Jays' third straight Class A title.
The Kansas State recruit was the state's top hitter with a .557 average. He also was tied for the state lead with nine pitching wins, including a complete-game win in the state championship game against Millard South.
"We've had a lot of good players over the years," Junior Jays coach Pat Mooney said. "But Dylan has to be one of the best we've ever had."
That's high praise coming from the 19-year head coach who has led Prep to seven of its state-leading 12 titles.
Phillips is the honorary captain of the 14-player All-Nebraska team. He is one of three members of the championship Junior Jays squad and one of six repeat first-team selections from last year.
Joining Phillips on the team are Prep seniors Evan Laney and Owen Richter. Laney played first base, while Richter was the catcher.
Millard South, Grand Island and Norris each placed two players on the first team. The Patriots are Kyle Perry and Drew Gilin, the Islanders are Shay Schanaman and Cole Evans and the Titans are Zach Argo and Austin Schultz.
Also on the first team are Colby Gomes of Millard West, Hunter Waugh of Omaha Burke, Will Reetz of Elkhorn South, Alex Rodgers of Omaha Roncalli and Logan Van Treeck of Lincoln Southeast.
The six repeat selections from 2017 are Phillips, Perry, Gilin, Schanaman, Schultz and Gomes. They were the only juniors on last year's first team that also included eight seniors.
Nominations by coaches and observations by World-Herald sportswriters determine the honor teams.
Phillips, who played varsity for three years, was coming off a strong junior year. He batted .500 and won three games on the mound for the 2017 state champions, but he knew there was still room for improvement.
"I wanted to make my final season special," he said. "And with the number of players we had coming back, I thought we would have a good season."
The left-handed Phillips led the team in almost every offensive category this spring. He also stepped into the ace role vacated by graduated University of Minnesota recruit Josh Culliver, posting a 7-1 record entering the state tournament.
His lone loss was a 1-0 setback against Lincoln Southeast when the Knights' Van Treeck — a fellow all-stater this year — threw a no-hitter.
The Junior Jays were 22-4 entering state but had suffered late-season losses at home against Lincoln Southwest and Omaha Westside.
"I think in the long run those losses were good for us," Phillips said. "We were getting a little too full of ourselves, and that brought us back down to earth."
In a rematch against Van Treeck and Southeast in the first round of the tournament, Phillips and the Junior Jays prevailed 10-5. Wins followed against Omaha Burke and Millard West before a 7-4 loss in the double-elimination tournament against Millard South.
Prep had its ace ready for the championship game, and Phillips didn't disappoint. He tossed a three-hitter and had four hits in the Junior Jays' title-clinching 7-2 victory.
"We knew that Dylan was going to be our workhorse," Mooney said. "He came through all season and was great in that final."
As it turned out, that would be Phillips' last game for Prep. He will pass on the American Legion summer season to get a head start on college.
"It's kind of tough knowing that I've played my last game," he said. "That's why it felt so good to go out on top."
Phillips led Class A not just in average but hits (54), runs (46), doubles (14) and triples (6). On the mound, he had a 1.98 ERA and struck out 67 to go with his nine wins.
Laney, a UNO recruit, also had a strong season for Prep. He was third in Class A with a .456 average and finished with 40 RBIs, one more than Phillips.
Richter, a Creighton recruit, was recognized by coaches as the best catcher in the state. He batted .379 and was third on the team in hits and RBIs.
Perry, who went 10-0 last season, had another outstanding year for Millard South. Like Phillips, the Nebraska recruit was a double threat pitching (6-2, 1.35 ERA and 81 strikeouts) and hitting (.345 average, 26 runs scored).
Gilin, another Husker recruit, also put up strong numbers in his final year at Millard South. The shortstop batted .341 and was among the Patriots' team leaders in hits (30), RBIs (32) and runs scored (30).
Schanaman, a Nebraska recruit, helped Grand Island get back to state after missing the tourney last year. He batted .371 and had 41 RBIs and four home runs.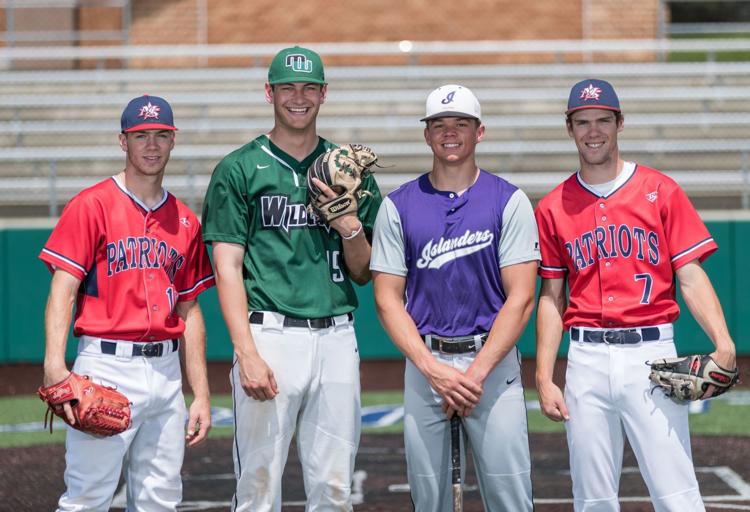 Evans, a Creighton recruit, was another important player for the Islanders. The junior batted .432, drove in 34 and scored 24 runs.
Norris' Argo, a first-team All-Nebraska selection in 2016, led the state with 99 strikeouts. The Air Force recruit went 7-1 with a 0.86 ERA to help the Titans finish as Class B runners-up.
Schultz, a Kentucky recruit, also was a key player for the Titans. He led the state in runs scored (48) and triples (10) while batting .429.
The hard-throwing Gomes, a Nebraska recruit, went 7-0 for Millard West. He won his only state tourney start and finished with a 1.06 ERA and 68 strikeouts while also batting .305.
Waugh was a big reason Burke managed to reach state for the first time since 2013. He went 9-1 on the mound and led Class A with 89 strikeouts.
Reetz was an honorable mention All-Nebraska selection last year but moved up to first team this year after transferring from Norris to Elkhorn South. He batted .398 with six home runs and 23 RBIs as the Storm made their fourth appearance at state.
Rodgers, who is weighing a baseball offer from Nebraska while considering a future in college football, helped Class B Roncalli win its first state title since 1981. He batted .449 and set season records for hits (31), runs (29), walks (21) and steals (15).
Van Treeck went 5-2 with a 1.49 ERA for the Knights, who qualified for state for the 33rd time. He also had the distinction of no-hitting eventual state champion Prep, a game he won 1-0 on April 4 while outdueling Phillips.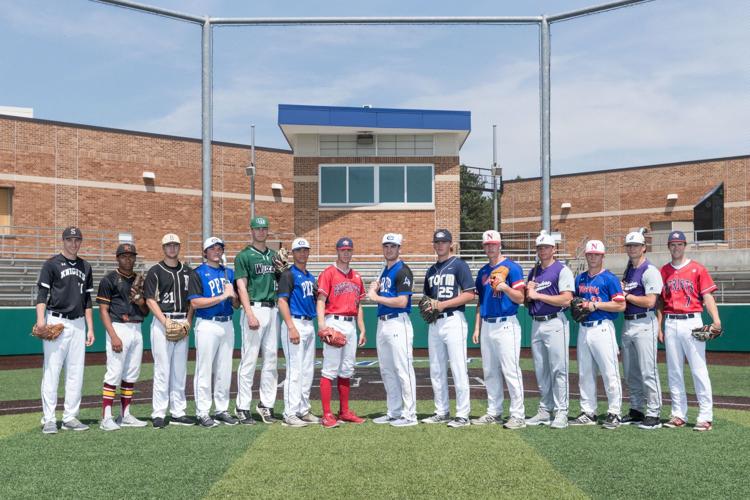 Pos., Player, School, Class, Rec./Avg.
P, Kyle Perry, Millard South, Sr., 6-2
P, Colby Gomes, Millard West, Sr., 7-0
P, Hunter Waugh, Omaha Burke , Sr., 9-1
P, Zach Argo, Norris , Sr., 7-1
C, Owen Richter, Omaha Creighton Prep , Sr., .379
INF, Drew Gilin, Millard South , Sr., .341
INF, Shay Schanaman, Grand Island , Sr., .371
INF, Will Reetz, Elkhorn South , Sr., .398
INF, Austin Schultz, Norris , Sr., .429
OF/P, Dylan Phillips, Omaha Creighton Prep , Sr., .557/9-1
OF, Alex Rodgers, Omaha Roncalli , Jr., .449
OF, Cole Evans, Grand Island , Jr., .432
DH, Evan Laney, Omaha Creighton Prep , Sr., .456
UTIL, Logan Van Treeck, Lincoln Southeast , Jr., 5-2
P, Cade Povich, Bellevue West, Sr., 6-2
P, Jake Bunz, Elkhorn South, Sr., 6-2
P, Creighton Silvain, Omaha Roncalli, Sr., 7-1
P, Easton Young, Millard West , Sr., 6-0
C, Brendan Andersen, Omaha Central , Sr., .410
INF, Jake Gish, Millard South , Jr., .310
INF, Max Anderson, Millard West , So., .370
INF, Jackson Gordon, Omaha Skutt , Sr., .403
INF, Cam Frederick, Lincoln Southwest , Jr., .314
OF, Max Mandel, Omaha Creighton Prep , Sr., .357
OF, Noah Olson, Omaha Burke , Jr., .403
OF, Grant Bohling, Lincoln Southwest , Sr., .362
DH, Casey Burnham, Grand Island , Sr., .422
UTIL/P, Alex Pavon, Bellevue East , Sr., .321/5-2
Photos: All-Nebraska baseball through the years
Each spring, The World-Herald honors the state's top fourteen baseball players. Here's a look at more than a decade of All-Nebraska first-team baseball selections and how they were portrayed in The World-Herald.