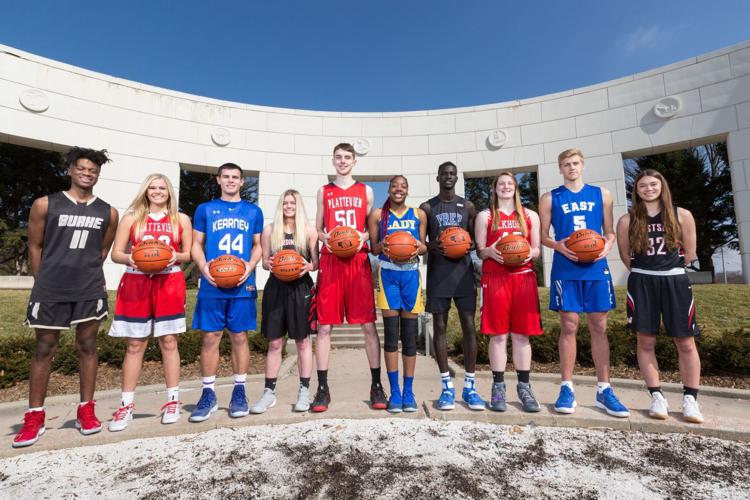 Mitchell's shot at state cut short, but he shined all season
In a season of senior standouts, Shereef Mitchell got the most raves from Class A coaches.
A little dose of compassion, too, for the honorary captain of the 104th All-Nebraska boys team.
"Simply put, Shereef is as dynamic an offensive player as they come," Lincoln Southwest's Alex Bahe said. "It's a shame he never made it to the state tournament stage."
Not playing in Lincoln is a void in the accomplishments of the Omaha Burke senior who broke the school's 41-year-old career scoring record with 1,582 points.
The Bulldogs didn't qualify for state in his career, and what happened this season — the NSAA's ordering Burke in the final week of the regular season to forfeit five early-season wins for use of a transfer student bench player found through a clerical error to be ineligible — was the most painful ending.
"That hurt a lot," Mitchell said. "After we beat Millard South, we were fourth in wild-card points. So the NSAA's decision, which I thought was not right and pretty awful to take away our hard work and our season, that hurt us a lot.
"In districts it was on our minds a lot and it kind of hurt us."
Ending up in the same district with eventual state champion Omaha Creighton Prep, Burke never got to face the Junior Jays. In a first-round game, Millard West upset the Bulldogs to end their season officially at 12-13.
While breaking 1977 all-stater Jim Gregory's school record, the 6-foot-1 Mitchell led Class A in scoring with 24.6 points per game.
Also on the All-Nebraska first team are seniors Kanon Koster of Kearney, Sam Griesel of Lincoln East and Brady Heiman of Class B Platteview and junior Akol Arop of Creighton Prep. Koster is the only repeat first-teamer.
On the second team are seniors Kyle Perry and Tyrell Carroll of Millard South, Roman Behrens of Omaha Central and Tre'Vion Crawford of Omaha Bryan ; and junior Brady Danielson of Class B champion York.
Third-team selections, all from Class A, are seniors Kyle Luedtke of Creighton Prep, Jordan Janssen of Lincoln East, Cedric Johnson of state runner-up Bellevue West and Nick Ferrarini of Millard North; and junior Charlie Easley of Lincoln Pius X.
Mitchell was on the third team as a junior. Two who were among last year's top 15 transferred to schools on either coast: Two-time first-teamer Ed Chang of Papillion-La Vista went to Seattle and third-teamer Malcolm Whitlow to Florida. Chang never played this season.
Nominations of coaches and observations of The World-Herald sports staff determine the All-Nebraska and all-state teams. The teams are separate from player ratings found on NEPrepZone. All coaches received nomination forms by email.
Shereef Mitchell*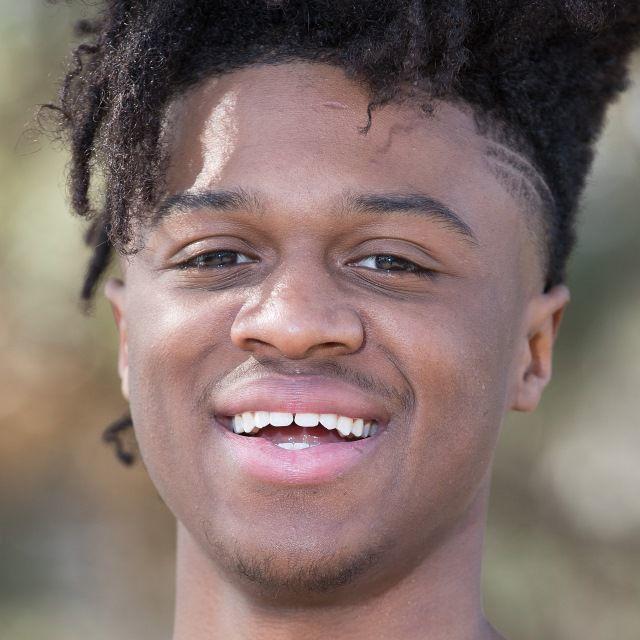 * Denotes honorary captain
Omaha Burke, 6-1, Sr., 24.6 ppg
Mitchell was the state's Gatorade player of the year. He improved his scoring average by more than two points from his junior year, which was a personal goal, and he was the floor general for a young team that returns almost everyone else for next season.
"He believed in his teammates and they believed in him," Burke coach Kevin Kobs said.
Kobs said Mitchell became a better student of the game, spending more time watching tape of opponents to find their weaknesses.
Mitchell's next stop is prep school. Young for his grade and wanting to improve his list of college suitors past the mid-majors — his best offer has been Final Four surprise Loyola of Chicago — the 17-year-old reclassified last fall to be in the 2019 college recruiting class.
Tops on his list of prep schools are Putnam Science Academy in Connecticut, Sunrise Academy near Wichita, Kansas, and New Hampton in New Hamsphire.
Mitchell was on the Omaha Sports Academy Crusaders AAU team with Koster, Griesel and Heiman. Because he has reclassified, Mitchell will be teammates this summer with Arop.
Akol Arop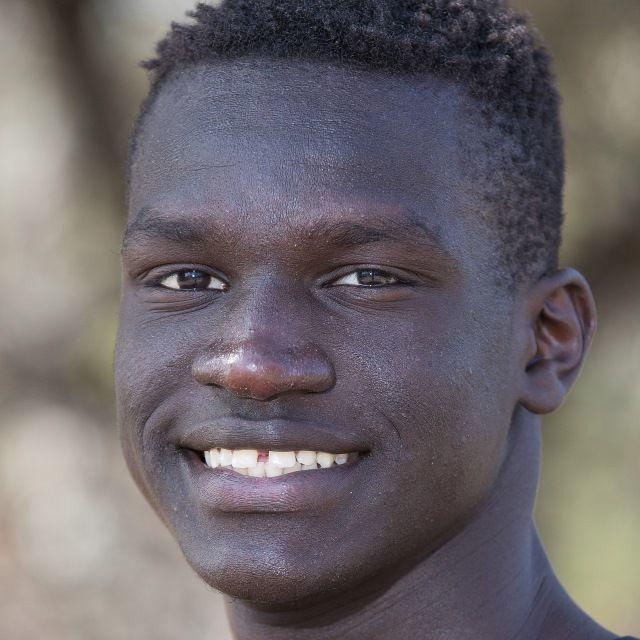 Creighton Prep, 6-6, Jr., 16.0
Arop, 6-6, averaged 16.0 points and was second in Class A with his 9.7 rebounding average. He led Class A shooters with a 65.9 percentage, aided by many thunderous dunks.
"He got better day by day on his inside-outside game," Junior Jays coach Josh Luedtke said. "Defensively, he was a game-changer."
Prep ran its offense through Arop. When teams assigned multiple defenders on him, he'd kick it out to the perimeter as Prep made a school-record 233 treys.
The younger brother of two-time All-Nebraskan Aguek Arop from Omaha South, Akol already has an offer from UNO.
Mitchell on Arop: "His upside is he's super athletic. I feel he's going to get a perimeter game going on soon and he's going to get really hard to guard. He's going to get more offers this summer and I'm going to try to help him get some and help him be the best player he can be."
Sam Griesel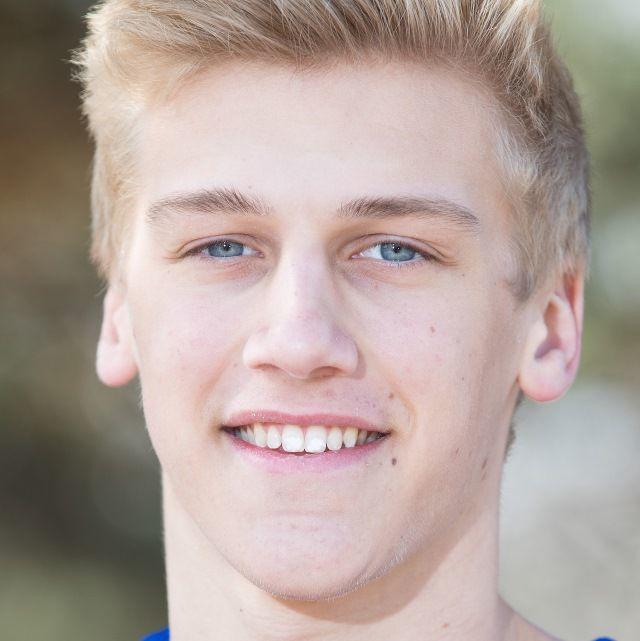 Lincoln East, 6-5, Sr., 17.1 ppg
Griesel, 6-5, is a South Dakota signee who averaged 17.1 points and 6.1 rebounds for Lincoln East, which made state for the first time in a decade and won a school-record 24 games.
"The heart and soul of East's team," Southwest's Bahe said. "The toughest matchup in the state, Sam controls the game with the ball in his hands and poses challenges everywhere on the court.
"When he gets going downhill in transition, good luck."
Mitchell on Griesel: "I feel like he really hasn't hit his peak yet. I think he'll turn out to be a really good player there at South Dakota and help their program out a lot."
Brady Heiman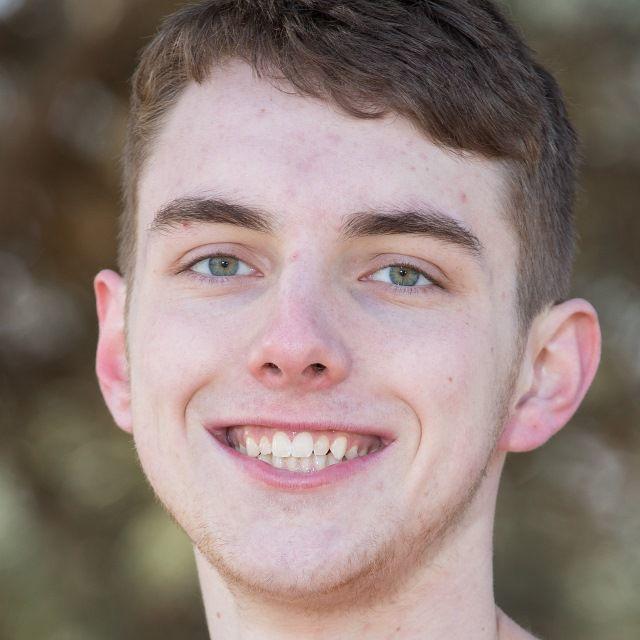 Platteview, 6-10, Sr., 17.3 ppg
Heiman is the first All-Nebraska player from Platteview. The 6-10 power forward signed with Nebraska in November and plans to redshirt in 2018-19.
He averaged 17.3 points and 10.1 rebounds, shooting 56 percent from the field, as the Trojans returned to the Class B state tournament for the third consecutive year. His 120 blocks included 13 against Omaha South and 10 against Class C-1 champion Wahoo.
His career totals were 1,315 points, 883 rebounds and 523 blocked shots.
Mitchell on Heiman: "He's going to bring a lot to Nebraska. His shot-blocking ability, playing out on the perimeter and on the block. Getting bigger is a key for him and he's obviously going to get better with Nebraska's strength program."
Kanon Koster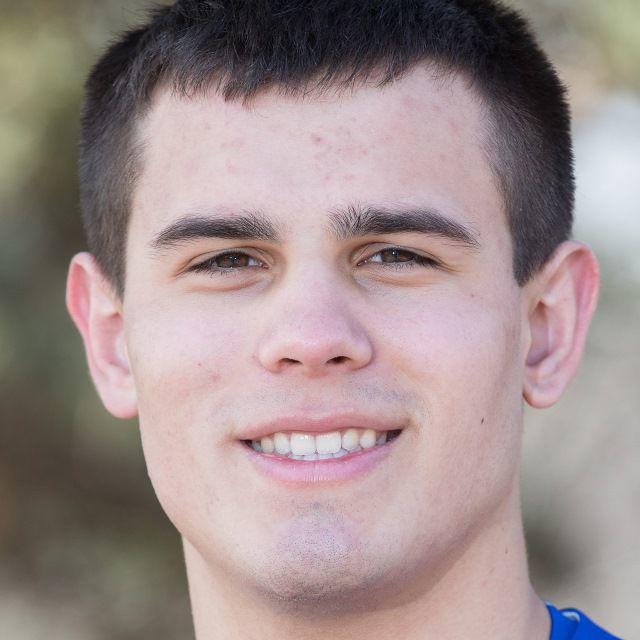 Kearney, 6-3, Sr., 22.6 ppg
Koster is the seventh since 1988 to be on the All-Nebraska first team in football and basketball. The others are Erick Strickland of Bellevue West and Adam Treu of Lincoln Pius X in 1991-92, Bo Buettenback of Hastings in 1993-94, Matt Davison of Tecumseh in 1996-97, Richie Ross of Lincoln High in 1999-2000 and Zach Potter of Creighton Prep in 2004-05.
By averaging 22.6 points as a senior, the 6-3 Koster set Kearney records with 1,522 points in his career and 566 this season.
And he didn't have his expected No. 2 scoring source, injured forward Shiloh Robinson, for the entire season.
"It's the hardest he's been guarded night in and night out based on matchups," Kearney coach Drake Beranek said. "He still found a way to score. He also started to figure ways to impact the game without scoring."
Koster is looking at Maine, McNeese State and UNK for basketball. He was the All-Nebraska quarterback after taking the Bearcats to the state football finals for the first time in 11 years.
Mitchell on Koster: "He'll be a really good player wherever he goes. He's athletic. He can do a lot. He can play defense. He brings a lot to the table for whoever gets him and will get a steal for sure."
The World-Herald's Mike Sautter gives you a behind-the-scenes look at this year's All-Nebraska basketball photo shoot at Memorial Park.
MORE ALL-NEBRASKA SELECTIONS
Kyle Perry, Millard South, 6-2, Sr., 20.6
Roman Behrens, Omaha Central, 6-1, Sr., 16.4
Brady Danielson, York, 6-3, Jr., 17.0
Tre'Vion Crawford, Omaha Bryan, 6-3, Sr., 17.4
Tyrell Carroll, Millard South, 5-11, Sr., 18.1
Jordan Janssen, Lincoln East, 6-6, Sr., 15.2
Charlie Easley, Lincoln Pius X, 6-2, Jr., 17.6
Kyle Luedtke, Creighton Prep, 6-5, Sr., 13.8
Cedric Johnson, Bellevue West, 6-2, Sr., 16.3
Nick Ferrarini, Millard North, 6-5, Sr., 21.2