Josey Ryan entered the season hoping to make her senior year special.
But Ryan, who is averaging 16.2 points a game, does so much more for the top-ranked Monarchs. She leads Class A in assists (4.7 per game), averages more than three steals and is usually tasked with guarding the opposing team's top scorer.
"She's the hardest-working player, boy or girl, that I've ever been around," Papio coach Josh Siske said. "Josey is constantly working on her game and she pretty much lives in the gym."
As far as access to that gym, it doesn't hurt that Ryan's father is Papio Athletic Director Jason Ryan. Josey said her dad — the former Bellevue East boys basketball coach — was instrumental in her development.
"I grew up with the sport of basketball and my dad being my coach," she said. "He's always been super supportive and I wouldn't be the player I am today without him."
Sign up for daily headlines from NEPrepZone
Get a daily roundup of game recaps, player features and more in your inbox.
Now her coach is Siske, in his fourth season with the Monarchs. Coincidentally, Ryan is in her fourth season on the varsity.
"Coach Siske brings a lot of energy," she said. "He can be fun but he can be strict when he needs to be."
Siske said he has seen Ryan progress with each passing year.
"She has made a jump that I wasn't sure she could make," he said. "But a lot of that goes back to her work ethic because she has always been driven, especially this year."
Ryan has been a strong two-sport athlete at Papio. She originally committed to UNO for soccer but had a change of heart, committing to Wayne State for basketball.
"Basketball is the sport I grew up around," she said. "I just didn't think I could give it up."
Siske said whichever sport she competes in, Ryan is a leader.
"When it comes down to crunch time, the girls look to Josey," he said. "She's not afraid to take charge and she's become more of a vocal leader this year."
The Monarchs went 18-8 last season but were eliminated in the first round of the state tournament by Lincoln East. That two-point loss added fuel to Ryan's fire for her senior season.
"It was disappointing," she said. "I think everybody coming back wanted to change how that state tourney ended for us."
Ryan said players spent "a ton" of time in the gym during the offseason. If a few players were going to shoot around, they would send out the word and several more players would show up.
"We'd put out a group text and get as many girls there as we could," she said. "We push each other and that's helped make us a better team."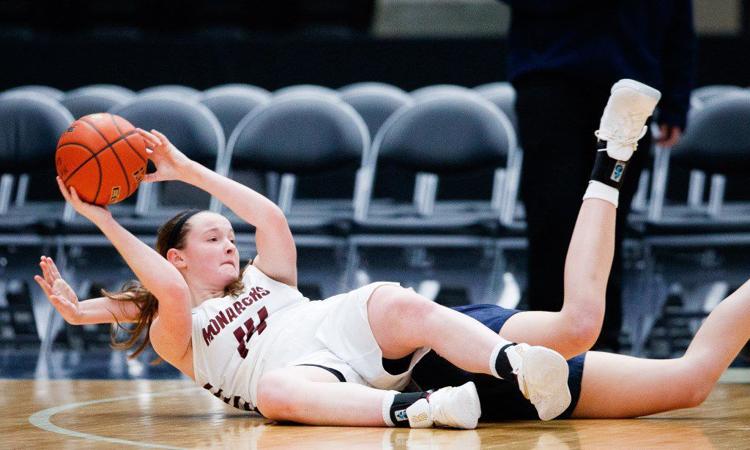 The Monarchs won seven of their first eight games, losing only to Omaha Northwest 75-72.
That led to the Metro tournament, where the fifth-seeded Monarchs went to work. After a first-round win over Elkhorn South, they avenged their only loss with an 81-67 victory over the Huskies.
Next was the semifinal against Millard South, the last undefeated team in Class A. Ryan scored a game-high 23 to help Papio post a 57-55 victory.
That boosted the Monarchs into the final for the first time since 2003-04. They faced Omaha Westside, the defending Class A and holiday tournament champion.
Papio opened an 18-point lead in the third quarter but the Warriors closed to 45-43 early in the fourth. A 3-pointer by Ryan helped the Monarchs get back on track, then they outscored Westside 18-3 the rest of the way to secure the championship.
Fittingly, Jason Ryan presented the championship trophy after the game.
"It was a pretty cool feeling to get that from my dad," Josey said. "We all worked really hard for it."
Ryan said she is optimistic that Papio can maintain its momentum in the second half of the season.
"We've got really good team chemistry," she said. "And winning the Holiday tournament for the first time gives us a ton of confidence."
The ultimate prize is still out there for the top-ranked Monarchs (12-1). They have been to state 14 times but have never won the Class A title.
"I didn't set any individual goals this season," Ryan said. "The only thing I want is to be a part of a state championship team."