FREMONT, Neb. — The decades haven't dimmed Bob Warner's enthusiasm for Fremont baseball.
The 90-year-old was a proud member of the city's first American Legion state championship squad in 1946. This year's team recently ended a 73-year drought by becoming Fremont's second Legion state champ.
"I'm tickled to death they won it," Warner said. "It's been a really long time."
Warner, who still lives in Fremont, will follow Fremont First State Bank's regional games on the radio. They will be played in Hastings, the same city that hosted the 1946 regional.
"I can remember what a big deal it was when we made it," he said. "It's great that these boys are going to experience that."
Warner's memory is still sharp about that state championship team, led by ace pitcher Paul Menking. He threw a 10-inning perfect game with 21 strikeouts in Fremont's regional opener, a 1-0 victory over Wyoming champion Cheyenne.
"He was probably the best I ever saw," Warner said. "He had a great fastball, a great curve and he never walked anybody."
Warner smiles while remembering those carefree baseball days and the stories that go with them. He can't forget the times when his Fremont team, which included players from surrounding towns, had to play on the road.
"The Legion folks got a farmer to donate a cattle truck for us to ride in," he said. "They'd hook up a fire hose to wash it out and then put in two big benches for us to sit on."
Getting to home games also was a chore, particularly for players who didn't live in Fremont. Menking regularly hitchhiked from Arlington. Second baseman Roland Laaker, who didn't have a driver's license, stayed on backroads while piloting his parents' 1933 Model A Ford.
Warner remembers the excitement that Legion team generated during a much simpler time in America. The nation was one year removed from World War II during the presidency of Harry Truman.
"Back then there was nothing for us guys to do in the summer but play baseball or shoot marbles," he said. "Fremont didn't have a swimming pool and the only golf course was private."
The crowds were enormous for home games at Moller Field, Warner said.
"The newspaper estimated there were as many as 2,500 fans for the state tournament games," he said. "The people were everywhere, all around the field."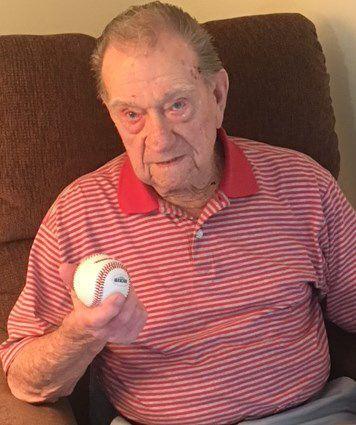 Those crowds led to an embarrassing moment during warmups one day when a baseball rolled under the skirt of a girl sitting inside the fence near the third-base line. Warner, the third baseman, never did go get the ball.
The game also was simpler. There were no helmets, the bats were made of wood and the uniforms were 100% wool.
The 1946 Fremont squad was coached by Virgil Yelkin, who went on to great success at Omaha University. He started the baseball program at Omaha U. in 1947 and won 439 games in 26 years.
"He was a very good coach but very demanding," Warner said. "He pushed us to be the best."
Fremont won that first state championship by posting three shutout wins, including a 4-0 victory over Omaha McFayden's for the title. Then it was on to regionals at Pershing Field, later renamed Duncan Field — site of this year's regional.
Following Menking's perfect game, which drew national attention, Fremont couldn't repeat that success. The team headed home after two consecutive losses.
"It went downhill for us after that first win," Warner said. "But we were still really proud of what we'd accomplished."
The players went their separate ways after that historic season, which for Warner meant a five-year stint in the Navy. He went on to work for the Omaha-based Hawkins Construction firm for 36 years.
He served on the Fremont City Council for 20 years and now enjoys retirement with his wife of 65 years, Nadine.
Warner said the 1946 team held its first reunion in 1991 and tried to get together every five years. The reunions have ended as the number of surviving team members dwindled to three — Warner, Laaker and shortstop Donnie Rice.
Menking, considered one of Nebraska's best Legion players ever, pitched professionally for 10 years in the Chicago Cubs organization. He died in 2017.
With the Mid-South Regional set to begin Wednesday in Hastings, Warner said he'll be cheering hard for this year's Fremont team.
"It's great they accomplished what they did," he said. "They'll remember this for the rest of their lives."
Sign up for daily headlines from NEPrepZone
Get a daily roundup of game recaps, player features and more in your inbox.
Photos: All-Nebraska baseball through the years
Each spring, The World-Herald honors the state's top fourteen baseball players. Here's a look at more than a decade of All-Nebraska first-team baseball selections and how they were portrayed in The World-Herald.