At Omaha Creighton Prep, David Allen had moves for a big man that Metro Conference coaches still talk about.
Like the time he won an overtime game against Omaha Benson. On a finger roll. On a move by a 6-foot-6, 240-pounder that began beyond the 3-point line.
Longtime Prep assistant Scott Sibbernsen said he saw then-Benson coach Terry Shelsta the next morning.
"Terry had looked at the film and said it was a heck of a way to lose. Not only was it a finger roll, but a 3-point finger roll," Sibbernsen said Wednesday. "Two weeks ago, I run into Larry Ribble (retired Millard South coach) and he told the same story. He brought that out of nowhere, that it was a 3-point finger roll.
"Talk about David's athleticism. He could have been a wideout or a tight end in football. Had a great vertical jump. Handled the ball against the press. He had a Charles Barkley body type, but much more skilled than Barkley. Charles might not like hearing that."
Allen, 49, died Jan. 18 in a local hospital after a recent diagnosis of pancreatic cancer, Prep classmate Steve Kurtz said. A memorial service will be 10 a.m. Friday at Heafey-Hoffmann Dworak-Cutler West Center Chapel, 7805 West Center Road.
At Prep, he made the varsity once he was eligible as a freshman and was a three-year starter. His 893 rebounds are No. 2 on the Class A career chart and his 372 in the 1987-88 season are No. 3 for a season.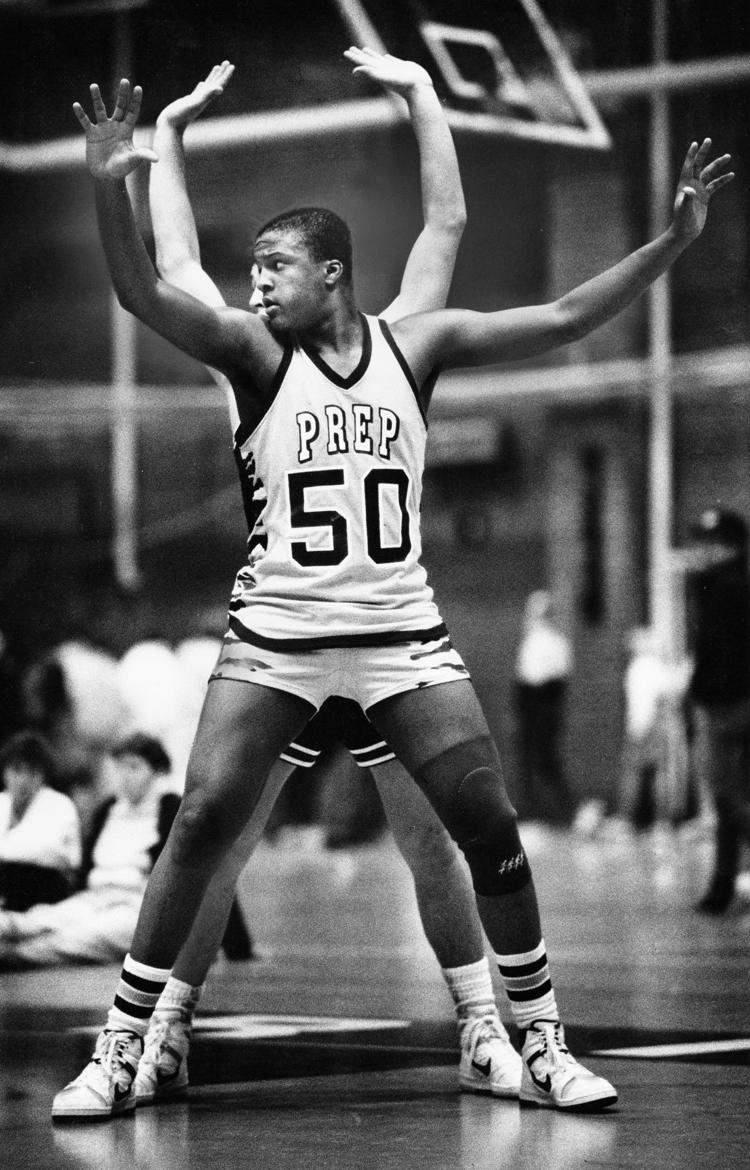 As a senior, Allen was the state's Gatorade player of the year and made the All-Nebraska team after averaging 17.7 points and 15.6 rebounds a game for coach Brother Mike Wilmot's Junior Jays.
"He was fun to be around," Sibbernsen said. "He and Bro had a special relationship. If David didn't like something, he'd make a face. It was kind of a smirk with the head tilted. Bro called it 'The Face.'
"He was very coachable. Sure, he could be a little surly sometimes but he always bought into what was best for the team."
Allen played two seasons at Texas-Arlington, following former Omaha South scorer Willie Brand, and averaged 9.6 points and 7.3 rebounds a game before transferring to Wayne State for his final two seasons.
He operated taverns in South Omaha and worked at Owens and Associates for about 20 years.
Allen met Barkley once. In Reunion Arena in Dallas, he was sitting in the upper tier when Barkley's Philadelphia 76ers were playing the Mavericks.
"I worked my way down, then I had to beg the ushers to get courtside," Allen told The World-Herald in 1992. "I stood next to him. I've got him by a good inch, inch-and-a-half."
Survivors include his wife, JonNiele; children Xavier Amos and Deja Allen; mother, Coldtha; and siblings James Mansfield, Victor Simmons and Tari Rose.