KEARNEY, Neb. — North coach Paul Limongi said he saw the physicality in his team that could leave a mark in Shrine Bowl annals.
With its 32-10 win Saturday in the 61st annual game, the North met that aim with its largest victory over the South since 1962.
"Our guys felt a little slighted because the impression was we didn't have everyone we needed,'' said Limongi, who coached Omaha Burke to its first Class A title last season.
"It gave our kids an edge and motivated them to do something special today."
The North tackled South ball carriers 10 times in 24 attempts behind the line of scrimmage for 41 yards in losses, holding the South to a net of 34 yards. Trenton Harbur of Gothenburg had a 14-yard sack and Travis Tyler of Creighton, one of the last players added to the roster, a 10-yarder.
Meanwhile, the North offense, led by Chadron State-bound Carter Terry, sported a balanced attack of 186 yards rushing and 180 passing. Terry, from Grand Island Northwest, threw two touchdown passes.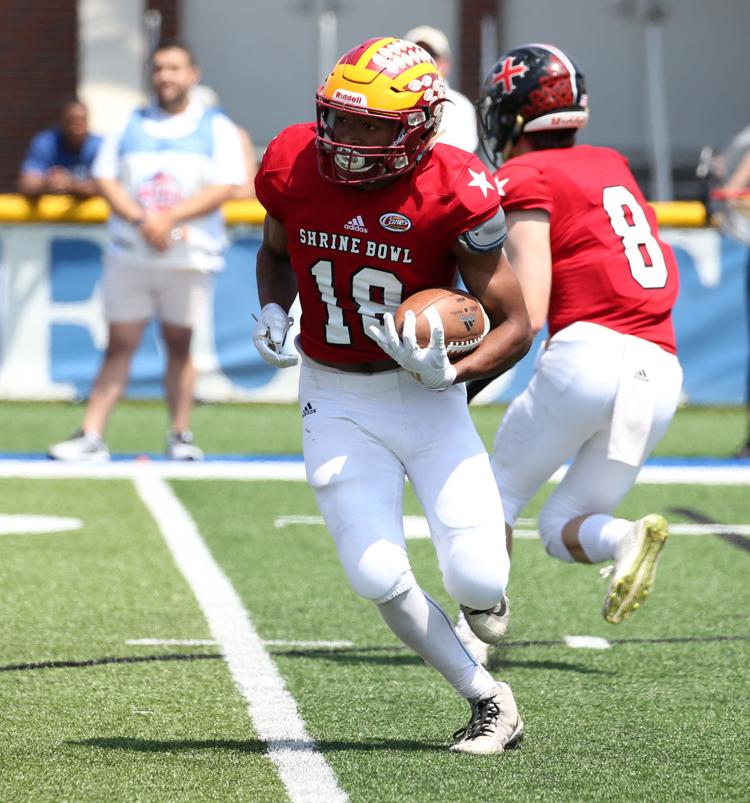 Alex Rodgers of Omaha Roncalli, voted the game's Blue Howell outstanding offensive player, had 147 all-purpose yards. He was the busiest and most productive rusher, picking up 78 yards on 17 carries, and had 43 yards on five catches and 26 yards on a kickoff return.
Rodgers' 12-yard touchdown grab midway through the fourth quarter restored some breathing room for the North after the South, which never led, came within one possession on a late third-quarter field goal.
Terry's first touchdown pass, one that South coach Glen Snodgrass from York said stung his team, was a 14-yarder to South Dakota State-bound Shane Dailey from Bellevue West with seven seconds left in the first half.
The North had two fewer available than the South after seven players invited in February dropped out and only five replacements, because of timing, could be brought in.
"Obviously the talk was we didn't have enough guys,'' Terry said. "This feels good to come out on top and lead these guys to a victory.
"It was a lot of fun just to get to know guys like Shane and Rhett Jordon (Waverly) and Mason Hiemstra (Alliance) and a lot of fun to throw to them."
Elkhorn South's Cooper Jewett, who's walking on at NU, had bookend touchdowns. He opened the scoring on a 5-yard run with three minutes left in the opening period — a blocked punt by Wahoo's Jack Sutton set up the short-field score — and popped a 30-yarder with 55 seconds left in the game.
Harbur, who had several big gainers nullified by penalties, broke loose on a third-and-5 play for a 33-yard touchdown and a 12-0 North lead midway through the second quarter.
After netting five yards on its first five series, the South made it 12-7 when NU walk-on Brayden Miller of Kearney found South Dakota State-bound Baily Darnell of Auburn for a 54-yard pass play.
Its next possession, after holding the North on downs at the South 10 to start the second half, lasted 18 plays but produced only a 37-yard field goal from Kearney's Gabe Heins. On the previous play, Harbur jarred the ball from Miller on his sack but the play had been blown dead.
Husker walk-on Braden Sellon of Lincoln East, credited with eight solo tackles, was voted the game's Clayton Andrews outstanding defensive player.
North.........6 12 0 14—32
N: Cooper Jewett (Elkhorn South) 5 run (kick blocked)
N: Trenton Harbur (Gothenburg) 33 run (kick failed)
S: Baily Darnell (Auburn) 54 pass from Brayden Miller (Kearney) (Gabe Heins (Kearney) kick)
N: Shane Dailey (Bellevue West) 15 pass from Carter Terry (Grand Island Northwest) (run failed)
N: Alex Rodgers (Omaha Roncalli) 12 pass from Terry (Sid deMayo (Elkhorn Mount Michael) kick)
N: Jewett 30 run (deMayo kick)
Sign up for daily headlines from NEPrepZone
Get a daily roundup of game recaps, player features and more in your inbox.
Rushing: S, Miller 6-48, Garrett Snodgrass (York) 5-16, Jarod Epperson (Omaha Skutt) 3-2, Braden Sellon (Lincoln East) 1-2, Jackson Hirschfeld (Centennial) 1-1, Chase Norblade (Papillion-La Vista South) 2-(minus 4), Jaden Davis (Lincoln Southeast) 2-(minus 5), Joseph Krause (Seward) 4-(minus 26). N, Rodgers 17-78, Jewett 6-50, Harbur 4-44, Rhett Jordon (Waverly) 4-24, deMayo 1-6, Mason Hiemstra (Alliance) 1-(minus 2), Terry 2-(minus 14).
Passing: S, Miller 9-15-0 123, Krause 6-13-1 34, Snodgrass 0-1-0 0, Austin Jablonski (Lincoln Pius X) 1-1-0 11. N, Terry 13-20-0 152, deMayo 6-8-0 28.
Receiving: S, Norblade 3-27, Epperson 2-38, Lucas Paloucek (Ogallala) 2-13, Hirschfeld 2-12, Snodgrass 2-11, Darnell 1-54, TJ Skradski (Omaha Skutt) 1-8, Torence Jackson (Omaha Central) 1-4, Jablonski 1-3, Davis 1-(minus 2). N, Dailey 5-65, Rodgers 5-43, Jewett 4-50, Mason Hiemstra (Alliance) 3-9, Leitschuck 1-11, Harbur 1-2.
Tackles (unassisted-assisted-total): S, Sellon 8-0-8, Snodgrass 5-2-7, Landon Weber (Adams Central) 3-3-6, Nick Leader (Lincoln Southwest) 4-0-4, Darenell 3-1-4, Tyson Guzman (Omaha Westside) 3-0-3, TaeVyn Grixby (Lincoln Southwest) 1-2-3, D.J. Gross (McCook) 2-0-2, Norblade 2-0-2, Jayden Merriman (Millard South) 1-1-2, Alex Lewis (Omaha South) 1-1-2, John Christensen (BDS) 1-1-2, Dylan Packett (Omaha Westside) 1-1-2, Josh Bailey (Johnson County) 1-1-2, Mike McClanahan (Papio South) 0-2-2, Davis 1-0-1, Barrett Sellon (Lincoln East) 1-0-1, Jackson 1-0-1, Colin Giron (McCook) 1-0-1, Nouredin Nouli (Norris) 1-0-1, Noah Stafursky (York) 0-1-1.
N, Lane Edis (Mullen) 4-0-4, Jesse Ulrich (Ord) 4-0-4, Kodjo Atkipohou (Grand Island) 4-0-4, Conner Cowling (Norfolk) 2-1-3, Caden Johnson (Wahoo Neumann) 2-0-2, Keegan Reifschneider (Scottsbluff) 2-0-2, Jewett 2-0-2, Travis Tyler (Creighton) 2-0-2, Steven Krawczyk (Omaha Creighton Prep) 2-0-2, Sam Sims (Grand Island) 2-0-2, Lane McGinley (Valentine) 1-1-2, Garrett Hustedt (Elkhorn Mount Michael) 1-1-2, Hunter Jones (Omaha Burke) 1-1-2, Logan Schuelke (Waverly) 1-1-2, Grayson Garey (Broken Bow) 1-0-1, Harbur 1-0-1, Sam Kolterman (Wahoo) 1-0-1, Luke Reimer (Lincoln North Star) 1-0-1, Koby Brandeburg (Central City) 1-0-1, Dylan Sales (Omaha Burke) 0-1-1.
Sacks: S, Leader 1-14. N, Harbur 1-14, Tyler 1-10.
Tackles for loss: S, Leader 1-14, Darnell 1-2, Bar. Sellon 1-2. N, Harbur 1-14, Tyler 1-10, Jones 1.5-3, Bradenburg 1-4, Johnson 1-3, Reifschneider 1-2, Cowling 1-1, Krawczyk 1-1, Reimer 1-1, Hustedt 0.5-2.
Fumbles caused-recovered: S, none. N, Atikpohou 1-0, Harbur 1-0, team 0-1.
Interceptions-yards returned: S, none. N, Edis 1-0.
Blocked kicks: S, none. N, Jack Sutton (Wahoo).