The rescuers for Omaha Creighton Prep's overtime win Friday night deflected the praise. But without Alex Bullock and Pat Foley, the Junior Jays wouldn't have beaten Omaha North 24-21.
Tied 14-14, Bullock got Prep to overtime with a goal-line interception in the final minute.
"I mean, that's just natural. I've been making those plays. But you know, it's not about me," the junior said. "We won as a team."
But how much did you have to wrestle the ball from North receiver Carter Martin?
"Quite a bit. He was strong with it. But I got it."
Foley's 30-yard field goal in overtime was the first winning kick he has had on varsity. North iced him with a timeout, but the senior was true with the boot.
"I was not that nervous because all my teammates and coaches all trusted me, and I knew that my snapper and holder were going to get their stuff done correctly," Foley said. "I trusted myself, and then took a deep breath and just pushed it through."
He was on the field on third down after the Junior Jays stopped running back Treon Fairgood-Jones, who had two touchdowns, at the 1 on the Vikings' possession to start overtime at Burke Stadium in front of a season-opening crowd of 4,000.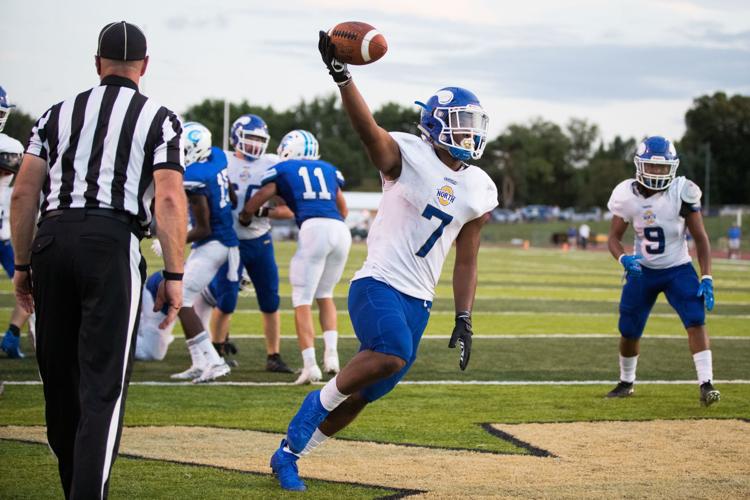 "I'm telling you, we have a lot of young football players on this team," Prep coach Tim Johnk said after beating the Vikings for the second straight year in a close game. "We have a lot of kids that played their first varsity football game tonight and to play North toe -to-toe and beat them in overtime gives us nothing but confidence moving forward.
"Give our defensive staff and our players so much credit. We're doing a lot of new things on defense so we knew there were going to be some mistakes made. But I'll tell you what, they battled. They were coachable. They listened to our coaches and they came through the big stop at the end."
After going scoreless in the first half and falling behind 14-7, Prep's offense got scoring drives of 52 yards and 68 yards in the second with touchdowns by Brayden Woodward, a senior quarterback transfer from Millard North, and major college prospect Mason Armstead on a pass from starting quarterback John Coniglio.
"We only had two negative plays the second half, and we had about 10 or 12 in the first half," Johnk said. "And if we just take care of our own self in the first half, we don't have to go to overtime. But you know what, our kids are resilient. They hung in there and did a heck of a job."
North got to the Prep 14 after Armstead's tying touchdown and faced third-and-9 with 33 seconds left — the play that resulted in Bullock's pickoff. Did North coach Larry Martin consider the field goal?
"I mean no disrespect but we have a PAT guy only," Martin said. "We didn't do a very good job of developing one over the summer and here we sit."
North tallied 401 yards. Its 290 yards rushing were more than Prep's 247 total yards.
"I just feel bad," Martin said. "We probably outyarded them and everything again but we just can't make that many mistakes and expect to win a football game.
"We just got to get better. Bottom line. We told the kids we're not gonna make excuses. We got to coach them better. We got to get better at making plays when the game's on the line, you know, third down and long we give the big kid (tight end AJ Rollins) a big catch from the backup quarterback and the touchdown catch, too. And we threw two picks in the red zone and they take one to the house. We did a lot of good things but we have to tighten that down and do them a lot more often."
Omaha North...................7 7 7 0 0—21
Omaha Creighton Prep......7 0 7 7 3—24
OCP: Joe Boulay 90 interception return (Pat Foley kick)
ON: LaVaughn Luellen 8 run (Darius Hagan kick)
ON: Treon Fairgood-Jones 1 run (Hagan kick)
OCP: Brayden Woodward 1 run (Foley kick)
ON: Fairgood-Jones 20 run (Hagan kick)
OCP: Mason Armstead 6 pass from John Coniglio (Foley kick)
Rushing: N, Fairgood-Jones 28-154, Luellen 10-64, Sam Scott 9-65, Aveon Barnes 2-2, Hagan 5-5. OCP, Vinny Cacioppo 10-35, Woodward 5-17, Armstead 1-6, Coniglio 7-17, Ted Stessman 6-39.
Passing: N, Hagan 5-14-2 111. OCP, Coniglio 11-23-0 115, Woodward 1-1-0 18.
Receiving: N, Carter Martin 1-28, Maurice Williams 1-2, Marques Sigle 1-44, Jaiden Long 2-37. OCP, Armstead 5-51, AJ Rollins 2-53, Will Manhart 1-2, Bouley 1-4, Alex Bullock 3-23.