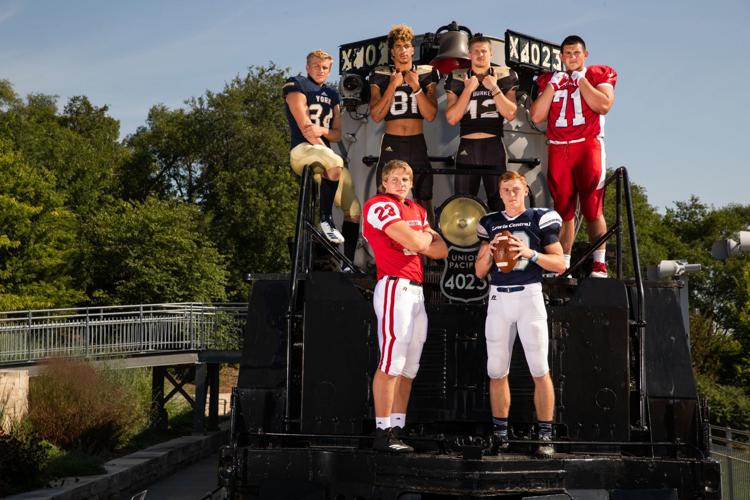 Every so often, The World-Herald's Super Six practically picks itself. Some players stand out so much — and receive high-end college offers — that months before the photo shoot, we can write the names in ink, not pencil.
So it was with this year's Super Six, the annual collection of the six top high school football players in Nebraska and western Iowa.
Five already are committed to Power Five schools. The one who is still playing the recruiting field, Omaha Burke tight end Chris Hickman, could pick a team from nearly every major conference, including Nebraska.
The Huskers have pledges from four members of the Super Six, all of whom project to play defense. Scottsbluff's Garrett Nelson, York's Garrett Snodgrass and Burke's Nick Henrich likely will head to NU as linebackers. Norfolk Catholic's Ethan Piper is bound for the Husker defensive line.
The other commit belongs to TCU. That's Council Bluffs Lewis Central quarterback Max Duggan, who picked the Horned Frogs in the spring over a who's who of college programs.
This Super Six would be a dangerous six-man team. Duggan would sling it around the yard to Hickman, Nelson and Snodgrass, perhaps the state's most versatile player for the defending Class B champs. Snodgrass and Nelson could be running backs, too. Piper is a tough lineman, while Henrich is the biggest hitter of the bunch. With such natural instincts, he seems to have the opponent's playbook inside his hip pad.
They all gathered in Lauritzen Gardens' Kenefick Park, minutes from the Nebraska/Iowa border high above the Missouri River. It was a fitting setting for the six freight trains coming to the football field this fall. Nelson, the rare Panhandle star who makes the Super Six, had to travel 450 miles for the shoot. But the six got along quickly.
It makes sense that they'd mesh so well so fast. It was an easy Super Six to pick.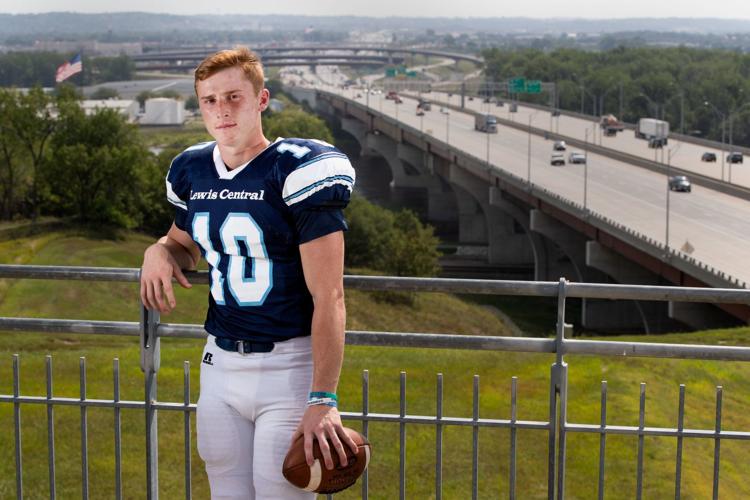 Max Duggan
Council Bluffs Lewis Central • Quarterback • 6-foot-2, 185 pounds
2017 in review: Injuries cropped up for the first time in Duggan's career. A broken right thumb cost the quarterback three games, then he broke an ankle in the season finale. But he thrived when healthy, completing 54 of 95 passes for 748 yards and eight TDs. He also ran for 551 yards (a 5.7 average) and scored nine times. Perhaps sweetest of all was Lewis Central's 9-2 record, which included a playoff win over powerhouse West Des Moines Valley.
2018 outlook: Lewis Central should be a force in Iowa Class 4-A, and Duggan will be a big reason why. He's entering his fourth year as a starter and is healed from last season's injuries. He also added some explosion, as his fourth-place finish in the 200 meters at the state track meet can attest.
College plans: Duggan committed to TCU in April and plans to enroll in January.
Lewis Central coach and Max's father, Jim Duggan: "The game has slowed down for him just because he's been doing it for a while as a four-year starter. In the offseason, he had the opportunity to compete in some high-profile camps and combines and I think that has helped him realize that you can take your game to a different level when you practice hard, perform, have patience and study film."
Duggan on his association with football: "It's been awesome growing up around football. You learn what it's like to be a good leader, what it's like to be a good teammate, how to be coached. You just realize everything that you've been around you've learned and taken in without even knowing. My dad has been a great help of keeping me humble and always telling me to be a hard worker and never think of myself as bigger than the team."
If you could take a train to anywhere, where would you go? "I would take it up into the northwest part of the United States. I've never really been in that part. I've seen pictures of national parks and whatnot in Montana. I'd go up there because I've never seen it. I think it would be cool to go up there for the first time."
If you could share a train car with anyone, who would you travel with? "John F. Kennedy. I have a little thing where I'm a big conspiracy theorist, so I believe in a bunch of those things. I've gone in and researched the JFK assassination. So I'd want to talk to him about his personality, things that happened during his time."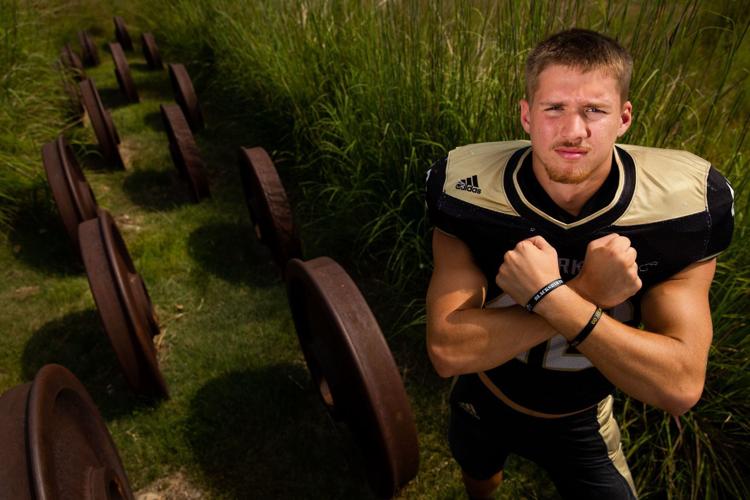 Nick Henrich
Omaha Burke • Linebacker • 6-foot-4, 210 pounds
2017 in review: Henrich played primarily on defense, and he may have been Class A's best overall player last season. A heat-seeking missile of a linebacker, Henrich racked up 119 tackles, 31 ½ tackles for loss and 11 sacks — throwback numbers more fitting for the 1980s — while leading the Bulldogs to the Class A semifinals. From the time Henrich stepped on campus at Burke, he was a factor. He, along with teammate Chris Hickman, helped chart the Bulldogs' rise. Henrich's tackling film is as good as his stats. But the season was bittersweet as Burke fell short of beating eventual state champion Omaha North, losing 29-28. "We think about it a lot, and we just use it as motivation," Henrich said. "We want to finish the job this year and max out on our potential."
2018 outlook: Burke and North — along with perhaps Bellevue West and Omaha Creighton Prep — may have the best teams again. Henrich will play his final year with the Bulldogs committed to Nebraska. The Huskers — initially behind in the recruiting race for Henrich — beat Wisconsin, Iowa, Notre Dame and others. Henrich's dad, Mike, played tennis at Iowa and later coached at Iowa State, so Henrich didn't grow up a Nebraska fan. But new coach Scott Frost and inside linebackers coach Barrett Ruud, whose body type and style of play is similar to Henrich, won over the four-star recruit.
College plans: Henrich is one of two inside linebacker committed to NU's 2019 class — the other is Nashville (Tenn.) Montgomery Bell Academy's Jackson Hannah. By the time Henrich and Hannah step on campus, they'll be in line to play early. NU's top three inside linebackers are all upperclassmen.
Burke coach Paul Limongi: "He plays the linebacker position unlike anybody I've seen ever play it in high school. Fast. Aggressive. He has a great nose for the ball. Very savvy — makes others better."
Henrich on the other three in-state Husker commits: "These guys are like brothers. All great guys. We've really bonded. They all texted me after I committed."
If you could share a train car with anyone, who would you travel with? "Ray Lewis. He's obviously one of the all-time greats. Just his mindset really separated him. I'd love to pick his brain if I could. I love his film." Henrich, a lifelong Cowboys fan, also likes Sean Lee.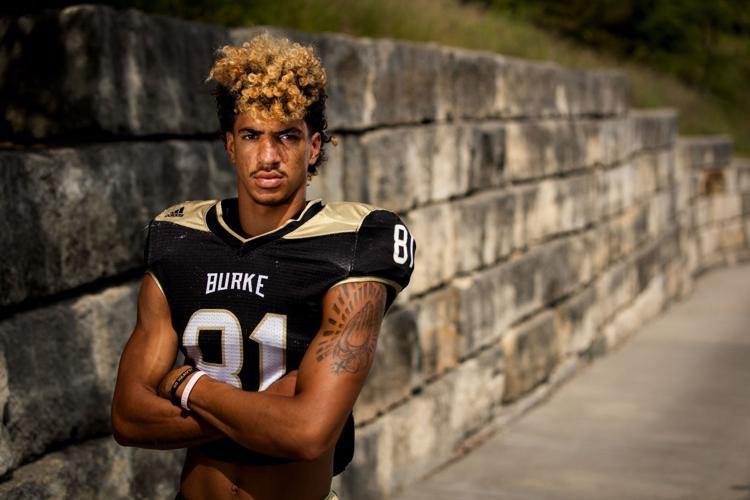 Chris Hickman
Omaha Burke • Tight end/defensive end • 6-foot-5, 200 pounds
2017 in review: One of the state's top all-around athletes, Hickman has caught 44 passes in his career, and 36.3 percent of them have gone for touchdowns. As a junior, Hickman personified "deep threat" better than any receiver in the state. He had 24 catches for 575 yards — 24 yards per pop — and eight touchdowns. But Hickman was dominant on defense, too. At defensive end, he had 46 tackles, 13 tackles for loss and six sacks. That versatility makes him a most intriguing prospect. Hickman, like Super Six teammate Nick Henrich, is more focused on team goals headed into 2018. He wants a state title, and he's proud to wear an "unfinished business" T-shirt.
2018 outlook: Hickman will continue to be the state's most dangerous receiver, but he's eager to continue growing as a defender. Several college programs are interested in Hickman's skills at outside linebacker — Oregon included — and Hickman, for his talents as a tight end, is willing to explore the position in college. "I just like hitting people," Hickman said. Winning a state title, he said, is the biggest goal. And he thinks it'll excite the school.
College plans: Hickman is the only member of the Super Six who remains uncommitted. He's visited Nebraska several times. NU has made its case that Hickman can play outside linebacker or tight end, but Hickman intends to take official visits "early in the season" and "weigh out my options" after that. Hickman wants to see LSU, Oregon, Mississippi, Iowa, Nebraska and Wisconsin. That's the top six. "Coach (Scott) Frost has let me know that they want me," Hickman said.
Burke coach Paul Limongi: "We had him rush the passer, play linebacker, play wideout, play tight end, lead block. He's our long snapper. Never comes off the field."
Hickman on why he likes tight end: "It's one of those positions where you get to do everything. I'm one of those guys who likes doing many things. I get to be a part of the line and I get to be a part of the receivers."
If you could share a train car with anyone, who would you travel with? Hickman isn't much of a train guy — he prefers hunting deer or fishing on the Missouri River — but if he could pick the brain of someone on a train, he had a quick answer: "Gronk." That's Patriots' tight end Rob Gronkowski. He is Hickman's favorite player on his favorite team. "That's the best guy to watch."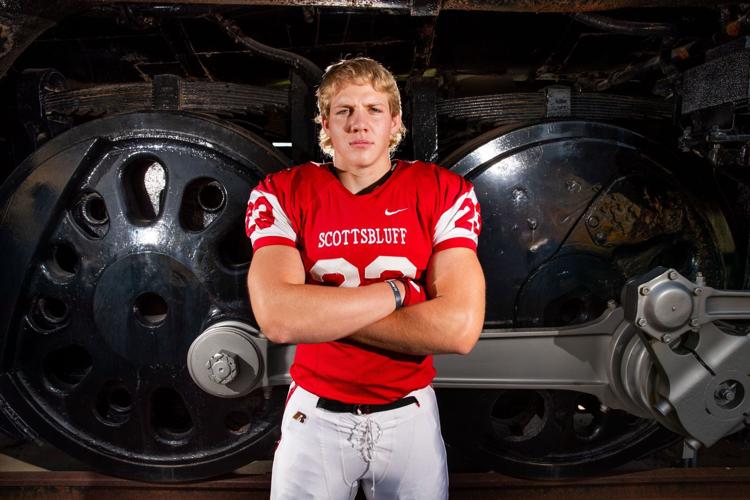 Garrett Nelson
Scottsbluff • Linebacker • 6-foot-3, 235 pounds
2017 in review: Nelson will remember 2017 as the year he got noticed. Out in the Panhandle, Nelson is known as "just another kid who goes to Dairy Queen and destroys a Blizzard once in a while," he said. But after 44 tackles, 11 tackles for loss, seven sacks and one fumble recovery — not to mention 133 rushing yards — Nelson was on the recruiting map. "Another step in the long journey of a football career, I guess," Nelson said. "Just a lot of learning experiences and just building and learning more fundamental technique through live play. I guess it was the first time I've ever been statewide known or nationally known since I committed to Nebraska." Scottsbluff went 9-1 in 2017, losing to York in the second round of the Class B state playoffs.
2018 outlook: Nelson is ready for his final season, then ready to leave for Lincoln in December. The season kicks off Aug. 24 at North Platte. The goal for 2018, he said, is to prepare for the next level. "Just being more mentally prepared to play at that level, play that fast," Nelson said. "Work on fundamentals of what is going to work at the next level during the season. Just be with my team one last time and go have a good time and play some football games."
College plans: At 6-foot-3, 235 pounds, Nelson is a defensive end for Scottsbluff. He'll be an outside linebacker at Nebraska. "You know, growing up is scary but everybody's gotta do it and you gotta go through it," Nelson said. "Just overall excited. Ready to roll."
Scottsbluff coach Joe Benson: "Garrett is a great leader by example and vocally. We expect great things from him and all our seniors this year."
If you could take a train to anywhere, where would you go? "Probably Azkaban. What I would think about is, if you go to Azkaban, you could break out and go to Hogwarts and you'd be a legend, right? And you'd be better than Harry Potter."
If you could share a train car with anyone, who would you travel with? "Probably Chris Pratt. Really cool guy. I feel like we'd mingle really well. He's not too big so he wouldn't take up too much of the train, the train car. Yeah. Either that, or like, a hot babe."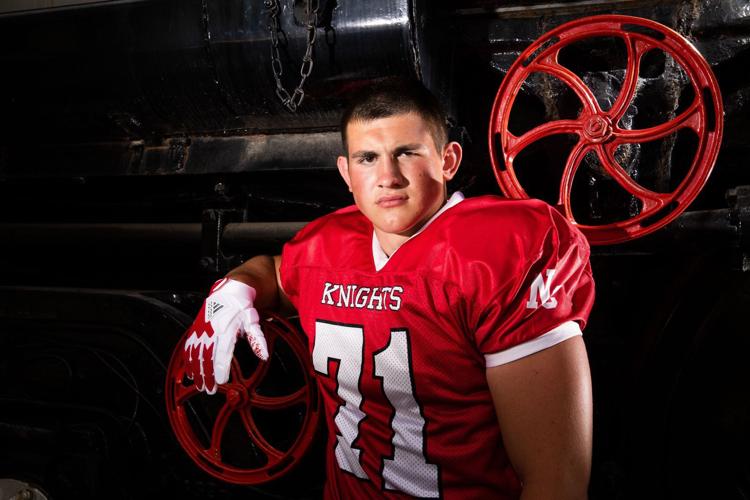 Ethan Piper
Norfolk Catholic • Defensive tackle • 6-foot-4, 275 pounds
2017 in review: Ethan Piper committed to his dream school and won a state title in 2017. "Yeah, it was quite a ride," he said. After going 6-4 in 2016, Norfolk Catholic wasn't expected to do much. But once the Knights got rolling, they were tough to beat, capping an undefeated season with a 35-0 win in the Class C-1 title game. "To be lucky enough to get our school its 10th title was pretty cool," Piper said. He also committed to the Huskers and coach Scott Frost — a dream he has had for some time.
2018 outlook: Excellence is expected for Piper and Norfolk Catholic. As a senior, Piper wants to be more of a leader and the bell cow on defense. "I'm expecting a lot out of our team," Piper said. "We'll return a lot of starters, so I demand the same excellence. You never know with injuries and stuff, things could not go our way but hopefully we can have the same outcome, 13-0 and another state championship."
College plans: Frost wants to build his program on players like Piper — an in-state grinder who always wanted to wear the scarlet and cream. "Grew up a Nebraska fan, so I don't know if I'm going to change my mind on that one," Piper said. "I'm really looking forward for the season, but I'm still kind of excited just for my senior year to get done so I just go up to Lincoln and just start practicing and get into it all." Piper will stay in Norfolk until May, then join the Huskers next summer.
Norfolk Catholic coach Jeff Bellar: "Ethan has great work ethic and really helps our offensive and defensive line practice and plays at a very high level. My expectations are very high for him. I believe he can take over a game with his abilities. He is a quality young man and is a good Christian role model for our younger students."
If you could take a train to anywhere, where would you go? "Probably like Oregon or Washington. That'd be pretty fun. It's just beautiful country out there. We just got back from Wyoming and I could pretty much ride in a train for like eight or 10 hours just looking outside. It's just gorgeous out there. That would be my dream, just living out there. Get a house, something like that."
If you could share a train car with anyone, who would you travel with? "I'd probably have to say my friend Dave. He's back in Norfolk. He'd make things a lot of fun. We'd play games and stuff to pass the time but it wouldn't be a boring trip with him."
Garrett Snodgrass
York • Quarterback/linebacker • 6-foot-3, 220 pounds
2017 in review: It was a dream season for Snodgrass and York, which went 12-1 en route to the Class B state title. The 6-foot-3, 220-pound Snodgrass assumed regular quarterback duties when an injury opened the job early in the year. He then thrived as a playmaker there and at tight end. He also racked up 86 tackles at outside linebacker even as opponents ran plays away from him. A 78-percent passer, he ran for 1,540 yards and 20 touchdowns, including 209 yards and two scores in the championship game.
2018 outlook: Snodgrass will settle in as the full-time QB this fall, though York plans to lighten the workload of its standout early in an effort to keep him healthy down the stretch. Faster and about 15 pounds heavier as a senior, he will again man a spot at outside linebacker as York aims to break in new players and defend its state crown. "We're working just as hard as we ever have," Snodgrass said. "But we realize that everybody in the state is going to be thinking about us. It won't do us any favors, for sure. We just gotta be ready for everyone's best shot and play our game."
College plans: Nebraska coach Mike Riley offered a scholarship the morning of the championship game, and Snodgrass accepted four days later. Viewed as a tight end by the previous staff, he is more likely to begin as a linebacker under coach Scott Frost. He will take an official visit only to Nebraska this fall.
York coach and Garrett's father, Glen Snodgrass: "Last year, he was able to kind of lock down half the field. That's what we're hoping again this year. He was great last year with some great players around him. This year, he's also got great players around him and I'm anticipating a good year again."
Snodgrass about his game: "My knowledge of the game, my physicality are my best traits. I don't have one definite strength but I feel like I don't have very many weaknesses."
If you could take a train to anywhere, where would you go? "I'd probably take it on a tour around the Rocky Mountains. I feel like that would be pretty cool."
If you could share a train car with anyone, who would you travel with? "Probably Tom Osborne. I've read some of his stuff and he just seems like a really smart guy. I feel like I could definitely learn a lot from him."
---
High school football preview