LINCOLN — Who gets the trophy first?
"The players will probably have it until we get copies for both schools," Dylan Soule said.
A politically sound answer. For in its final game together, Osceola/High Plains lived off the 40 points the Stormdogs scored in the first half off four Burwell miscues to capture the Eight Man-1 championship.
It took Jarrett Parsons' strip of Jase Williams as the Longhorn running back was struggling to get to the first-down line, with Carter Boden recovering the ball with 1:34 left, to preserve a 40-34 victory Monday before 1,602 at Memorial Stadium.
"Our first half won us that game," said senior Dylan Soule, who ran for 145 yards and scored four touchdowns.
Osceola and High Plains are going their own ways after two years together as a cooperative-sponsorship team. It's the first time a championship team is splitting up.
"The coaches and players wanted to keep it, but it's not in our hands," co-coach Bob Fuller said. It was his 300th career victory, and he'll coach Osceola next season.
Greg Wood, the other co-coach, is from High Plains.
"These guys have been together ever since seventh grade, and you know they've really come together as a family and as one," Wood said. "It's amazing and it's awesome for them to be able to end it in this fashion."
In a rare final between unranked teams, OHP (11-2) scored off its three fumble recoveries and blocked punt against the Longhorns (10-3) and didn't punt in the first half.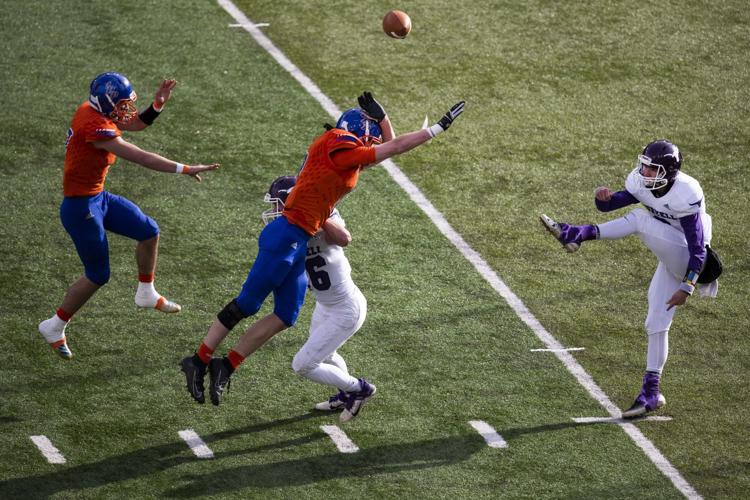 The block was by Kyle Sterup, with Soule scooping it up and dragging Longhorns into the end zone for a 5-yard return. It staked OHP to a 20-8 lead.
"We didn't play a clean first half and they were kind of bringing it to us," said Burwell coach Luke Gideon. He had the Longhorns in the state finals for the fourth time in five years with a win in 2016.
Burwell got 156 yards and a touchdown from senior Jase Williams, who finished with 1,787 yards and 35 touchdowns, and fourth-quarter touchdown runs of 59 and 23 yards from Caleb Busch.
Keaton VanHousen, who scored OHP's first touchdown before getting dinged up, ended his senior season with 2,283 yards and 36 touchdowns, and Soule had 1,523 yards and 28 TDs.
Burwell (10-3)..........................8 6 6 14—34
Osceola-High Plains (11-2)........20 20 0 0—40
B: Jase Williams 29 run (Williams run)
OHP: Keaton VanHousen 4 run (run failed)
OHP: Carson Watts 32 pass from Carter Boden (run failed)
OHP: Dylan Soule 5 blocked punt return (VanHousen run)
B: Barak Birch 6 run (run failed)
OHP: Soule 61 run (run failed)
OHP: Soule 1 run (Soule run)
OHP: Soule 2 run (run failed)
B: Mason Plock 27 pass from Birch (run failed)
B: Caleb Busch 59 run (pass failed)
B: Busch 23 run (Busch run)
Rushing: B, Wiliams 24-156, Busch 7-98, Birch 7-4. OHP, Soule 23-145, VanHousen 17-71, Bryce Reed 8-32, Boden 9-1.
Passing: B, Birch 8-15-0 91. OHP, Boden 1-2-1 32.
Receiving: B, Alex Gideon 3-27, Plock 2-47, Corey Dawe 2-9, Williams 1-8. OHP, Watts 1-32.
Tackles (unassisted-assisted-total): B, C. Dawe 9-5-14, Hunter Mayfield 6-9-14, Cash Gurney 2-12-14, Tyler Dawe 2-9-11, Plock 3-5-8, Williams 4-3-7, Busch 3-3-6, Gideon 2-1-3, Levi Bode 2-1-3, Colton Dawe 0-2-2, Hayes Jensen 1-0-1. OHP, Soule 6-5-11, Kyle Sterup 7-2-9, Reed 3-6-9, Jarrett Parson 4-4-8, Thad Rathjen 3-3-6, Boden 1-3-4, VanHousen 0-4-4, Isaiah Zelasney 1-1-2, Kane Benson 1-1-2, Javier Marino 1-1-2, Watts 0-1-1, Tanner Kropatsch 0-1-1, Colton Kirby 0-1-1, Jakob Hogan 0-1-1.
Fumble recoveries: B, none. OHP: Soule, Rathjen, Marino, Watts, Marino.
Forced fumbles: B, Corey Dawe. Gurney. OHP, Soule, Reed, Parsons, Marino.
Interceptions: B, Gurney. OHP, none.
Blocked kicks: B, none. OHP, Sterup.
Photos: 2019 Nebraska State football title games Monday