LINCOLN — Upon further review, Omaha Skutt remains undefeated and the Class B state champion.
It took two goal-line stops, the first disputable and the second not at all, for the SkyHawks to extend their winning streak to 26 games with their 21-20 win over Scottsbluff Monday night before 3,043 at Memorial Stadium.
The left side of Skutt's defense turned back Scottsbluff warhorse Sabastian Harsh on a 2-point try with 2:35 left after his second touchdown of the fourth quarter and third of the game.
"I knew he was going to go right, where he went right before the half,'' Skutt do-all senior Tyson Gordon said. "I blitzed on that one and had a pretty good play, so I did it again. I wasn't in on this play, but luckily my other teammates stepped up and made a big play."
The state title was Skutt's fifth under coach Matt Turman.
"I think the kids just sold out," Turman said. "They knew No. 4 (Harsh) was gonna run it, and he's so good and you know he was gashing us for 8, 10 yards a play. But when we had to, we stopped them and we ground out a few first downs at the end, so I'm just proud of our kids."
Monday was the first time the Nebraska School Activities Association used instant replay in its football finals after it was approved nationally this year. After the two eight-man games produced no overturned calls, there were two in Skutt-Scottsbluff and one call that stood that caused consternation in Bearcats across the state — those in the stadium and those who stayed behind to watch the snowstorm roll into the Panhandle and possibly into Lincoln for Tuesday's three games.
Late in the first half, Harsh was ruled short of the goal line as he stretched out on third down. After a long review, the call stood.
The rule, from the NSAA Football Manual: "If there is not a camera angle that definitively shows there was an error, the call will 'stand.'" What seems to be at fault is there was no angle down the goal line, only off to one side. And that left the replay without IVE — Indisputable Video Evidence. You see what you want. And a shadow is not IVE, IMO (in my opinion).
The play brought up flashbacks of Millard North's John McCardle being ruled down on a similar stretch, albeit for a first down and not a score, in Lincoln Southeast's 7-6 win in the 2002 Class A final. That call would have been hard to overturn, and apparently this one also was.
But there was still fourth down, and that's when Gordon slowed Harsh in the backfield and Nick Chambers and Ryne Emanuel tackled him for no gain.
As for going for 2, new Scottsbluff coach Jud Hall said there was no hesitation.
"They can second-guess me later, but the way the game was going, we were moving the ball there,'' he said. "All the momentum was on our side. And we didn't come here to play for second place. So we're going to try and win, and then put it on our defense and get a stop."
Just as they did last year, the No. 2 Bearcats (12-1) led early. They opened the game with a drive that took more than half of the quarter. But No. 1 Skutt (13-0) kept them from matching last year's two-score lead and scored twice in the final 6:05 of the first half for a 13-7 halftime lead after the goal-line stand.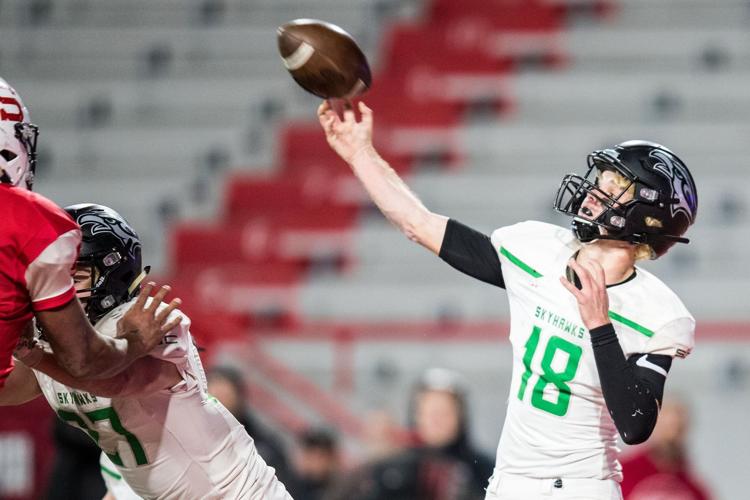 "They had us on our heels early," Turman said. "We knew what they were doing, but we didn't know how to stop it. Just practicing against it is not the same when they got all those big bodies in there and a 235-pound quarterback run at you so hard. It kind of caught us by surprise, but we switched some guys around a little bit, put the bigger guys out in the C gap (between the tackle and tight end) to try and slow him down, and that helped a little bit."
Gordon scored on a 4-yard run and threw to Max Brinker for a 12-yard touchdown. Grant Diesing popped a 66-yarder in the third quarter for a 21-7 lead.
Harsh finished with 216 yards on 42 carries. The Bearcats were without running back Jacob Krul (broken foot) the past 2½ games.
After Harsh made it 21-14, Terrance Mokeac stripped the ball from Gordon and Scottsbluff's Jack Darnell recovered the fumble near midfield with 6:08 left. Their quarterback carried on all eight plays to get the touchdown.
"We just wanted to win,'' Hall said. "I think that's what got us back into it. It wasn't anything special. We were calling the same things, doing the same stuff. It was just kids who didn't want to go home with a loss tonight."
Omaha Skutt (13-0).....0 13 8    0—21
Scottsbluff (12-1)........7     0 0 13—20
SB: Sabastian Harsh 2 run (Caleb Walker kick)
OS: Tyson Gordon 4 run (Zach Hodge kick)
OS: Max Brinker 12 pass from Gordon (kick failed)
OS: Grant Diesing 66 run (Brinker pass from Gordon)
SB: Harsh 15 run (Walker kick)
SB: Harsh 17 run (run failed)
Rushing: OS, Diesing 10-120, Gordon 18-65, Gunner Ott 7-12, Barrett Liebentritt 1-0. SB, Harsh 42-216, Jasiya DeOllos 8-37, Walker 3-4.
Passing: OS, Gordon 3-13-1 40. SB, Harsh 2-11-1 22, Brett Hill 1-1-0 33.
Receiving: OS, Drew Rase 1-22, Brinker 1-12, Nick Chambers 1-6. SB, Jack Darnell 2-22, DeOllos 1-33.
Tackles (unassisted-assisted-total): OS, Chambers 3-9-12, Ott 6-3-9, Diesing 4-5-9, Liebentritt 3-6-9, Brinker 7-1-8, Ryan Emanuel 2-4-6, Gordon 3-2-5, Blake Brummer 3-0-3, Blake Anderson 3-0-3, Robbie Trout 1-2-3, Dominic Melrose 2-0-2, Josh White 1-0-1, Jacob Leu 1-01, Nolan Connor 0-1-1, Grant Reeves 0-1-1. SB, Luke Rohrer 7-5-12, Trayton Travnic 6-3-9, Harsh 6-1-7, Nicholas Maag 4-1-5, Terrance Mokeac 3-1-4, Darnell 2-1-3, Chance Symons 1-0-1, Hill 1-0-1, Alexander Galin 1-0-1, Walker 1-0-1.
Fumble recoveries: OS, Chambers. SB, Darnell 2.
Fumbles forced: OS, Liebentritt 2, Anderson. SB, Mokeac.
Interceptions-yards: OS, Gordon 1-29. SB, Harsh 1-3.
Photos: 2019 Nebraska State football title games Monday