Omaha Skutt coach Matt Turman is hoping a familiar path leads the SkyHawks to their second straight Class B title.
Skutt defeated Bennington, Blair and Waverly in last year's playoffs before posting a 48-27 win over Scottsbluff in the title game. The SkyHawks beat the same three this postseason leading up to Monday night's rematch in the final against the Bearcats.
"It's funny that it worked out that way," Turman said. "Now we need to take that last step."
The SkyHawks (12-0), in the final for sixth time in seven years, will be seeking their fifth title while the 12-0 Bearcats — three-time runners-up — are after their first.
Turman said he likes the recent play of his defense, which will be tested by bruising quarterback Sabastian Harsh. The 6-foot-3, 225-pound senior has rushed for 1,797 yards and 32 touchdowns this season.
"We need to keep flying around, the way we have been," Turman said. "We went into a little bit of a funk during the season but I like what I've been seeing lately."
Turman added that containing Harsh, who ran for five touchdowns and threw for three in a 63-56 semifinal win over Omaha Roncalli, will be the key.
"He's big and physical," the coach said. "We'll try to slow him down and to do that, we'll need to gang tackle as much as we can."
Two defenders who will be counted on heavily will be senior linebackers Max Brinker and Gunner Ott. Brinker leads the team in tackles with 106 and Ott has 76 tackles and three sacks.
"We're going to need to rally to the ball," Brinker said. "We'll be using some of the same strategy that helped us against (Harsh) last year."
Brinker also plays tight end and is the SkyHawks' leading receiver. He has caught 32 passes for 602 yards and five touchdowns.
And he is the team's punter, averaging 31.5 yards.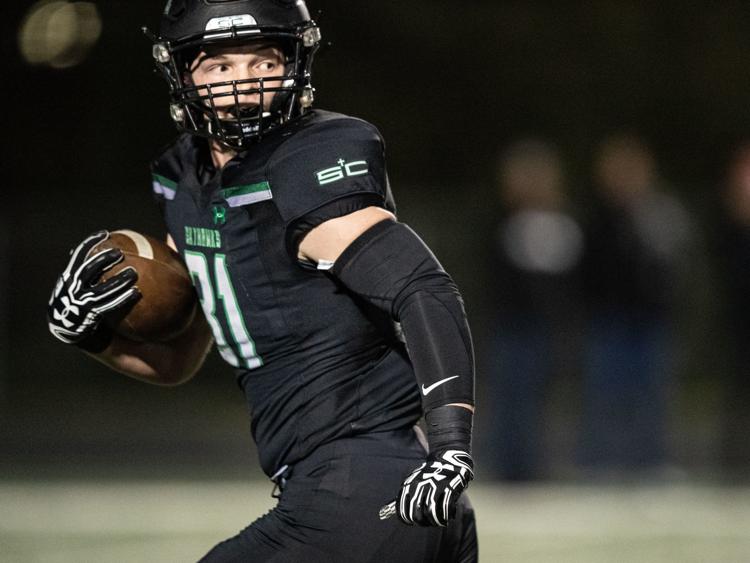 "Max does everything for us," Turman said. "And I believe he's one of the best outside linebackers in the state."
Ott, whose father Steve was a four-year letterwinner at offensive guard for Nebraska, also plays fullback. He has rushed for 575 yards and seven touchdowns.
"He's a hard hitter at inside linebacker and makes it count when he's carrying the ball on offense," Turman said. "He does all the dirty work for us."
Ott said the SkyHawks are aware of Scottsbluff and its prolific quarterback, who has been offered a walk-on spot by the Huskers.
"Last year, we tried to use our speed to our advantage," he said. "We know how good they are so we need to be ready."
Leading the Skutt attack is senior quarterback Tyson Gordon. The North Dakota State commit has rushed for 1,348 yards and 23 TDs and thrown for 1,733 yards and 19 touchdowns.
"Offensively, everything goes through Tyson," Turman said. "When he's clicking, we're clicking."
Another key in the backfield is senior running back Grant Diesing, who has rushed for 860 yards and 10 touchdowns.
Turman said that defensively, the Bearcats resemble Waverly. Skutt defeated the Vikings 27-10 in a semifinal.
"They cause a lot of chaos," he said. "They blitz from different places and have a lot of big, fast kids."
Ott said the SkyHawks, who are riding a 25-game winning streak, hope to finish this season the same as last year — with a victory over Scottsbluff and a Class B title.
"The ultimate goal of all of our seniors is to go out with a win," he said. "It would be the best feeling to be able to repeat."
---
Photos: Nebraska high school state football champions since 2004