An interception and a fumble caused Omaha Skutt to stumble early Friday night. Then the SkyHawks regained their balance in the third quarter to earn the opportunity to defend their Class B state title.
Three touchdown passes by Tyson Gordon in an eight-minute span pulled Skutt from a 10-6 deficit to a 27-10 victory in front of estimated 2,700 at Moylan Stadium.
The SkyHawks (12-0) reached the final for the fourth consecutive season and the seventh time in eight years. Skutt will again play Scottsbluff, a 63-56 winner over Omaha Roncalli Friday night, in the Nov. 26 championship at Memorial Stadium.
Skutt defeated the Bearcats 48-27 in the 2018 final to earn the program's fourth championship.
Skutt coach Matt Turman said regardless of the opponent, his team is going to have to battle.
"That's what I like about this team," Turman said. "We have a bunch of kids who won't give up. Even when bad things happen, they just keep playing. I told our kids we know what it takes, we've been to Lincoln before, so we know it takes in these types of games.
"It's not always going to go our way. When it wasn't going our way, we figured out a way to turn the momentum back in our favor."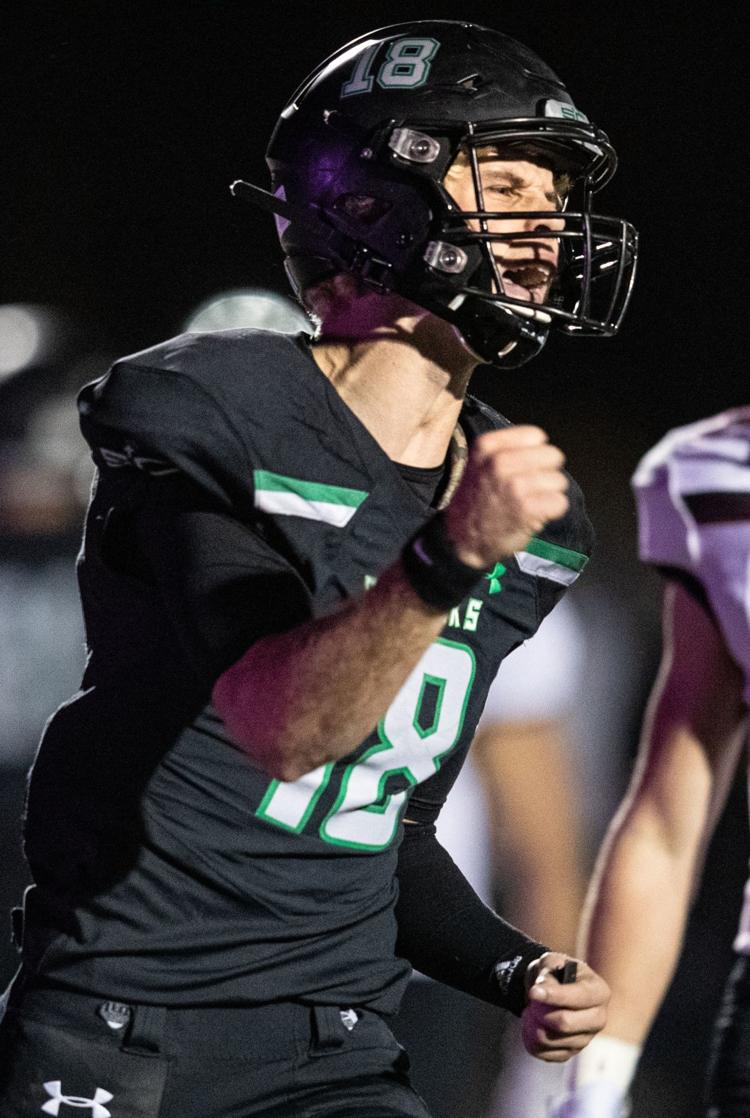 Through the first 18 minutes Friday, Skutt was in control but had six points to show for it.
Gordon capped a seven-play, 81-yard drive with a 1-yard touchdown run, but the extra point kick bounced off the upright to keep the lead at 6-0 with 3:01 remaining in the first quarter.
Waverly was struggling to move the ball until midway through the second quarter, when the SkyHawks lost a fumble and the Vikings took advantage. Switching to a no-huddle approach, Waverly put together a 14-play scoring drive to take a 7-6 lead 23 seconds before intermission.
Only one of those plays was a pass, and just one of Waverly's 13 running plays went for more than 5 yards. Running back Evan Canoyer went the final yard for the Vikings' lone touchdown.
After Waverly (10-2) recovered Gordon's fumble on the first play of the second half, Skutt defense bowed up and forced Waverly to settle for a 22-yard field goal.
"That was a huge goal-line stop," Gordon said. "You don't prepare for those things, fumbling on the very first play of the second half, and I'll take 100 percent of the blame for that. That was all my fault.
"Credit to our defensive line and 'backers. They really stepped up and made a stop."
Turman agreed, and said that series allowed the SkyHawks to regain momentum.
"That was instrumental in us winning the game," Turman said. "I actually thought going into the halftime down, we were a little taken aback because I thought we had dominated. We had been down in the red zone a couple of times, and only had six points to show for it."
After that, it took Skutt four plays to regain the lead.
Wide receiver Robbie Trout caught Gordon's pass, shed one tackler and powered his way into the end zone from 16 yards out to give Skutt a 13-10 lead. Then Skutt's defense got another three-and-out.
"Once we scored, we knew we had to keep going and put it on them and make them quit," Gordon said. "I feel like we did a good job of that."
Next came a 37-yard pass from Gordon to tight end Max Brinker then Barret Liebentritt's 7-yard touchdown reception.
"We'll enjoy this now for a couple of days over the weekend, then it's get back to work," Gordon said. "(Scottsbluff quarterback) Sebastian Harsh is a great player, they have a great offensive line. We know they want to run the ball; we want to run the ball. It's going to be a good, hard-nosed game."
Waverly (10-2).................0 7   3 0—10
At Omaha Skutt (12-0).....6 0 21 0—27
OS: Tyson Gordon 1 run (kick failed)
W: Evan Canoyer 1 run (Canoyer kick)
OS: Robbie Trout 16 pass from Gordon (Zach Hodge kick)
OS: Max Brinker 37 pass from Gordon (Hodge kick)
OS: Barret Liebentritt 7 pass from Gordon (Hodge kick)
Rushing: W, Mason Nieman 25-65, Evan Canoyer 9-25, Zane Schawang 7-21, Noah Stoddard 4-14, Ethan Kastens 3-13, Barrett Skrobecki 1-0. OS, Tyson Gordon 13-84, Gunner Ott 11-68, Grant Diesing 7-24, Barret Liebentritt 4-16, Team 1-(minus 11).
Passing: W, Nieman 5-15-0 75. OS, Gordon 6-11-1 122, Will Harr 0-1-0 0.
Receiving: W, Haven Piening 2-25, Skrobecki 1-33, Stoddard 1-9, Schawang 1-8. OS, Max Brinker 2-81, Robbie Trout 2-27, Liebentritt 1-7.
---
Photos: Nebraska high school state football champions since 2004