From some unfamiliar circumstances, Bellevue West emerged from its 1-vs.-2 showdown with Millard West with a 37-30 semifinal victory Friday night and a spot in the Class A championship game against Omaha Westside.
For the first time all year, the No. 1 Thunderbirds got pushed. Their halftime lead was 15-10.
For the first time all year, they trailed. They fell behind the No. 2 Wildcats 23-22 late in the third quarter.
And to extract themselves from a tight game in the fourth quarter, they ate clock. A lot of it from a team that scores quickly.
Sixteen plays. More than seven minutes of keepaway from a Wildcat crew desperate to get the ball back for its offense.
Bellevue West, which picked up first downs in crazy third- and fourth-and-long situations all game at Buell Stadium, converted a fourth-and-8 on a 12-yard pass from Nate Glantz, the former Wildcat, to Keagan Johnson. Four plays later, Glantz rolled right and threw to Nate Sullivan for a 4-yard touchdown pass with the receiver falling down.
Once the 2-point pass from Glantz to Johnson was tacked on, Bellevue West led by 14 with 1:34 left. The Thunderbirds still had to hang on to Millard West's onside kick after the Wildcats scored on their desperation drive with 30 seconds left. Johnson made the final recovery.
Bellevue West's first three touchdowns came from Jay Ducker as he broke the 11-man record for career touchdowns. Now at 107, he passed the 105 by Moses Bryant of Elkhorn South when the Storm were still in Class B.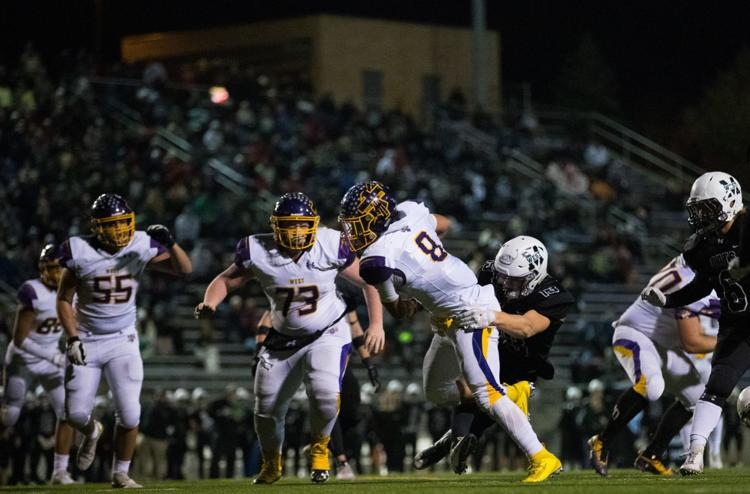 Ducker, with 652 points, is within range of the 11-man record 672 points by former Husker punter John Kroeker of Class C-2 Henderson from 1981 to 1984.
The Northern Illinois pledge's longest run was an 80-yarder to open the second half for a 22-10 lead.
It didn't last long. Millard West scored on its next two possessions, a 3-yard run by Tristan Gomes and his 30-yard strike to Dalys Beanum with 3:53 left in the third for the 23-22 lead.
That didn't last long, either. The Thunderbirds took five plays to go 70 yards, the last 31 on Glantz's 31-yard pass to Husker pledge Zavier Betts, and regained the lead at 29-23 in less than two minutes.
Millard West drove to the Bellevue West 40 before getting stopped on downs. The fourth-down play was a closely guarded pass intended for Evan Meyersick with defensive back/kicker Cruz Jurado on the coverage. The Wildcats then couldn't get Bellevue West off the field.
Gomes, who signed Wednesday with Cal State Fullerton for baseball, threw for 248 yards and two touchdowns and ran for two.
Betts had nine grabs for 100 yards, Ducker ran for 177 yards and Glantz was 24-of-32 for 197 yards. He still hasn't been picked off this year.
Westside will be the last team able to spoil that record — and the Thunderbirds' perfect season.
Bellevue West (12-0)....7    8 14 8—37
Millard West (11-1)......0 10 13 7—30
BW: Jay Ducker 20 run (Cruz Jurado kick)
BW: Ducker 13 run (Jurado run)
MW: Tristan Gomes 1 run (Jaxson Neumann kick)
BW: Ducker 80 run (Jurado kick)
MW: Gomes 3 run (kick failed)
MW: Dalys Beanum 30 pass from Gomes (Neumann kick)
BW: Zavier Betts 31 pass from Nate Glantz (Jurado kick)
BW: Nate Sullivan 4 pass from Glantz (Keagan Johnson pass from Glantz)
MW: Kaedyn Odermann 32 pass from Gomes (Neumann kick)
Rushing: BW, Ducker 21-177, Glantz 10-49, Jurado 1-0, Betts 1-minus 4. MW, Gomes 14-32, Ethan Valencia 11-61, Zach Coleman 5-51,, Dan Sullivan 8-53.
Passing: BW, Glantz 24-32-0 197. MW, Gomes 10-22-0 248.
Photos: Class A Semifinals Bellevue West vs Millard West
Receiving: BW, Betts 9-100, Johnson 8-73, Sullivan 3-16, Ducker 3-10, Helms 1-3. MW, Beanum 3-83, Odermann 4-81, Meyersick 2-58, James Conway 1-24.
Photos: Class A Semifinals Bellevue West vs Millard West