The Avengers have Omaha Westside in its first state final since 2013, and their superest hero Friday was Cole Payton.
The junior quarterback had the week of his life, getting his first FCS offer Wednesday from South Dakota State and then accounting for four touchdowns — two rushing, two passing — in the Warriors' 31-14 win over Millard South.
"Our line ate them up," Payton said. "Everything was working for us."
Getting to the Nov. 26 title game at Memorial Stadium required Westside to avenge its two losses in the regular season, and the turnarounds were supersized — 40 points against Lincoln Southeast (from a 22-17 loss to a 35-0 win last week) and 32 against Millard South (from a 41-26 home loss to Friday's 17-point win).
"Credit Millard South. They kind of woke us up a few weeks ago," Westside coach Brett Froendt said. "We learned a lesson. Some teams grow from that, some teams don't.
"I'm so proud for the kids for doing that. Mentally they're strong. Physically they're strong and we're excited about where we're at right now."
What did the No. 7 Warriors (10-2) learn? To play faster, be more physical and be smarter.
It showed from the start.
Three plays in, Westside had the first of its four takeaways — an interception by high-Power Five prospect Avante Dickerson. Three more plays and Payton found Cal Weidemann on an 11-yard touchdown pass.
Westside got stopped on fourth-and-1 from its 38 on its next possession, then scored on the other three before halftime. Dickerson scored on a 19-yard pass in the first minute of the second quarter, and Payton runs of 92 and 20 yards made it 28-0 at halftime.
Payton, who ran for 185 yards and passed for 144, marveled at the longest run of his two-year starting career.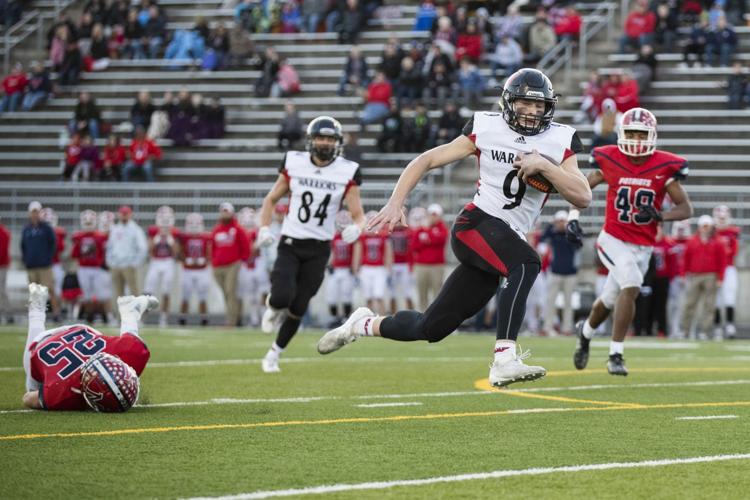 "I saw a wide-open hole and I just ran like there was no tomorrow," he said. "And Koby Bretz helped me down on the other end blocking. Anyway, it was a long run. I was like, 'Where's the end zone?' It was so unreal."
To Froendt, Payton's decisions the first half were "great." In the second half, when Westside didn't make a first down until four minutes into the fourth quarter, the decisions "weren't as good."
"Millard South stepped up its game a little bit, too, but he's a horse," Froendt said. "He's a player, he's a dude and I'm glad he's on our team.
The No. 3 Patriots (10-2) had a field goal blocked by Grant Tagge and lost a golden scoring opportunity at 14-0. Jack Wimmer stripped the ball from junior quarterback TJ Urban as Urban was fighting for extra yards near the goal line. Westside's Bo Lucas recovered it.
The Patriots cut the lead in half with second-half touchdowns by Taekwon Johnson and Urban, but Jack Bush's 36-yard field goal with 3:28 left sealed Millard South's fate.
"They won the game," Millard South coach Andy Means said. "He's the best quarterback we played against all year, and even in the first game with them we were worried about trying to keep him in control. He just makes everything go for them.
"I'm proud of our kids, but we just didn't have it today."
Omaha Westside (10-2)...........7 21 0 3—31
At Millard South (10-2).............0 0 7 7—14
OW: Cal Weidemann 11 pass from Cole Payton (Jack Bush kick)
OW: Avante Dickerson 19 pass from Payton (Bush kick)
OW: Payton 92 run (Bush kick)
OW: Payton 20 run (Bush kick)
MS: Taekwon Johnson 1 run (Cole Lammel kick)
MS: TJ Urban 24 run (Lammel kick)
Rushing: OW, Payton 18-185, Bodie Harrell 17-46, Dickerson 1-9, Ben Radicia 2-2. MS, Harris 13-45, Urban 19-129, Johnson 11-40, Spencer Wagner 1-3.
Passing: OW, Payton 12-19-0 144. MS, Urban 6-14-3 95.
Receiving: OW, Grant Tagge 3-46, Koby Bretz 3-23, Jake Holmstrom 1-20, Dickerson 2-27, Grant Guyett 1-13, Harrell 1-4, Weidemann 1-11. MS, Chase Perchal 1-11, Gage Stenger 2-50, Spencer Wagner 1-7, Michael Harding 1-15, Tyson Gerdes 2-6.
Photos: Class A Semifinals Millard South vs Westside