DES MOINES — As the three-time defending Class 2-A state champion, Council Bluffs Lewis Central has grown accustomed to taking teams' best shots.
The Titans absorbed plenty of punishment from an inspired Waverly-Shell Rock team on Thursday. But after 90 minutes, the second-rated Go-Hawks still hadn't knocked out No. 7 L.C.
Finally, in the 91st minute, Waverly delivered the knockout blow. Freshman Morgan Aikey outraced the Titans down the right sideline for a loose ball and centered it to Iowa recruit Kenzie Roling, who touched it to herself and then found the back of the net 38 seconds into the second overtime for a 2-1 Class 2-A state quarterfinal soccer victory over Lewis Central at Cownie Soccer Park.
A year ago, the Titans beat Waverly in the 2-A final for their third straight title. Both teams returned seven starters.
"At the end of the day it's just another game, but I definitely thought that it was a little fuel to the fire for the girls,'' Waverly-Shell Rock coach Lauren Greiner said. "It hurt, it stung last year, and they wanted that one back.''
The Go-Hawks (16-1) will meet No. 3 Dallas Center-Grimes (14-2) in Friday's 1:45 p.m. semifinal. Lewis Central, making its seventh state appearance and sixth in seven years, ended at 14-5.
A gracious Lewis Central coach Chris Von Mende said earlier in the week it would take a tremendous effort to eliminate his club, and it did.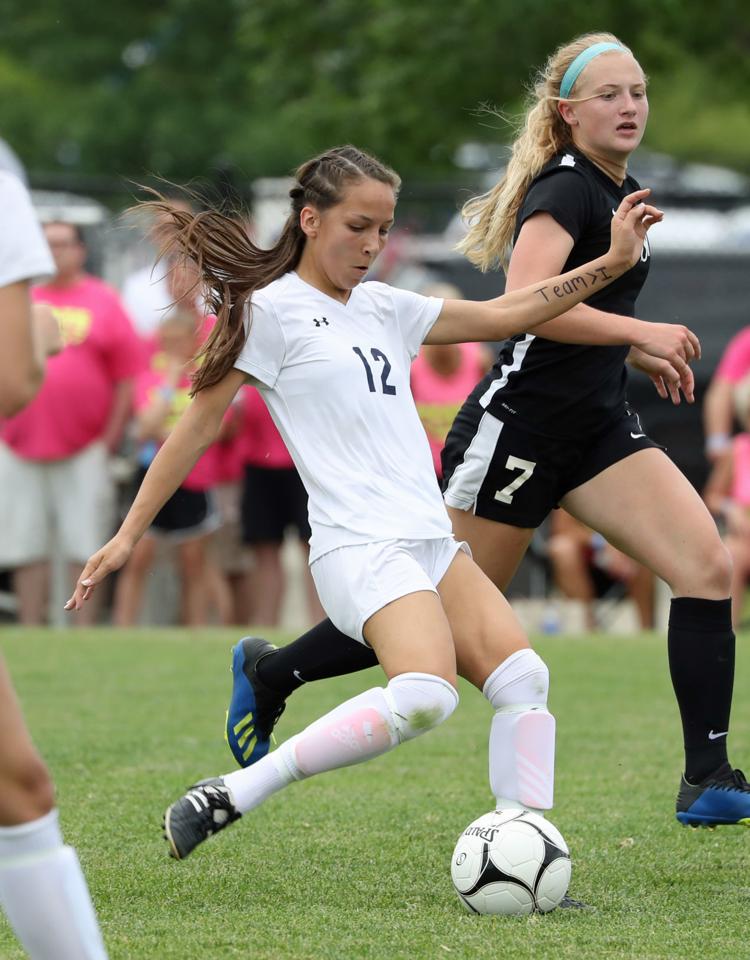 "Waverly's a tremendous team,'' he said. "They played very well. They've got some really great players.''
The Go-Hawks jumped on top in the fourth minute when Roling slipped the ball to Northern Iowa recruit Kennedy Rieken, who finished.
But in the 31st minute, sophomore reserve Haley Bach was taken down from behind in the box, and the Titans were awarded a penalty kick. Mikayla McCart converted, sending the teams to the intermission tied at one.
Von Mende said his squad recovered well after the shaky start.
"At first, we were not in the normal positions where we're supposed to be, and we had to kind of read what they were doing, especially in the middle mids,'' he said. "Once we got that figured out, we started to pass and play better. With them, they make you have to make decisions quicker. I thought we really played well with them and dug in quite a bit.''
The Titans' best chance after the break came in the 44th minute, when leading scorer Jayden Cross lifted one softly from close range. Keeper Gabby Burman leaped and barely deflected it off the crossbar. It popped high into the air and she caught it.
It stayed tied through the end of regulation, sending it to a first 10-minute overtime under "golden goal'' rules, meaning any score ends the game.
In the first OT, Waverly hit the post on a shot and then Hannah Lucy made a save on the rebound.
In the huddle before the second 10-minute overtime, McCart was heard firing up her teammates with words of encouragement.
Sign up for daily headlines from NEPrepZone
Get a daily roundup of game recaps, player features and more in your inbox.
"I knew we had it in us,'' she said later. "That was just a tough-fought game.''
It was over barely after the second OT began. The Go-Hawks celebrated wildly, while the teary-eyed Titans were silent.
"We've had our ups and downs, but I love that team to death and I would not trade it for any other team,'' McCart said. "That's our family.''
The Titans graduate four seniors: McCart, Johnna Miller, Chloe Schlines and Jayden Cavanaugh.
"They're tremendous players, people,'' an emotional Von Mende said. "Love the game. Love their team. We love them.''
CB Lewis Central (14-5)...............1 0 0 0—1
Waverly-Shell Rock (16-1)...........1 0 0 1—2
Goals: LC, Mikayla McCart; W, Kennedy Rieken, Kenzie Roling. Assists: W, Roling, Morgan Aikey.
Photos: 2019 Nebraska state soccer girls title matches