DES MOINES — On adjacent fields, West Des Moines Valley, West Des Moines Dowling and Ankeny were all playing.
The presence of those suburban — and let's be honest, wealthier — powers, along with the team he just played, wasn't lost on Council Bluffs Abraham Lincoln coach Robbie Miller.
"I'm a math guy, and I looked up the free and reduced-lunch numbers,'' he said. "We're the only school here this weekend out of all the classes that's above 40 percent. We're at 58. I think that just goes to the grit and the fight in this program. We don't make excuses. We go out there and battle and play.''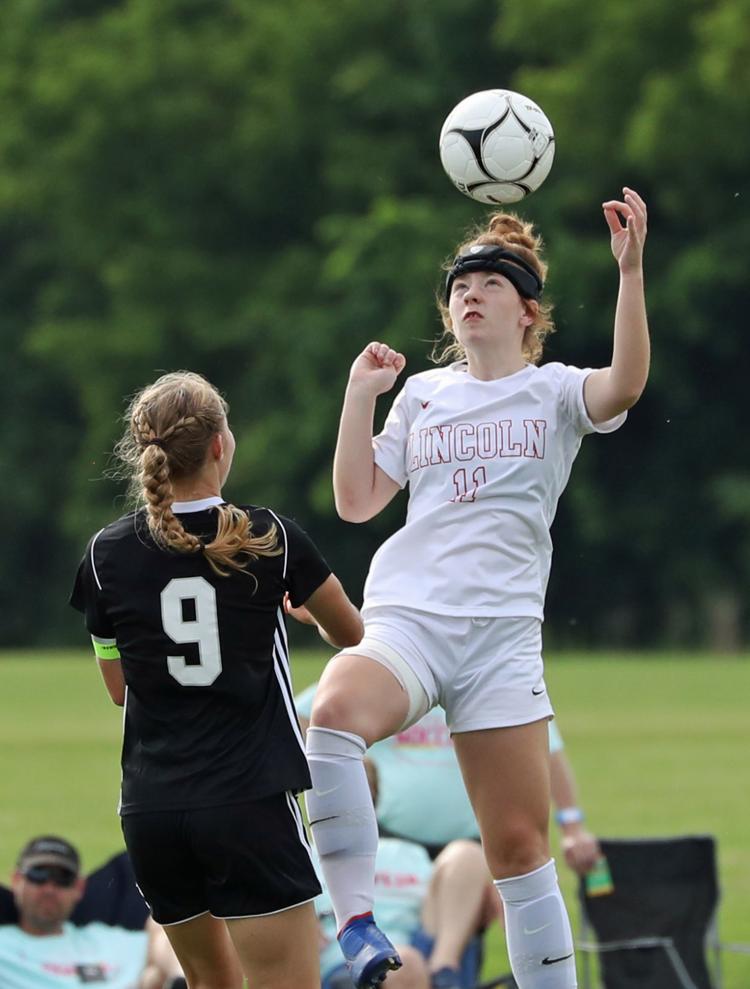 A year made a huge difference, but it wasn't enough for the Lynx to turn the tables. Fourth-ranked and defending champion Ankeny Centennial, which blasted A.L. 7-0 last year in the first round at state, squeezed past the No. 5 Lynx 3-2 Thursday in another Class 3-A state quarterfinal at Cownie Soccer Park.
Eighty-one seconds after Taren Newman notched the equalizer for A.L. on a penalty kick, Kenzie Langstraat punched in what proved to be the game-winner on a rebound in the 59th minute. The Jaguars (16-3) will meet No. 1 Waukee (16-3) in Friday's 4 p.m. semifinal. In its third state appearance, the Lynx also ended at 16-3.
Centennial coach Chris Allen expected a much tougher match than last year, and he was right.
"I think a lot of it comes to down to mindset as well,'' he said. "They came in with a different approach. They executed what they wanted to do. They didn't go away.''
Centennial's Carlie Jensen opening the scoring in the eighth minute when she beat her defender on the left wing and deflected it off the keeper on the near post.
But the Lynx answered in the 18th minute. Junior Cyrena Young launched a long pass downfield to Nebraska track recruit Darby Thomas, and she did what she does best, win the race. Thomas whirled and fired past the keeper from the left side for her 21st goal and a 1-1 game.
"I think we came in a little bit more nervous about Darby than we did the first time we played her,'' said Allen, whose team beat A.L. 1-0 in double OT early in the season. "Maybe that was a bad thing, because we gave her a lot, and she took what we gave her. She doesn't need much to become very dangerous.''
In the 34th minute, after talking to her coaches, Iowa State recruit Olivia Wee of Centennial ran down and told a teammate at the last second that she'd be taking the corner kick. That turned out well for the Jaguars, because she placed it perfectly at the back post for a Jaecee Hall header and a 2-1 lead.
The Jaguars were called for pushing an A.L. player in the back in the 57th minute on a Newman corner kick, resulting in a penalty kick. Newman connected to make it a new game.
But Centennial quickly applied pressure, and Langstraat's rebound shot ended up being the difference.
Miller said whatever gap there is in terms of opportunities, it's narrowed by his team's competitiveness.
Sign up for daily headlines from NEPrepZone
Get a daily roundup of game recaps, player features and more in your inbox.
"The competitiveness of the kids that are on this team is top notch,'' he said. "It's a great trait to have. We just keep plugging along, believing in the program.''
The Lynx graduate six seniors: Thomas, Newman, Rilee Filip, Alayna Murphy, Maria Martinez and Alyssa Asmus.
Filip, who again made some outstanding saves at keeper, said she'll cherish her time with the program.
"It's always been like a family you can go to, and it's definitely going to be something I'm going to miss,'' she said. "I'm just proud that we stayed with them and it was a close game. We gave it our all the whole time.''
Although he wanted at least one more match with his team, Miller said it was obvious how far the program has come.
"Last year I could tell the first 10 minutes, like, oh, we're way overmatched,'' he said. "Here we came in and competed right away.
We showed today we belonged on the field.''
CB Abraham Lincoln (16-3)......1 1—2
Ankeny Centennial (16-3)........2 1—3
Goals: AL, Darby Thomas, Taren Newman; C, Carlie Jensen, Jaecee Hall, Kenzie Langstraat. Assists: AL, Cyrena Young; C, Olivia Wee.
Photos: 2019 Nebraska state soccer girls title matches