Jerry Partridge had actually been rooting all day for Drew Brees to make it back to the Super Bowl.
Northern Arizona's new defensive coordinator flipped his allegiance, however, the final minute of regulation in the NFC championship game. When Greg Zuerlein came on, he began pulling for the Rams.
The Los Angeles kicker, a Lincoln Pius X graduate, drilled a 48-yard field goal with 15 seconds remaining to force overtime in New Orleans. Zuerlein then connected from 57 yards out in overtime — the longest winner in NFL postseason history — to put the Rams in the Super Bowl with a 26-23 win.
"I was so proud of him last week," Partridge said. "It was awesome, just the clutchness of the (first) kick. He crushed it. ... And then a 57-yarder to send you to the Super Bowl? That's huge."
Partridge never doubted that Zuerlein would come through. The former Missouri Western coach had seen Greg the Leg/Legatron knock in big-time kicks from long distances in clutch situations before.
Zuerlein was All-Nebraska, then he was an NCAA Division II All-American at UNO. But it was his final college season with the Griffons — and his ensuing pro day — that landed him in the NFL.
In 2011, Zuerlein made 23 of his 24 field-goal attempts for Missouri Western. He hit nine from 50 yards or longer, including five in two games against rival Northwest Missouri State.
Partridge called Zuerlein the MVP of that 9-3 season, noting the two performances against the Bearcats.
"None of them were at the last second but those were clutch kicks," he said. "He's a very special talent."
Everyone in the MIAA knew about Zuerlein long before he landed in St. Joseph, Missouri. He had set a school record at UNO in 2009 with 17 field goals and recorded touchbacks on most kickoffs.
"It was just crazy how dominant he was," Partridge said. "People (across the conference) wouldn't even hardly work on kickoff return that week because you weren't even going to get a return off. Why try it?"
Zuerlein redshirted his freshman year in 2006, then was injured early during his senior season in 2010. He took a medical redshirt that fall with the hope of being granted a sixth year of eligibility.
Missouri Western played the Mavericks late that season in what would be UNO's final home game ever. Partridge asked UNO coach Pat Behrns if Zuerlein was intending to come back for another season.
The All-American was going to return, Behrns said. Of course, neither of them knew at the time that the greatest kicker in school history would finish up his college career with the Griffons.
UNO announced in the next spring that it was dropping its football program as it transitioned to the Division I level. Zuerlein and his teammates needed to transfer to keep playing.
Partridge said programs from all levels set their sights on recruiting the UNO players.
"When they dropped it, it was like some kind of super — on steroids — junior college," he said. "Everybody was in there, (even some) Division Is. And our staff, at the time, was like, 'We have to go get that kicker.' "
Missouri Western wasn't the only school interested. Zuerlein had aspirations of kicking for a Division I program. The NCAA granted him a sixth year, but it denied his waiver to play at a higher level.
Most thought Zuerlein chose to go to St. Joseph, the training camp home of the Kansas City Chiefs, because the Griffons had an indoor practice facility. Partridge said that only played a small role, though.
"He chose Missouri Western for the craziest reason," he said. "I know people say he chose it because of the indoor, but he chose it because our field was flat. There was no crown on it. ... And he loved it."
Zuerlein, who had already graduated from UNO, signed with the Griffons. Two other Mavs — center Mike Yardley from Lincoln East and punter/kicker Taylor Anderson from Omaha Burke — joined him there.
Partridge said where the UNO transfers ended up was a hot topic of conversation among MIAA coaches.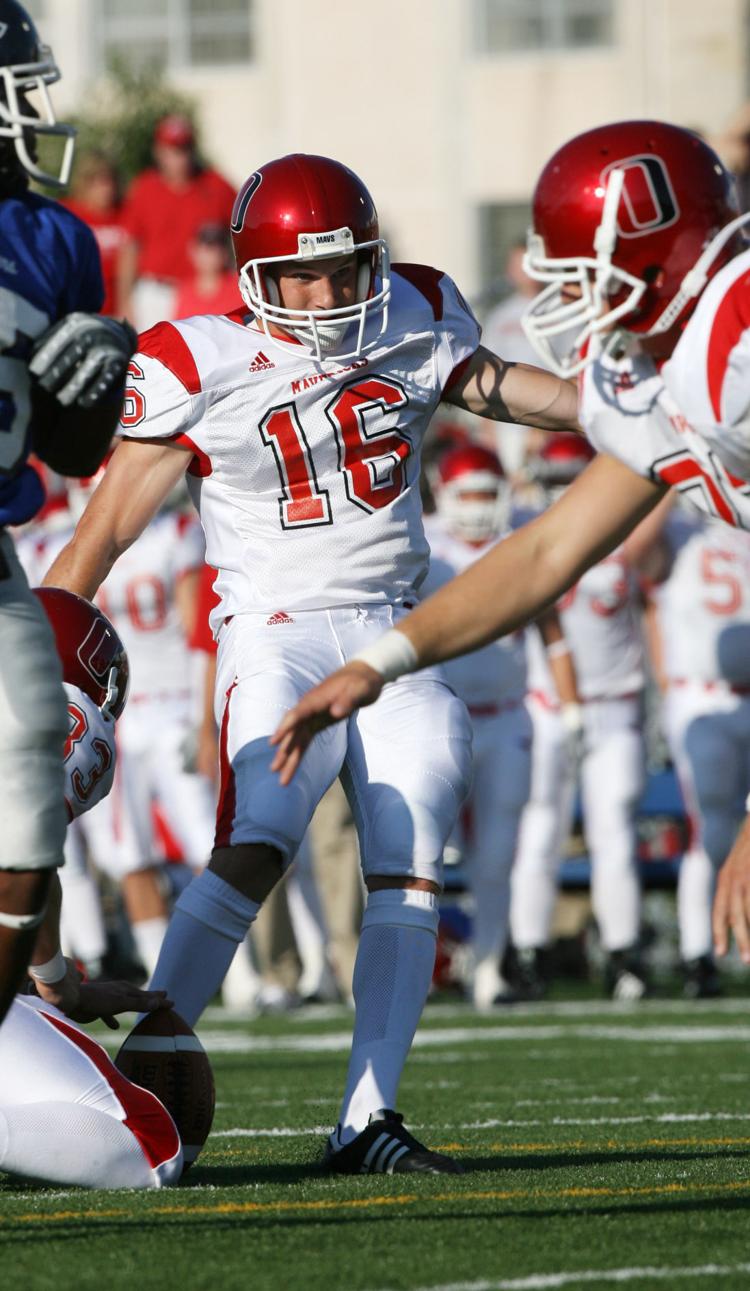 "I said, 'Hey, we got the kicker,' " he said. "And it was like, 'Hey, good for you,' like it was no big deal."
Missouri Western knew what it had in Zuerlein, but his season got off to a slow start due to injury. He kicked in one of the first three games, then returned in Week 4 against Washburn. Partridge turned him loose in the fifth game against Missouri Southern. He drilled five field goals, including a 57-yarder.
"It was just no question the rest of the year," Partridge said.
"Anything inside of 60, we were trying it."
Zuerlein had two of his biggest days against DII power Northwest Missouri State in the final month of his college career. On the first Saturday in November, he kicked three field goals as the Griffons upset the No. 3 Bearcats 31-28. Zuerlein broke a 28-28 tie late in the third quarter by hitting a 58-yard try.
Two weeks later, he connected from 58, 57 and 52 yards as Missouri Western lost the rematch 35-29 in the opening round of the playoffs. Partridge had seen Zuerlein hit from 71 yards in warmups and was prepared to let him attempt a 63-yarder just before halftime. But an incomplete pass spoiled it.
"Naturally, we throw an incomplete pass, then I couldn't gamble that," he said. "I didn't want to give them that short of a field with 20 seconds left — or whatever it was. But he's a weapon, no question."
Zuerlein finished the season with 21 consecutive made field goals, breaking the DII record. Nearly every NFL team had been through during the fall. If he had been before, the kicker was no secret.
"I told NFL scouts that year that he's so quick getting it off and it gets up so fast, I don't think it could be blocked unless you turn a corner loose over the center," Partridge said. "You turn a big guy loose, and I don't think he's going to get there in time because the trajectory is so great. That 57-yarder is probably the same stroke he kicks an extra point with.
"That's what's so good about him. It just jumps off his foot."
That was apparent when Missouri Western hosted its pro day, which featured players from the smaller colleges in Missouri, inside the indoor facility. Zuerlein hit bomb after bomb in front of scouts.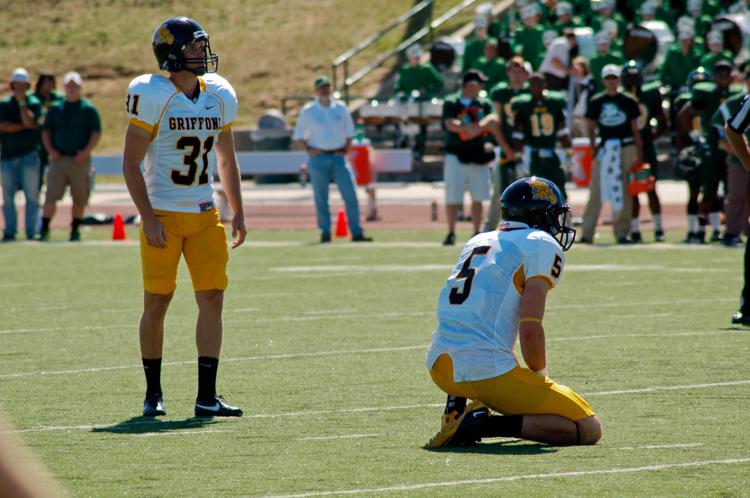 Partridge compared the display to Bo Jackson taking batting practice.
"I don't want to overdramatize this, but Bo Jackson taking batting practice sounded different," he said. "With Greg, it just sounded different coming off his foot. And the ball just jumped to its height quickly."
A number of NFL teams seemed interested. Rams special teams coordinator John Fassel came to work out Zuerlein before the 2012 NFL draft. His team selected the kicker in the sixth round.
The Rams were all in on Zuerlein, releasing former Nebraska kicker Josh Brown after the draft. He hasn't disappointed. Zuerlein has become one of the top kickers in the league, earning All-Pro honors last year.
Partridge said he found it hard to believe that as a Lincoln native, Zuerlein didn't end up with the Huskers. But his career coincided with that of Nebraska's Alex Henery, the NCAA's all-time leader in field-goal accuracy.
"He fell into UNO's lap," Partridge said. "Obviously, we were truly blessed by the one year we had him.
"He'll be a Missouri Western Hall of Famer one day, for sure. Even though it was only for one semester, he'll be there because his year was so impactful. And if he keeps doing what he's doing right now — or over these last couple of years — he might get into the other Hall of Fame. That's the way he's kicking."
Sign up for World-Herald daily sports updates
Get the headlines from Creighton, Nebraska, UNO, high schools and other area teams.
Photos: Nebraska football's Super Bowl streak
There has been at least one former Husker on a Super Bowl roster for 26 straight years, the longest streak in the nation. Some players like Neil Smith, Grant Wistrom and Scott Shanle played big roles in the Super Bowl, while other years the streak was kept alive by players on the practice squad or injured reserve. Here's a look back at all the ex-Nebraska players on Super Bowl rosters dating back to the streak's start during the 1993 season.