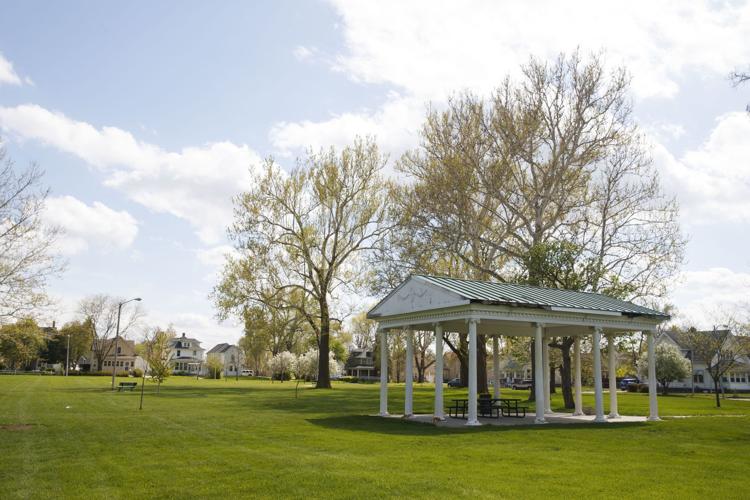 They cleaned their dinner plates, swapped church clothes for sweats and hustled to the park where the White City once shined.
Then Omaha's greatest generation of athletes divvied up teams and spread across an open field sprinkled with divots and cockleburs.
Thousands of football fans flocked to Tech High and Central on Friday nights in the late 1950s and early '60s, but the real proving ground was Sunday afternoon at Kountze Park. No fans necessary. Pickup football games featured a collection of high school stars, many of whom later played on Sundays in NFL stadiums.
Leslie Webster, who would lead Iowa State in rushing in 1966, got angry one day at Dick Davis, who'd lead Nebraska in rushing in 1967. Davis' response: I don't fight!  Especially not someone bigger and older, someone he admired.
But Webster came after him, and Davis, a wrestler, took him down. Webster attacked again. Davis flipped him on his back.
"I learned that day I'm as good as anybody," Davis said. "I just have to play."
Kountze Park was the rite of passage. A testament that iron sharpens iron. Between unmarked boundaries, unpadded teenagers collided at uncomfortable speeds as little kids like Johnny Rodgers fidgeted on the sidelines, aching for a call-up.
"If your good friend was all-state and your cousin was all-state and the guy down the street was all-state, you're gonna want to be all-state," said Preston Love Jr., a 1960 Tech graduate who started at Nebraska. "The whole thing fed on itself. Everybody wanted to be great."
It wasn't just football. On the north side of the park, the games on concrete basketball courts proved just as fiery and almost as physical. Even NBA veteran Bob Boozer showed up on occasion.
"It was a Who's Who," said Marlin Briscoe, who frequently walked six miles from South Omaha to get his Kountze Park fix.
Those few years bridging the Eisenhower and Kennedy eras represented the golden age of the neighborhood. A network of youth coaches and mentors worked day and night teaching lessons. College scholarships finally opened to the best athletes. The first stars — Boozer and Bob Gibson — broke through on a national stage.
The big picture looked promising, too. Omaha's beef industry thrived. The civil rights movement inspired hope. The whole Near North Side hummed.
"The density of North Omaha at the time," said Rudy Smith, former World-Herald photographer, "I've never experienced another place like it."
On weekdays after school, two tributaries — one from Tech, one from Central — converged at 24th and Cuming and formed a bustling river of letter jackets and swing skirts into the neighborhood.
Come weekends, summer especially, the flow never stopped. Cannonballs at Kellom pool. Sock hops at St. Benedict's. Corvette gazing at Jones Body Shop. Picnics at Carter Lake. Banana splits at Reed's Ice Cream. Carnation Ballroom concerts with James Brown or Chuck Berry.
Omaha's location as a railroad hub in the middle of the country made it convenient to performers.
Even rock 'n' roll didn't top Easter Sunday, when North Omahans dressed to the nines and paraded down 24th.
"I don't care how poor you were," John Beasley said, "you got your Easter outfits."
Beasley — the future Hollywood actor — spent weekend nights on 24th harmonizing with friends, imitating The Temptations. If you missed him there, check the Ritz Theatre. Two quarters covered a ticket (25 cents), a strawberry pop (15 cents) and popcorn (10 cents). During "Frankenstein" or "Werewolf," he finished his bottle and rolled it down the incline to the front wall for recycling.
Cliiiiing, cliiiing, cliiing, cliing, cling … thump.
That was the Near North Side before its demise. A small town that felt like a family reunion. Kids had freedom to be bold — and a bit naive to history.
On the exact ground they played pickup games on Sunday afternoons, North Omaha once hosted the biggest event in its history, the 1898 Trans-Mississippi Exposition. Gondolas glided across a gleaming lagoon. A crowd of 110,000 stood beneath a 278-foot golden dome and listened to President McKinley praise American conquest in the Philippines.
To the Sayers brothers, that must have felt like ancient times. They were moving too fast to look back.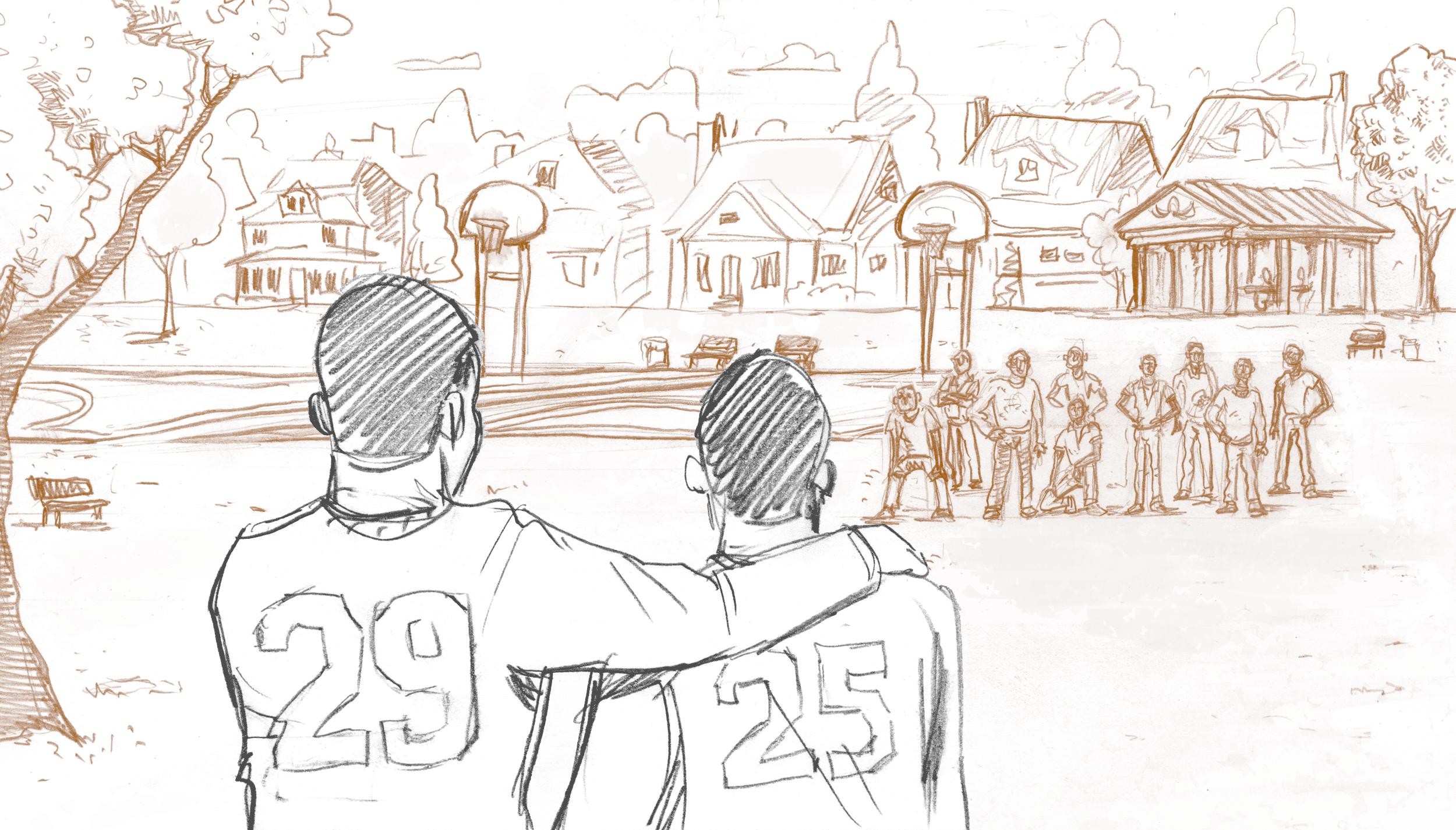 * * *
What exactly were the pimple-faced lads of Eppleys midget football team supposed to do? Put more defenders on the field?
Their opponent, Roberts Dairy, lined up two brothers in the backfield that Sunday afternoon — Oct. 16, 1955. No. 29 and No. 25 had recently been featured in The World-Herald for their exploits. Now they were gonna kick it up a notch.
The Sayers brothers combined for eight touchdowns en route to their city midget football championship. Roger, a 109-pound eighth-grader, scored from 8, 35, 38 and 20 yards. Gale, a 102-pound seventh-grader, scored from 45, 60, 30 and 33 yards.
"Imagine," said Love Jr., whose Brandeis team lost to Roberts Dairy 26-0 that fall, "being against the team that had Roger Sayers, the fastest man in the world, and Gale Sayers, who you couldn't tackle."
Like many North Omaha kids in the 1950s, Roger and Gale were new in town.
Their roots stretched deep into the northwest Kansas prairie, where dad grew up in a town founded by blacks after the Civil War. He could have practiced law like his uncles, but he wanted his own life. He moved to Wichita, opened a successful brake shop in his backyard and started a family. Roger and Gale arrived 13 months apart.
But in 1950, grandpa Sayers got sick with prostate cancer. Despite mom's protests, dad sold the house, abandoned the business and returned to the prairie to take over the 360-acre family farm. The Sayers boys were the only black students in a two-room schoolhouse. The town name: Speed.
Grandpa died a year later and his second wife sold the farm. Roger and Gale's dad had nothing to show for his work. "I think he was a little embarrassed," Roger said. "His pride was hurt."
Rather than return to Wichita, as mom wanted, dad called his brother in Omaha and moved the family north. Mom never forgave him.
The family crashed at the uncle's house while dad got a temporary job at the Cudahy packinghouse. Roger and Gale's first real Omaha home? The new projects on North 30th Street, where a neighbor introduced the boys to a mind-blowing new picture box. Television!
"That's how things were," Roger said. "You could go to your neighbor's house and they'd let some strange kids in to watch TV."
"Lone Ranger" captured their imagination, and for the next decade, Roger and Gale roamed North Omaha like cowboys.
When dad went to work polishing cars at 6 a.m., the boys left the house, too, taking off on their bicycles to Adams Park to climb the hills. They collected pop bottles, turning them in for 2 cents apiece. They took old skates, nailed them to two-by-fours and turned them into skateboards, racing them down Grant Street.
When they really craved risk, they built a soapbox and rode down 30th Street from Burdette to Lake.
Dad had two jobs and mom cleaned homes. They couldn't afford babysitters, so Roger and Gale — fourth and third grade — had a key to the house. They walked to school and back, finished their chores and hurried outside for another football game in the alley or empty lot.
Of course, every latch-key kid lost his key once or twice. Eventually you get smart and pin it to your clothes or hide it behind the house.
The Sayers boys constantly changed keys. They moved nine times in eight years, from one dump to the next. Dad and mom spent much of the rent money on whiskey. They hosted neighborhood poker games. They argued and fought. Four times mom moved out. Once, they both spent the night in jail.
Where did Roger and Gale find stability? A P.E. teacher at Howard Kennedy grade school.
* * *
At 19, Bob Rose could've kept his mouth shut. Most Omaha University freshmen would have.
But when the men of Alpha Sigma Lambda sang "Old Man River" during a 1950 May Day celebration, Rose heard a lyric that boiled his blood. The N-word.
Remember Rose? The man who introduced little cousin Marlin Briscoe to a magic cardboard box of basketballs and footballs?
Rose came from the same fearless gene pool. In the '40s, his mother picketed Omaha's largest packing plant until Armour hired its first black women. Decades later, she waged a campaign to make Malcolm X's birthplace a national landmark.
Rose's father wasn't around, so his mom sent him to Boys Town, where he flourished as an athlete. Rose twice led the Omaha U. basketball team in scoring. He dabbled at quarterback on the gridiron. And he didn't tolerate racial epithets.
Following the May Day song, Rose and four students complained, prompting a public apology from Omaha U. President Milo Bail.
After earning his degree, Rose got even busier. He starred on Josh Gibson's Omaha Travelers. Dominated the neighborhood free-throw contest. Lifeguarded at the new Kellom pool and made "five daring and skilled rescues." Sold insurance and worked summers at the packinghouse. But, like Gibson, Rose's education wasn't enough to coach or teach at a high school — OPS didn't hire blacks.
He settled for coaching the Sayers brothers at Howard Kennedy grade school, introducing them to track and field. During one race, Gale kicked off his shoes — a couple sizes too big — and still caught the leader.
Flag football best highlighted their talent. In 1955, the same season Roger and Gale torched the midget circuit, their Howard Kennedy team outscored opponents 153-8. The next year, they went a little easier on foes: 127-13.
Coach Rose called tricks that didn't fly at Omaha U., including a double reverse touchdown pass to Vernon Breakfield on the first snap. Rose was never satisfied. He called practices before school and sent kids home when they goofed around. His term of endearment?
"Sad sack," Beasley said.
"When he thumped you upside the head and called you sad sack," Briscoe said, "that meant he saw something in you."
Rose's football lessons included an unusual cutting technique that promotes balance. At full speed, plant your right foot and swing the left foot all the way across your right thigh, so you're leaning away from the defender.
"We called it the crossover," Briscoe said.
Dozens of Rose's pupils practiced it. At least three perfected it: Briscoe, Gale Sayers and Johnny Rodgers.
Mr. Rose opened his home to the Sayers brothers. He took them to Creighton basketball games to watch the only black player on the court: Bob Gibson. The message: Keep working. You'll make it.
They needed the encouragement because life at home only declined. As soon as Roger, Gale and little brother Ronnie got comfortable in a bedroom, they left it.
"I really hated to move," Roger said. "Seemed like every time we got settled, we moved."
They lived in so many neighborhoods, they learned the fine details of North Omaha's black hierarchy. Kellom and Long Schools were the heart of the ghetto. Howard Kennedy, on the west side of the neighborhood, was almost exclusively black and stocked with packinghouse families.
North of Lake Street, blacks were better off. "They could afford fathers," Beasley said, only half-kidding.
Those dads tended to have better jobs, like skycaps at the airport. Their kids attended Central instead of Tech. And they frequently had lighter skin, Roger Sayers said.
"They had it better. They knew it. You could feel it."
Little by little, the black boundary moved north. In 1950, Lothrop School was 80 percent white. Six years later, it was almost 60 percent black. In search of better homes, blacks pushed closer to the old mansions surrounding historic Kountze Park.
On that land in 1898, 2.6 million visitors flocked to the "White City" at Omaha's version of the world's fair.
Midwesterners strolled down eight square blocks of majestic faux-buildings, marveling at Middle East dancers, fortunetellers, ostriches pulling carriages, babies sleeping in incubators, Buffalo Bill's Wild West Show, an Indian Congress featuring the real-life chief Geronimo and an old Southern plantation, where tourists could experience the "old black aunty and the little pickaninny."
It all surrounded a grand lagoon that eventually became Kountze Park.
From the city's founding through the 1880s, North Omaha featured a collection of estates and acreages outside the city limits. Then Herman Kountze raised the bar.
The Trans-Mississippi Expo catered to the common man, but once it ended the neighborhood sought to keep him out. Kountze Place stood for exclusivity, partly because of its brilliant mansions and partly because of its race-restrictive covenants.
In the 1940s and '50s, the area became a battleground as black families tried to integrate the neighborhood.
A prominent Omaha lawyer filed a lawsuit in 1956 against his neighbors and real estate agents, alleging that a property sale to a black family at 1817 Pinkney St. decreased the value of his home one block away.
Roy Harrop, like his neighbors, had signed a restrictive covenant in 1946 that property "shall not be sold ... to any person or persons of any race other than ... Caucasians." Didn't matter that the Supreme Court had since prohibited restrictive covenants.
Harrop, who had previously protested the repeal of a state ban on interracial marriage, claimed in '56 "a nationwide conspiracy aided by its propaganda machine of subversive activities to force the will of a minority group on the majority of white property owners." According to Harrop's attorney, selling Kountze Place homes to blacks endangered whites and gave the neighborhood a reputation "as a place of robbery, rape and murder."
You gotta wonder if Harrop ever stepped outside on a Sunday afternoon and walked two blocks to Kountze Park. He might have seen a heck of a pickup game.
* * *
As segregationists fought the law, the Sayers family rented a house just down the street.
For half a school year, Roger and Gale walked a mile to Howard Kennedy — until one day Gale got sick. The nurse drove him home and discovered that the family no longer lived in Kennedy's attendance area. The next day, the boys were sitting inside Lothrop School, two blocks from their house but a long way from home.
They said goodbye to Mr. Rose and briefly entered a scene that embodied North Omaha's spirit.
Local historians might recognize it from Malcolm X's 1925 birthplace — 3448 Pinkney — but the street didn't truly shine until the late '50s and early '60s. Look at this honor roll of alumni:
The Sayers family lived at 2447 Pinkney. Rodney Wead, the professor and activist, raised his family at 2437. Jerry Bartee, future Creighton baseball coach and Omaha South principal, grew up at 2453. Future North High track standout Gene Washington raced around the yard at 2433. Willis Warren raised a future police chief (Tommy) and a state legislator (Brenda Council) at 2413. All on the same block!
Stroll west to 2620 and you might find future NASA scientist Isaiah Davis watching the stars. Farther up the hill, future State Sen. Ed Danner tracked politics from 2870. And don't forget the future Heisman winner at 2702.
Johnny Rodgers' first memories of his hometown were the train whistles in the River Bottoms, 10th and Locust Streets. No running water. No electricity. The wind kicked up dirt and aggravated his asthma. A rooster chased him to the outhouse — he's still scared of birds.
But when the Jet was 5, his grandpa got a packinghouse job, enabling the family to move to paradise on Pinkney. In the gravel schoolyard at Lothrop, Johnny played "Last One." The object: Dash from fence to building without getting tagged.
"That's where Johnny started picking up his moves," Bartee said.
Every Thursday, Rodgers' grandma picked him up and they caught a cab to 24th and Q Streets, where grandpa, who couldn't read or write, got his paycheck from Cudahy. Grandma bought her husband a few drinks, but she guarded the check.
"She controlled the money," Rodgers said.
Packinghouse checks paid bills up and down the block, including the Warrens' house. For 42 years, Willis worked at Swift, waking up at 5 a.m., reading his paper as he sipped coffee. More like sugar milk, daughter Brenda said.
He came home from meat inspections to find kids running out of one house and into another. They planted their mouths against box fans on porches, making silly sounds. They threw eggs at convertibles and tried to avoid the wrath of parents looking out windows.
The spanking started where you got caught, Brenda said, and by the time you got home every adult on the block had swatted your butt.
"We always thought, no one is watching us," said Rodney Wead's daughter, Ann. "But everyone was watching us!"
Wead was the biggest man on Pinkney Street — 6-foot-6. The most admired, too. He filled his station wagon and drove kids to Council Bluffs' Playland Park. He coached the softball team at Clair Methodist Church. Boys only — much to the chagrin of sweet-swinging Brenda Council.
"Everybody," she boasted, "knew who was the baddest softball player on Pinkney Street!"
The Davis house at 2222 best encapsulated the culture of Pinkney. Like the Sayers brothers, Dick Davis spent his childhood bouncing from one house to the next. Dad was out of the picture. Mom, not even 5 feet tall, opened the door to the needy and closed the door on all guff.
"Nobody messed with Mary Davis," Dick said.
In high school, Dick got a job sacking groceries for 90 cents an hour at Garden Market next to Kountze Park. Every Friday, he and his brother put their earnings on the table. And Mary used it to feed their relatives.
Shouldn't we just take care of ourselves? Dick asked. Why are we worried about cousins?
"That was the hardest slap I ever got," Davis said. "Even in football, I've not been hurt any worse. And it shaped my life. If I'm not a good man — a charitable man — my mom will come down from heaven and slap the shit out of me."
* * *
The Sayers brothers didn't stay long at 2447 Pinkney.
They learned new streets with the help of a World-Herald paper route, which they despised. Flag football records didn't mean anything when Roger and Gale knocked on doors to collect.
"We would deliver," Roger said. "They wouldn't pay their bill."
On Feb. 3, 1958, the newspaper reported the arraignment of a 19-year-old drifter who walked into the Lancaster County Courthouse in prison denims, a cigarette dangling from his lips. Charles Starkweather had just finished the most harrowing killing spree in state history — 11 murders.
Sixty miles up the road, Marlin Briscoe remembers a different event from Feb. 3. A benchmark that captivated a generation of black athletes. A surprise detailed on his World-Herald sports page the following day:
Kansas State jolts KU in two overtimes … Boozer hits vital points, outscores Wilt, 32-25
K-State was no underdog — the Wildcats made the Final Four in '58 — but this was Boozer's college highlight, handing Wilt Chamberlain his only career loss at Allen Fieldhouse. Boozer scored the bucket to send the game to overtime, then another to force double OT, then two more baskets.
Briscoe absorbed the news, his mind spinning. This was the same Boozer he'd seen at Kountze Park. Now he was beating Wilt Chamberlain? Suddenly the world didn't seem so big.
"It was like the shot heard 'round the world for Omaha," Briscoe said. "He was the catalyst."
Before Bob Boozer ever dunked a basketball, he dreamed of wearing a gold medal.
Boozer became a consensus All-American. Meanwhile, his old friend Bob Gibson traveled the country with America's favorite team.
Gibson finished his Creighton career in March '57. A month later, the Harlem Globetrotters came to Omaha for a spring exhibition. Gibson, joining a college all-star team, entered the game in the third quarter and dazzled the Ak-Sar-Ben Coliseum crowd with four buckets and five rebounds, sparking the upset over Meadowlark Lemon and Co., 79-77.
"The Trotters couldn't find anything to be funny about in this one," according to the World-Herald account.
Harlem was so impressed that it recruited Gibson. The following winter, 1957-58, he roomed with Meadowlark during a 130-game tour. Gibson could've spent the next decade clowning the Washington Generals, but the Trotters goofed around too much for his taste. The St. Louis Cardinals matched his $4,000 salary and Gibby chose spring training.
Bob Gibson was no clown. But was he a great pitcher yet? Not exactly.
For one of his first games with the Omaha Cardinals, St. Louis' Triple-A affiliate, Rodney Wead and Bob Boozer sat in the stands and watched Gibson's first pitch sail over the umpire's head and clang against the screen.
Cy Young Awards would have to wait. Gibson and his pregnant wife bought a two-bedroom bungalow on the west edge of the black neighborhood, just down the hill from Malcolm X's first house.
The address? 3116 Pinkney St.
* * *
In June 1958, North Omaha hosted the second-largest convention in the city's history. Fifteen thousand Baptist pastors from around the country descended on North 24th Street, but a 29-year-old from Alabama — and leader of the 1956 Montgomery bus boycott — stole the show.
"Cooperating with an evil is as morally wrong as fighting something good. ... Our ultimate aim is not desegregation from a legal aspect. We seek the kind of integration where men come together willingly, not because there is a law."
Downtown hotels refused Martin Luther King Jr. a room, so he stayed in the neighborhood. Over the next five years, he returned for occasional speaking engagements, including one night at the Civic Auditorium. By 1965, Dr. King said, "we will see a breakdown of the massive resistance to integration."
Progress seemed inevitable. Both for civil rights and the Sayers brothers.
"Rocket Roger" swept the sprints at the 1958 state track meet, covering 100 yards in 9.8 seconds and 220 in 21.7. Not bad for a 5-foot-6½, 136-pounder.
That fall, Central High's backfield tandem made Benson and Tech feel like the Eppleys and Brandeis midget teams. In seven city games, the Sayers brothers combined for 18 touchdowns, mostly from long range: 75, 67, 62, 60, 45, 41 …
Roger was named the city's top player.
By then, they'd lived in tough places. On 18th Street, weeks passed in high school without heat in the winter. They cranked up the oven overnight, waking up with gas headaches.
Their longest stretch was at 2211 N. 27th St., where Gale ate sparrows he'd shot with his BB gun. His mom fried chicken feet — 50 cents for 100.
Neighbors filled the plates they couldn't. Roger and Gale knew which kitchens they could get a meal and which basements they could dance on Saturday night.
And when the Sayers brothers passed relay batons under the streetlights, even the hustlers knew to leave them alone. That was the "code of ethics," Cathy Hughes said. Athletes supplied the neighborhood with pride.
"They were to be encouraged, nurtured and subsidized," said Hughes, the future media mogul. "It's a beautiful thing when someone has the ability to be a superstar and you make a contribution."
Roger skipped his senior season of football in order to pursue an elite track scholarship. He might've gone to a powerhouse like USC or Kansas, but he pulled a muscle and landed at Omaha U.
Gale, bigger and stronger, had more options. As a junior, he was the city's top football player. As a 6-foot, 180-pound senior in 1960, he excelled at tailback and linebacker, leading Central to an undefeated season, 7-0-1.
The hottest rivalry was Central-Tech. Kids got along fine on after-school walks, but Friday nights sparked fights. Central kids carried an air of superiority and Sayers did nothing to change the relationship. He dominated Tech in '60, rushing for 106 yards on 10 carries and tossing a 35-yard touchdown pass.
Beasley, a Tech defensive end, recalls getting brush-blocked, turning his head and seeing Sayers already 25 yards downfield. Losing was bad, but yielding bragging rights at the post-game hangout — the Fair Deal — hurt worse.
Another diner in 1960, Oddo's Drive-In, offered a double-decker "pookieburger" to high school players who scored a touchdown. Gale ate so many his teammates nicknamed him Pookie.
"Gale's headlines," Don Lee wrote in The World-Herald, "were harvested mostly from slashing, high-stepping, long-striding, hard-hitting, high-scoring runs."
He didn't forget his roots. Before school, Gale visited the brand-new Horace Mann Junior High across the street from Kountze Park, where his mentor coached morning basketball practices.
"He wanted to be around Bob Rose," Bartee said.
Seventh-graders gawked at Gale's multiple letter sweaters — white one day, purple the next — all covered in stars and chevrons. "Like a Christmas tree," Bartee said.
In Gale's last high school competition, he engaged in one of the great prep track and field duels of all time. Both Sayers and Lincoln High's Bobby Williams — a future NFL defensive back — entered the '61 state meet at Memorial Stadium among the national high school leaders in the long jump. Williams had edged Sayers by one inch during the season.
Gale grabbed the lead on his first leap, 22 feet, 11½ inches. He improved to 23-3 on his third try before Williams bounded in front in the sixth round — 23-3¼. That's where things stayed after Williams' last jump.
Sayers had one more chance.
He summoned his track coach, Frank Smagacz, who'd coached Sayers on the football field, too. Smagacz tweaked Gale's angle of approach, then he offered a psychological tip, laying a handkerchief next to the pit at about 23-6. As Sayers turned his back, Smagacz kicked the target forward another foot.
Sayers sprinted down the runway, hit the board — "Lift!" Smagacz yelled — and sailed past the state record, past Williams' mark and past the nation's high school mark for 1961. Officials measured twice because they couldn't believe where Gale landed.
In August, Sayers returned to Lincoln and scored four touchdowns in the Shrine Bowl. Every time he stepped inside Memorial Stadium he amazed. Why would he play college ball anywhere else?
Sayers had signed a grant-in-aid agreement to Nebraska in June, but a recruiting visit to Lincoln still bothered him.
But after a long and messy recruiting battle, Gale reneged on his Nebraska commitment and chose Kansas, returning to his dad's home state and stirring all kinds of family history.
Roger Sayers Sr. didn't hide personal regrets from his sons. He also hoped his failure wouldn't confine them. "Sorry it didn't work out for your mother and I," he told Roger, Gale and Ronnie, "but you need to get your education and make something better for yourselves."
By 1962, the Sayers brothers were off and running.
To Sioux Falls, where Rocket Roger upset world-record holder Bullet Bob Hayes at the '62 NAIA national meet — 9.5 seconds in the 100-yard dash — momentarily staking his claim as the world's fastest man.
To Stanford University, where Roger competed against the Soviets in front of 72,500 fans, tying Hayes in the 100 meters — 10.2 seconds — but losing in a photo finish. (A leg injury ultimately dashed Roger's Olympic hopes.)
To Stillwater, where Gale busted the Big Eight rushing record in his sixth college game, 283 yards at Oklahoma State.
Their exploits didn't just entertain strangers. They motivated the next round of Kountze Park heroes. Take Mike Green, the future Husker running back, who didn't even think about college until he saw the "Kansas Comet."
"All of us coming up behind Gale Sayers wanted to be the next Gale Sayers."
* * *
As a kid, Roger Sayers helped his father polish chrome bumpers at a service station off 24th Street. Now the 77-year-old great-grandfather creeps down the same road. Sort of.
A harsh winter produced potholes the shape of bathtubs. Hit one of these craters at high speed and you'll kill yourself, Roger says.
He turns east off 24th Street and stops at his family's second Pinkney Street residence — where 2121 used to be. Three families lived in the same house, sharing a bathroom. "It was weird."
One day in 1961, at the height of his brother's college recruitment, Roger came home and found a '54 Chevy.
"The University of Kansas had left it. And the funny thing was it had a left-handed gear shift. Gale was left-handed."
Suddenly Nebraska's extra benefit — a '51 Ford — didn't look so impressive.
Roger mostly keeps those memories to himself. Gale doesn't live here anymore and Roger's house is in west Omaha, along the 18th fairway at the Players Club.
Jazz blares from his car speakers as he pulls up to his old stomping grounds, the empty Kountze Park. He hasn't seen this place in years. "At my age, there's no reason."
Moments later, Johnny Rodgers joins Sayers for a photo shoot. The Jet still lives just around the corner. In fact, he's played weekly paddle ball for 15 to 20 years on the Kountze Park tennis courts.
Rodgers and Sayers discuss street repairs, Husker basketball and their common mentor, Mr. Rose.
"Did he whip you with his leather strap like he did us?" Johnny says.
"No," Roger says, "I didn't have any problem. I was a good kid."
"I remember Bob Rose telling me to run around the gym until he got tired."
More than 50 years have passed since they came to this park to sharpen their skills.
Their field stretched across the southwest corner, just as you see it now. No uniforms or officials necessary. No crowds, either. Sometimes they didn't even know where the sidelines were.
"We knew how to score," Johnny says.
Next up: Living with hate
The integrated Tech High basketball team nearly won a historic title before a controversial finish in the state championship left them heartbroken. But the injustice they felt came to embody a growing movement nationwide that saw blacks shift away from the nonviolent protests espoused by Martin Luther King Jr. 
In the early 1960s, blacks in North Omaha got off their knees, marched into the mainstream and proclaimed the grievances they long had endured…
Photos: Scenes of North Omaha
North Omaha is the epicenter of the city's black history and culture. Check out these photos, many of which were taken during the 1960s, to see the neighborhood at the peak of its vibrancy.