After dispatching national seeds to an elimination game, Michigan and Florida State meet Monday night for the chance to get within one victory of the CWS championship series.
The Wolverines and Seminoles — both No. 3 seeds in their regions — play a 6 p.m. game at TD Ameritrade Park. The winner gets three days off, and the loser has to come back Wednesday to play the winner of Monday's Texas Tech-Arkansas elimination game.
It has been decades since either program won an opening-round game. Michigan, which until this week hadn't been to the CWS since 1984, won its 1983 first-round game 6-5 over Maine as freshman Barry Larkin hit a pair of doubles.
Florida State's last opening-game victory came in 1999, which also was the same year the Seminoles made it to the championship game. FSU skipper Mike Martin, who is retiring after the CWS, was halfway through a career that made him the all-time winningest coach in college baseball.
Sign up for World-Herald daily sports updates
Get the headlines from Creighton, Nebraska, UNO, high schools and other area teams.
Junior J.C. Flowers was a freshman on the last FSU team to play in the CWS. The Seminoles lost 5-4 to LSU in their 2017 opener, so Flowers understood the significance of Saturday's victory.
Flowers also cautioned that it was just one victory and guarantees nothing the rest of the tournament. He scored FSU's only run in a 1-0 victory Saturday over Arkansas and earned the save, setting down the side in order in the ninth inning on 13 pitches.
"I wasn't aware that we hadn't won one in a while, but I don't think that puts us in the driver's seat," Flowers said. "Michigan is a great team, and we're going to go out there and battle just like we did tonight, and hopefully we get a good outcome."
But Martin is well aware that a victory Monday would go a long way toward the Seminoles snagging that first championship in the school's 23rd CWS appearance.
"We don't know what's going to happen," Martin said. "I can't sit here and say we're in the driver's seat. This field is strong. This field is really impressive. So this tournament is a long way from being in anybody's hands."
The programs haven't met on the diamond since 1995. Florida State leads the series 7-1, but the only person who was with either program 24 years ago was Martin.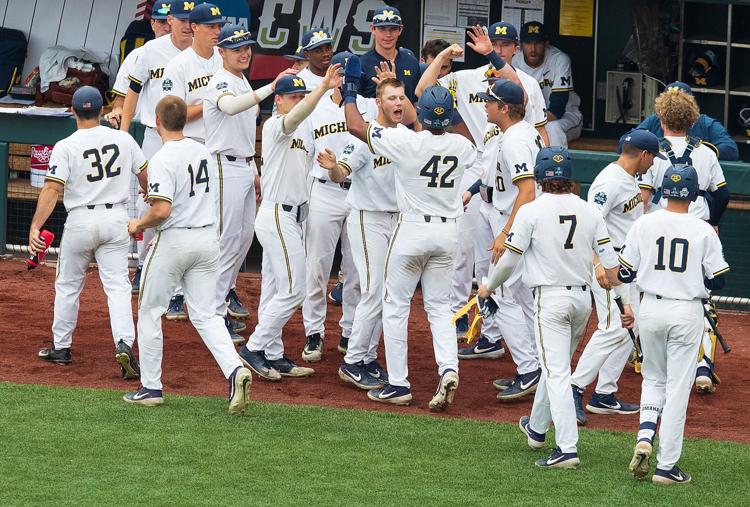 Whomever they were going to play, Bakich said he knows his team is playing with a mindset that wasn't yet present at the Big Ten tournament.
What happened there helped steel the Wolverines for the challenges they faced in eventually winning the Corvallis Regional and Los Angeles Super Regional.
"When we lost that first game in the Big Ten tournament, our guys were pressing," Bakich said. "We weren't playing free. We weren't playing loose. We needed some authentic moment to happen on the field.
"We needed something to happen to ignite a hot streak, and that was the walk-off winner in Game 2 of the Big Ten tournament. We didn't win the Big Ten tournament, but it didn't matter because we had confidence and we had belief. We just had a different mindset."
Martin understands that Michigan mindset, and it's why he's been telling the Seminoles that there's more work to do.
"We know we're not falling in love with ourselves right now because nothing is settled," Martin said. "Nothing is declared. We just know we've got to keep battling."