Michigan's players are running out of new restaurants to try in downtown Omaha.
But they're fine with staying here a little while longer.
The Wolverines — who played their final regular-season series in Lincoln, competed in the Big Ten tournament and on Friday advanced to the College World Series final with a 15-3 rout of Texas Tech — are approaching one month of temporary residency in the state of Nebraska.
Technically, they're at 22 days. Eleven in May, plus the 11 in conjunction with the CWS this month.
But with more on the way.
Which is awesome, the players said.
"We might as well start looking for houses out here," junior Jordan Brewer said with a chuckle Friday. "This is crazy. We've just been hanging out with each other and exploring Omaha."
And dominating on the field.
Michigan landed in Lincoln on May 15 but lost a series to Nebraska.
The Wolverines traveled up to Omaha after that — they checked out the zoo and saw the Rosenblatt Stadium site. Then they competed in the Big Ten tournament at TD Ameritrade Park, finding a spark with a ninth-inning rally in an elimination game before Nebraska knocked them out May 25.
But Michigan won the Corvallis Regional. It upset top-seeded UCLA in the super regional.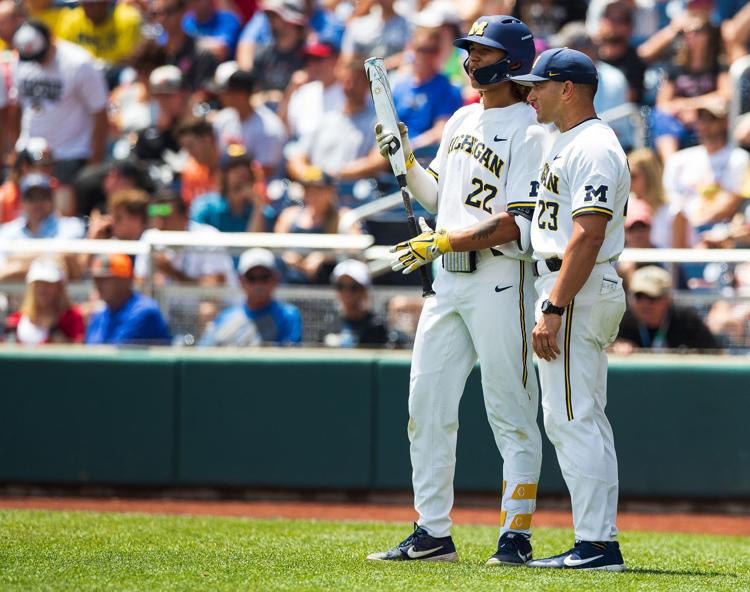 The Wolverines arrived June 12.
They'll be here at least until Wednesday — the best-of-three championship series against Vanderbilt begins Monday.
"I feel like we've had a chance to go everywhere in Omaha," sophomore Jordan Nwogu said.
And they're getting more and more comfortable with it all as each day passes.
After the win Friday, the Wolverines assembled back in their locker room to soak it all in. Dance club music blared over the speakers. Guys were dancing, singing, laughing.
Nwogu looked around the room and tried to sum it all up just as a teammate belted out a boisterous "Wooooo!"
"We're playing without a care in the world," Nwogu said. "We're not looking ahead. We're staying in the moment, and we're having fun."
Michigan has trailed for about 15 total minutes at the CWS. Texas Tech went ahead 3-2 in the second inning Friday, but the Wolverines answered by scoring the next 13 runs.
By the time the series ends, the Wolverines will have played 10 (or 11) games inside TD Ameritrade Park this year.
For comparison, Creighton's baseball team — the annual tenants at TD Ameritrade — played 18 home contests here.
But for now, it's Michigan's home base. And the Wolverines have more work to do.
"We didn't come here just so we could come here," Nwogu said. "We came here to win it all."
Photos: 2019 CWS Day seven: Michigan, Texas Tech, Vanderbilt, Louisville