Let's clear up a couple of misconceptions about Preacher Franklin, aka the Vanderbilt Whistler.
He's not really a preacher, and he never attended Vanderbilt.
But, boy ... can he whistle.
Franklin, the Commodores' 72-year-old superfan, has been a polarizing figure at the College World Series. Vanderbilt fans — most of them, anyway — love him while opposing fans aren't so enamored.
In fact, he's just a good old boy who wants to support his team any way he can. And for Preacher, that means whistling.
"I never drank, I never smoked, I don't cuss, I've never done drugs and I've never been arrested," he said. "But I do love my Vanderbilt sports."
Franklin certainly looks the part. He usually wears Commodores gear from the top of his head (one of his 75 Vandy caps) down to his feet (one of his 26 pairs of Vandy sneakers).
He also has an encyclopedic knowledge of the school's sports teams, informing anyone within earshot that there are 22 former Vanderbilt baseball players now in the majors.
One person within earshot Saturday was Franklin's 90-year-young friend Joe, another diehard Vanderbilt fan. The two were having a good-natured disagreement when Franklin brought the discussion to an immediate halt with three piercing whistles.
"Lord, have mercy!" was Joe's only response.
Ah, yes ... that famous whistle. It's gotten him into trouble more than once, most recently at the CWS. He has been warned by security to tone it down, and Franklin has complied.
"The security guy told me I was great after the most recent (Vanderbilt) game," he said. "There were zero complaints."
Franklin still picks his spots, and his whistle can easily be heard piercing the stadium's crowd noise. If you've got a problem with it, it's probably best to blame Preacher's older brother J.B.
"He taught me how to whistle when he was 13 and I was 7," Franklin said. "But then it got to the point where I could do it a lot better than him."
Preacher picked up his nickname when he was 5 while growing up in Tennessee. He was told that he asked a lot of questions just like a preacher, and the moniker stuck.
His given first name is Clift, perhaps named after Hollywood star and Omaha native Montgomery Clift. He isn't certain, though his mother told him he was named after someone famous.
Franklin's love of Vanderbilt athletics began in his teen years.
"My girlfriend lived across the street from the Vanderbilt equipment manager," he said. "He came over one day and gave us free basketball tickets and I've been hooked ever since."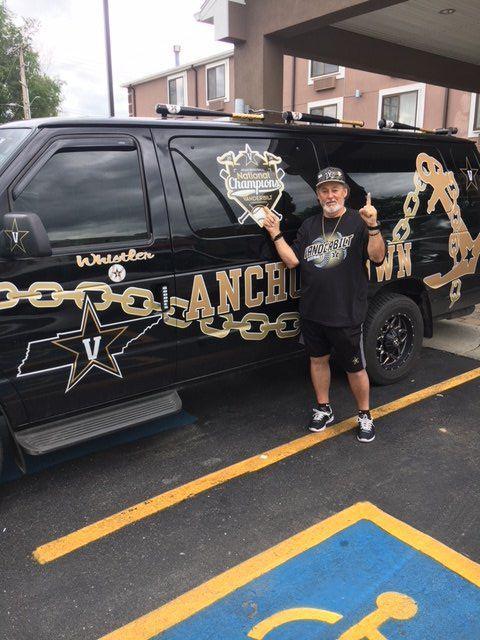 Franklin was a pretty fair athlete in his own right, playing three sports. But college wasn't for him and he enlisted in the Army.
After he was discharged, he went to a business college on the GI Bill. He bought season tickets for various Vanderbilt sports and has become close friends with Commodore baseball coach Tim Corbin.
So close that Franklin once asked Corbin if his whistling bothered the team, because he'd quit if it did.
"He told me that I should do what I do," Preacher said. "And that the kids love it."
"I was standing up and being pretty loud," he said. "But I love my team and I just wanted to support the players."
Franklin has been to the CWS in each of the seasons that Vandy has qualified — 2011, 2014, 2015 and 2019. The Commodores won it in 2014, much to the Whistler's delight.
"That was something really special," he said. "Winning the championship was an awesome experience."
When Vanderbilt qualified for the CWS again this year, Preacher knew that he'd be driving his van — easily identified by the Commodores logos — back to Nebraska. His wife, who attended the Series in two of the years when Vandy came up short, stayed home this year.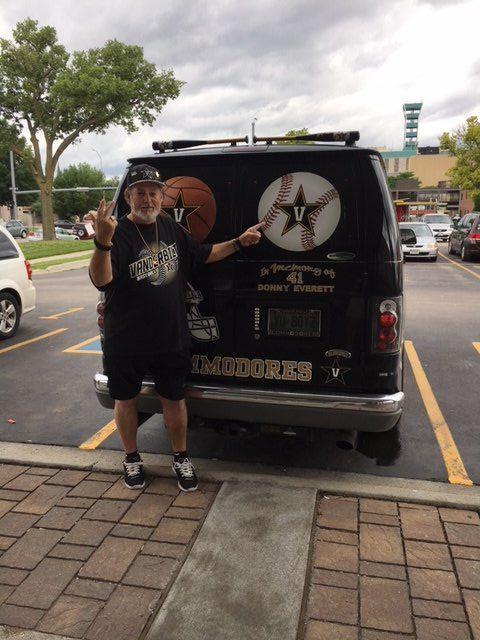 Franklin said he did get warnings from various family members when word spread that he had been threatened with expulsion at the Series if he didn't tone down the whistling.
"I got a call from my wife, one from my son and one from my daughter," he said. "They all told me not to get kicked out because I'd driven a long way to be here."
Since there were no CWS games Saturday and none scheduled Sunday, Preacher will be rested and ready to whistle Monday night. That's when Vanderbilt will play Michigan in Game 1 of the best-of-three championship series.
"They're tough," he said. "But I've got faith in our team."
Franklin will have company as a second Vandy whistler named Jeff Pack also will be at TD Ameritrade Park for the final series. He missed the first three CWS games but will be there Monday night, perhaps to the chagrin of casual fans.
But if Preacher's whistling seems noisy now, CWS fans had better brace for the future. His 14-year-old grandson is an outstanding baseball player and already throws in the 80s.
"Look out if he ever gets the chance to play for Vanderbilt," Franklin said. "I can tell you right now, it's going to be loud."
CWS fans, you've been warned.
Sign up for World-Herald daily sports updates
Get the headlines from Creighton, Nebraska, UNO, high schools and other area teams.
Photos: 2019 CWS Day seven: Michigan, Texas Tech, Vanderbilt, Louisville