Michigan's first College World Series victory in 36 years was the kind of win that would make teams from the 1980s applaud.
Wolverine batters made Texas Tech pitchers work late into counts in nearly every at-bat — an approach their coach called "ugly productive" — and earned a 5-3 victory Saturday in the opening game of the CWS.
The victory earned Michigan a spot in Monday's 6 p.m. winners bracket game against Florida State. Texas Tech will play Arkansas in an elimination game Monday at 1 p.m.
Coach Erik Bakich reflected on a lost series at Ohio State, where his team had too many called third strikes for his liking. Some thinking and conversations led to a change in mindset.

"We had a bunch of backward Ks, and that was an opportunity, a teaching moment with our team to really dial in (on) our two-strike approach," Bakich said. "Our guys just got a whole lot grittier, a whole lot tougher with two strikes.
"They committed to choking up and just really doing a good job of expanding the zone with two strikes. ... It was about being ugly productive. Sometimes you've got to stick your butt out and foul one off just to get to the next pitch."
The Wolverines opened the scoring in the top of the first, a feat they had not been able to accomplish in their three regular-season games against the Red Raiders.
Designated hitter Jordan Nwogu led off with a single after working the count from 0-2 to 3-2 against Micah Dallas.
Nwogu advanced to second on a passed ball before moving to third on a groundout by Jesse Franklin. Nwogu then scored on a sacrifice fly to right field by Jordan Brewer. It was Michigan's first CWS run in 35 years.
The Wolverines chased Dallas after three innings as they wore out the Red Raiders' ace with four runs — three earned — on 61 pitches.
It was a markedly different outcome for Dallas than in a March 21 regular-season matchup that the Red Raiders won 11-2. That night, the freshman right-hander from Aubrey, Texas, gave up one run and three hits and struck out seven in five innings.
On Saturday, senior first baseman Jimmy Kerr laced a hard shot on Dallas' 50th pitch that bounced fair down the right-field line. That scored Franklin and Brewer for a 3-0 advantage. Kerr ended up standing at third — the third triple of his collegiate career.
"I think as a team we did a pretty good job of laying off his slider low," Kerr said. "He has a lot of success getting teams to chase with that slider. He throws the ball on time, so 1 through 9 did a pretty good job of seeing it up and staying on pitches we could drive."
Third baseman Blake Nelson then got Kerr home with a single to left field. All three Michigan runs came with two outs.
Tech got two of those runs back in the bottom of the third on Brian Klein's second home run of the season. It was a blast to right-center on a 2-2 pitch from Karl Kauffmann that also scored Dylan Neuse, who had reached on a one-out single to right.
The Red Raiders cut Michigan's lead to one in the sixth. They could have had more if not for Thomas' diving play an inning earlier for an out with a runner on second.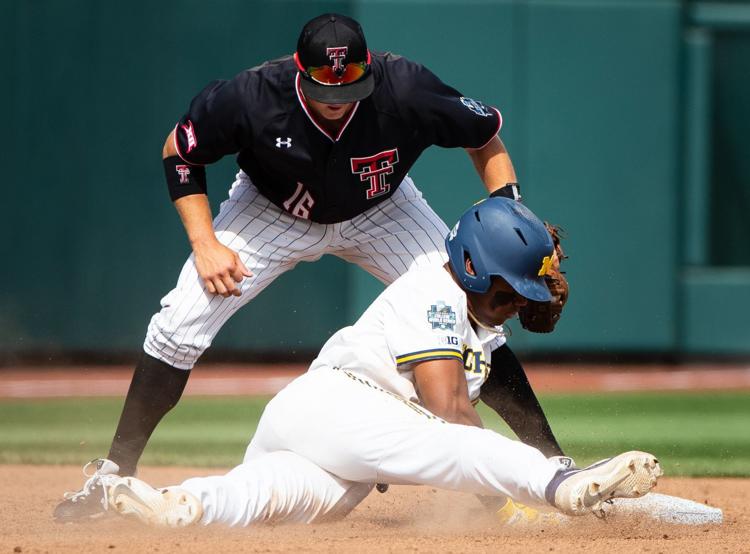 "They really played better defense today," Red Raider coach Tim Tadlock said. "When we played them at home in the regular season, they kicked the ball around quite a bit. They didn't give us any free outs today. We had to earn everything we got."
Josh Jung led off the sixth with a single, moved to third on a double by Cameron Warren and scored on an infield groundout by Dru Baker to make it 4-3.
Michigan got that run back in the top of the seventh, when Franklin led off with a four-pitch walk before advancing to second base on a one-out wild pitch.
With two outs, Nelson reached on the lone error of the game, a throwing miscue by shortstop Josh Jung.
Kauffmann needed just 101 pitches to get through seven innings, scattering eight hits before giving way to Jeff Criswell. Though he may be the Game 2 starter, Criswell threw 37 pitches in the final two innings — four of his six outs were strikeouts.
"After we played them in March, we learned (and) came out here with the approach we had to minimize their opportunities and just limit the mistakes," Kauffmann said. "Even today they made me pay for every mistake I made."
Spotlight
A diving catch by Michigan second baseman Ako Thomas that likely saved a run for the Wolverines. In the bottom of the fifth, Thomas was several steps closer than usual to the bag, where Texas Tech's Braxton Fulford was after a one-out double. When Dylan Neuse got his bat on a pitch from Karl Kauffmann, Thomas sprinted toward the ball and laid out to make a catch that would have gone into left-center. Kauffmann got the next batter out to leave Fuller stranded at second and the score remained 4-2 Michigan.
Kauffmann was magnificent in his seven innings. The Rockies' second-round draft pick scattered eight hits, gave up no walks and struck out three, further cementing his position as one of the best groundball pitchers in college. And the defense comitted no errors behind the junior from Bloomfield Hills, Michigan.
Jimmy Kerr followed orders from his coach and continued chugging around the bases for a triple after his hit down the third-base line had plated a pair of teammates. Kerr hesitated for a moment approaching second base but kept running. Getting to third base made it much easier for him to score and push Michigan's lead to 4-0.
Twice in the third inning, Michigan baserunners were called out by umpires, only to have those calls reversed. The first was when Jesse Franklin was called out at second, though Tech's second baseman never caught the ball. The second was when Blake Nelson was called out on a pickoff attempt at first. It didn't take long for the replay review to prove the first baseman's glove never touched Nelson.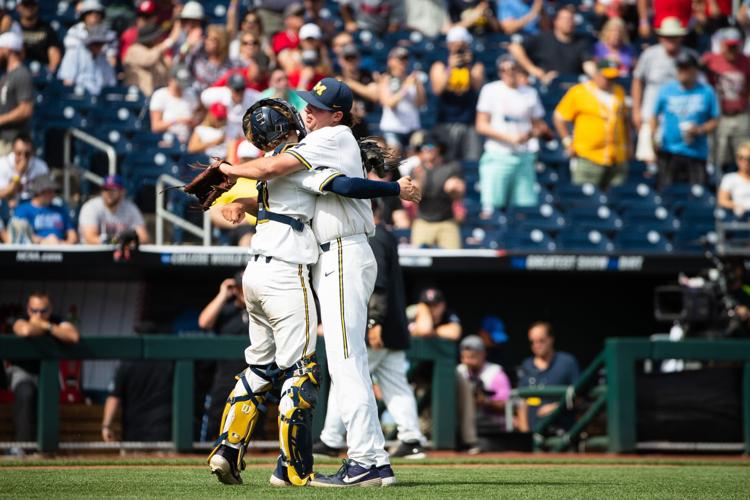 After Texas Tech's Brian Klein hit a two-run homer in the bottom of the third, Kauffmann shook it off and got the next two batters to ground out to shortstop to end the inning. That's the kind of overall team poise that Michigan coach Erik Bakich said was missing early in the season but has become a staple of his team's march through the postseason.
At least to this point, Michigan is playing the way every team hopes to be playing when it gets to Omaha: strong pitching, solid defense and timely hits — including several with two strikes and/or two outs. If the Wolverines continue to do that on Monday night, this merry band of ballplayers from the north has a good chance to keep playing games next week.
They said it, parts I and II
"If you wouldn't have called that, they wouldn't say a word." — Michigan coach Erik Bakich to home plate umpire Perry Costello about Costello calling Jordan Brewer out for batter interference in the top of the seventh.
Responded Costello: "Oh, I don't know about that."
Photos from 2019 CWS Day 1: Michigan defeats Texas Tech, Florida State beats Arkansas