The first elimination game of the College World Series is a matchup few expected to see there.
No. 5 Arkansas and No. 8 Texas Tech, the only remaining national seeds on their side of the NCAA bracket, both dropped their CWS openers Saturday. One will be the first to leave Omaha on Monday.
The Red Raiders (44-19) fell behind Michigan 4-0 in the CWS opener at TD Ameritrade Park and never made up the deficit. The Razorbacks (46-19) were shut out by Florida State later that night.
Now, one year after squaring off in a winners bracket game in Omaha, they'll do battle to stay alive.
"It's unfortunate," Texas Tech coach Tim Tadlock said. "(But) if there's one thing that we would probably say, it's, 'We'll take our team with our backs against the wall any day of the week.' And we like our guys."
The Red Raiders got a two-run homer from second baseman Brian Klein to cut the Michigan lead in half Saturday. The junior infielder said, ideally, they'd like to be in front early, but they didn't panic.
"It's important. But even if we're not, we can fight back," Klein said. "We have fought back a lot all year. It can be a momentum-changer to get up early. But I know, even if we're down, we can fight back."
Arkansas and Florida State battled to a scoreless draw through eight innings, then the Seminoles plated the game's lone run in the ninth. The Razorbacks had runners in scoring position in four innings but failed to bring them in. A line-drive double play and strikeouts were costly.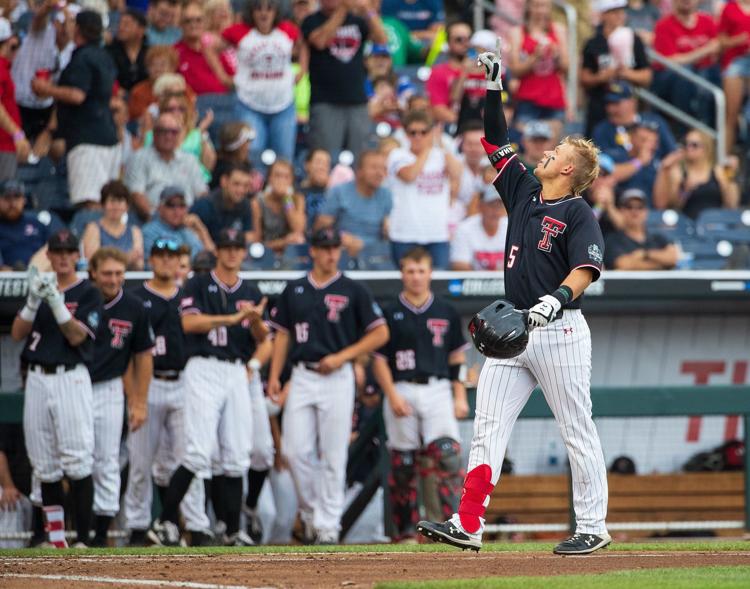 "We had, really, two shots to get him," Arkansas coach Dave Van Horn said. "But we had a couple guys on third base or second and third with less than two (outs). We've just got to make contact."
Saturday's game was the second straight at the CWS in which the Razorbacks were shut out. They didn't score in last year's championship finale, which they lost 5-0 to Oregon State.
Starter Isaiah Campbell, who blanked FSU for seven innings, thinks his squad will bounce back.
"This team has battled and competed all year," he said. "That's what we're going to do. It starts Monday. We've just got to come out against Texas Tech, hit the ball, pitch really well and just play Arkansas baseball."
Texas Tech first baseman Cameron Warren thinks his team, like Arkansas, missed opportunities to score in its CWS opener. The Red Raiders' lone senior said they'll have to capitalize more to move on.
"We've got to have better at-bats than we did. We've got to battle more," he said. "We did hit a lot of balls hard. We hit it right at them some. We've just got to grind, and we've got to come back ready to play."
Photos: 2019 CWS Day two: Vanderbilt, Louisville, Mississippi State, Auburn