The only time Kumar Rocker talked about his no-hitter in the past 10 days was during the flurry of interviews with national and local media. Not with friends or family. Definitely not with teammates or coaches.
"I moved forward from that," the freshman said. "I couldn't think of that while on the mound."
Instead, the right-hander locked in on locating his fastball that was topping out in the mid-90s and a 12-to-6 curveball that Mississippi State hitters thought was a slider. On a day when Vanderbilt didn't need another historic performance, its starter was merely excellent in an outing that was more than enough to ensure an extended stay at College World Series.
Fresh off his 19-strikeout no-no in a super regional, Rocker fired six strong innings and the Commodores broke out with a five-run fifth en route to a 6-3 victory over Mississippi State in the winners bracket game Wednesday. Senior left fielder Stephen Scott provided the pop as Vandy (56-11) won its first two CWS games for a third time in six years.
Scott mashed a 90 mph fastball on a full count for a solo shot to right in the second inning. Then he hammered a first-pitch offering so hard that right fielder Elijah MacNamee didn't bother watching it bounce off the back of the bullpen for a three-run homer in the fifth.
No. 6 national seed Mississippi State (52-14), which had been the last unbeaten team in the NCAA tournament, dropped to an elimination game against seventh-seeded Louisville (50-17) at 7 p.m. Thursday. The winner draws the second-seeded Commodores at 6 p.m. Friday.
"We went into this game confident with Kumar on the mound, and he really showed up," Scott said. "That's a pretty scary team top to bottom, so we were looking to give him some run support."
Like so many other teams, MSU struggled to square up Rocker. A Jake Mangum single and hit batter put a pair of runners on in the first, but Rocker responded by inducing a strikeout and flyout.
Rocker said it took him an inning to acclimate to the TD Ameritrade Park stage in front of 15,463. From there, Mangum and the Bulldogs saw pitches that were hard to identify early as they buzzed around the strike zone.
"When you've got two pitches that can move completely different ways at completely different miles per hour, if it comes out of the hand the same way, it's going to be tough to keep your balance and stay behind the ball," said Mangum, a fourth-round MLB draft pick.
Rocker didn't allow multiple baserunners again until the fifth — a single and fielding error at first base put two on — and he escaped that jam with a popout and lineout.
Vanderbilt led 6-0 by the time MSU got to the starter with a two-out RBI single from Rowdey Jordan in the sixth. Rocker finished with six strikeouts while issuing one walk on 95 pitches. The RBI single by Jordan also halted Rocker's scoreless streak at 17 2/3 innings.
"We just got a very good start from a very good pitcher," Vanderbilt coach Tim Corbin said.
Mississippi State scored a pair of runs in the seventh off Vandy's bullpen on a Marshall Gilbert homer and Tanner Allen's RBI single after a Mangum double. With two outs and runners on the corners, Dustin Skelton — with 10 homers this year and representing the tying run — struck out against reliever Tyler Brown.
The closer allowed one hit in the last 2⅓ innings for his 16th save of the year.
Mississippi State starter Peyton Plumlee lasted 4⅓ innings, surrendering six hits and three runs on 82 pitches. He wiggled out of a two-on mess in the first by coaxing a ground-ball double play and escaped unscathed in the fourth after Vandy led off with a single and double.
But a one-out hit batsman and JJ Bleday's RBI double chased Plumlee, and the bullpen allowed a Pat DeMarco run-scoring groundout and Scott's three-run bomb.
"There's an old coaching rule — there's three jams, you're not getting out of the third one," MSU coach Chris Lemonis said. "I go out to get him then, but I thought he was pretty good. He pitched with good stuff. It was just a really good lineup."
Spotlight
MSU starter Peyton Plumlee escaped jams in the first and fourth innings, but the Bulldogs couldn't avoid the long ball — and subsequent bat flip — from Vandy's Stephen Scott in the fifth. His no-doubt three-run bomb off the back of the right-field bullpen wall made it 6-0 and all but iced the outcome.
It isn't often someone like Scott can drop two bombs and not receive top billing, but let's go with Vanderbilt freshman starter Kumar Rocker. Coming off a 19-strikeout no-hitter and receiving national attention for the next 10 days, the 19-year-old righty allowed one run and struck out six in his six-inning CWS debut.
MSU center fielder Jake Mangum showed why he's more than just an elite hitting prospect with his seventh-inning snag. The fourth-round pick of the New York Mets chased down a long fly off the bat of Pat DeMarco and held on while sliding on his knees on the warning track. It was part of the only 1-2-3 inning the Bulldogs managed.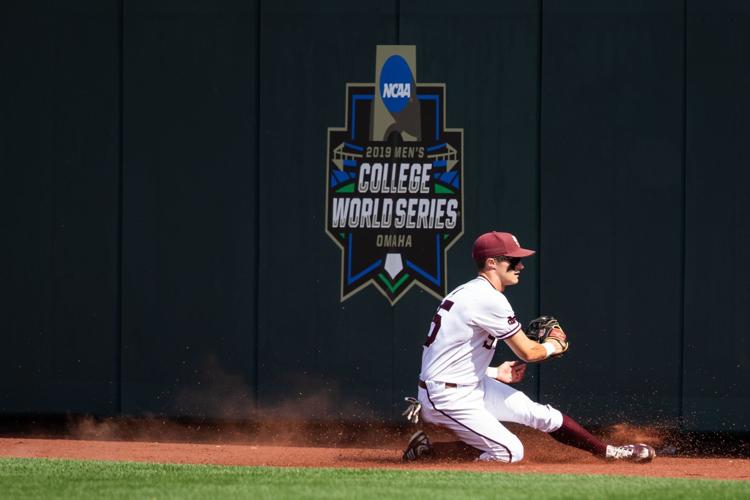 A rare brain freeze was on display for Vanderbilt and first-round draft pick JJ Bleday in the sixth inning. Bleday singled but was later doubled off second base — it wasn't close — on a lineout to left by teammate Ethan Paul.
Doubt began to creep in when Mississippi State scored a pair to cut its deficit to 6-3 in the seventh. This was, after all, a team that rallied late to win its CWS opener. But with the tying run at the plate, Vanderbilt turned to closer Tyler Brown, who got the strikeout and allowed one hit through 2⅓ innings for the save.
Vanderbilt was widely considered the favorite in the eight-team CWS field, and now it's one win from its third finals berth in six years. The Commodores have shown no weaknesses and will have the added benefit of lining up their pitching for Friday. Good luck slowing down this locomotive.
Rocker, on his advice to hitters facing pitchers like him: "Ooh, (I'd) say to sit fastball. If they see my fastball, and they sit it, they should have success with it."
Photos: 2019 CWS Day five: Auburn, Louisville, Mississippi State, Vanderbilt, Texas Tech, Florida State