You could call this the Mike Martin College World Series. Get down and pray at home plate to the CWS baseball gods for a proper ending to a classy coaching career.
Please, oh great Zesto King, let Martin finally hold the Holy Grail, bag the white whale, write the perfect ending to a fairy tale.
Why bother? The baseball gods don't take requests. They have minds all their own.
One year they decided to let a small-hitting second baseman from LSU have the greatest moment in CWS history.
Another year they decided it would be a good idea to have some kids from Coastal Carolina leave town with the trophy.
Then last year the CWS baseball gods floated a pop fly into the massive foul territory at TD Ameritrade Park, then let it twist and swirl in the lights and fall to the turf in time to let Oregon State take the title from Arkansas.
The gods will roll the dice and do what they will, and maybe this year that means the Omaha Hogs get even for one of the cruelest fates in CWS history.
Sorry, Hogs. This year, you've got to stand in line.
A lot of folks are talking to the CWS gods this year, begging for Florida State's coach of 40 seasons and 2,028 victories to finally win his first national championship in his last season, his last CWS.
It's the biggest bandwagon in CWS history, and it arrived in Omaha on a magic carpet ride through the regionals in Athens, Georgia, and super regionals at LSU.
A couple of months ago, Martin wasn't even sure his final Seminole team would make the NCAA tournament. Now he is riding the Karma Express to what might be the most sentimental CWS ever.
I'm here to tell you that I'm cheering for that story and that coach.
I'm also here to tell you that if it doesn't happen, he's good.
Does Martin want a national title? Of course. He wants it for his players, his fans, his school. Competitors play to win. We know that.
But Martin showed up in Omaha for a 17th time with the coolest résumé in coaching.
At a Friday press conference, Michigan coach Erik Bakich called Martin "the greatest coach in college baseball history."
Not Rod Dedeaux, who won 11 national titles. Not Skip Bertman, with his five CWS titles. Not Augie Garrido, who won titles at two schools.
He said it of Martin, who has won more college baseball games than anyone else, but not one NCAA title.
He said it of Martin, who has 40 years worth of working with players, 40 years worth of impacting lives, 40 years worth of players who come back and thank their old coach for helping a young punk grow up.
He said it of Martin, who coached against all those greats. And while most of them retired, Martin kept chasing the white whale back to Omaha — a record 17 times.
Seventeen times, he brought teams here, got to experience the bucket list event, got to make great friends in Omaha and go to Omaha Prime enough that they could reserve a table in his honor.
There are so many coaches who would give anything to have been here once. And while some of them were fired, Martin got to coach the game he loves until the ripe age of 75, and go out on his own terms.
And his career will end in Omaha.
I'm not making a very convincing case to the gods, am I?
Of course, the gods know this. They see all, hear all. And they surely were listening on Friday when a fan came up to Martin during the FSU workout and said, "Coach, how are you doing?"
"How am I doing?" Martin exclaimed. "I'm in O-MA-HA! It's a bee-you-tee-ful thing."
The first time I heard the coach say that was in 1994, the year I met the man. He had Florida State making regular appearances to Omaha then, and with his cream-gravy voice and Southern manner, we compared him to the other FSU legend, football coach Bobby Bowden.
It's always interesting to watch coaches over a period of time, how they stay the same, the way they change. I've noticed both in Martin through the years.
At the 1994 CWS, Martin was in full obsession mode over a national title. And why not? FSU fans were playing at the highest levels in college football, and Bowden had finally just won his first national title in an epic battle against Nebraska in the 1994 Orange Bowl.
That last matter was a sticking point at the following CWS. Nebraskans had their hearts broken, and as much as they liked Bowden and Martin, they were in no mood for Seminoles and war chants at Rosenblatt Stadium. I don't recall boos. But after one particularly heated loss to Georgia Tech, Martin scolded the Omaha fans for not supporting his team like they did the others.
"I don't understand why people are always pulling against us," Martin said. "Nebraska has never yelled for us. It's supposed to be a neutral site."
Well, Martin heard about that from the media and fans. The next day, he apologized. The next year, he apologized.
Now he's been here so long that most of the CWS will be cheering for him.
As I've grown to know Martin, I've realized that that was the pressure talking back in 1994. That was Captain Ahab howling at the sea. A younger coach with younger coach priorities.
Twenty-five years later, Martin has changed his tune and it's a bee-you-tee-ful thing.
"There's no doubt I think I was a little too consumed with winning a national championship, and it was a little narcissistic of me, if you want to know the truth," Martin said. "That was all I thought about, winning a national championship. Now, I just think about the players experiencing getting out here.
"It doesn't mean I'm not burning with the very strong desire to win it. But if we aren't able to win it, it's not going to affect me one little bit."
Over the years, I've heard countless college head coaches, in all sports, offer this sentiment. And some of them have won national titles, and it's easy for them to say, that the national title isn't the thing that means the most. They have one.
But this is the absolute truth about coaches: They pursue titles but ultimately they are chasing the next game, the next team, the next puzzle to put together. They wouldn't know what to do without the life. When they're out, part of them still itches for that feeling when they see the little lightbulb come on for a player and he makes a play.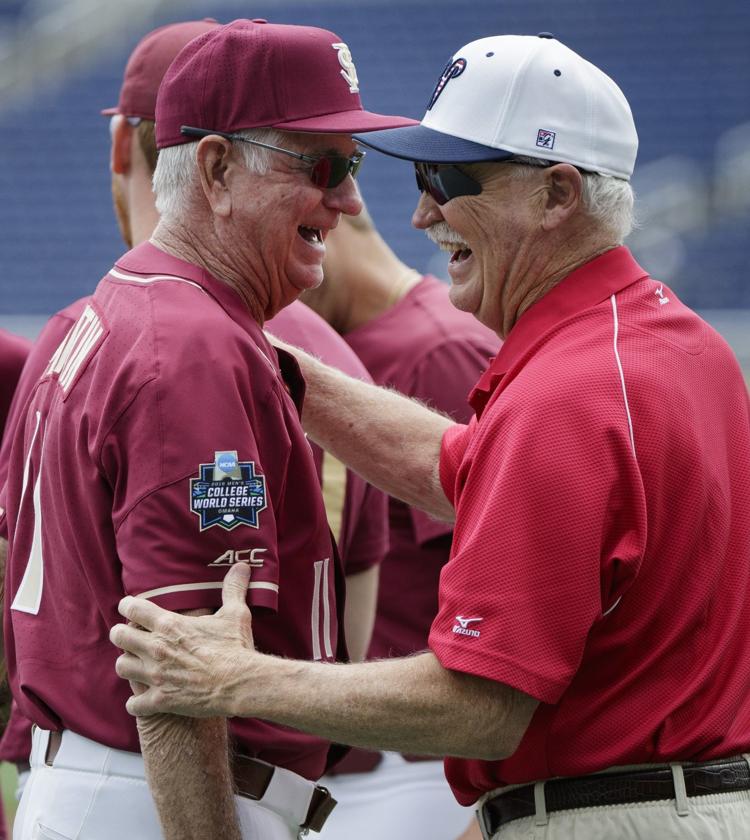 Gene Stephenson, who led his Wichita State dynasty to the 1989 NCAA title, talked to his old friend Coach Martin on Friday. Martin was the one in the uniform. Stephenson was the one in the polo and slacks. And you can be sure part of him was envious of his old friend.
"I'd love to see him win it, because it would mean the naysayers can't say he couldn't win the big one," Stephenson said. "For me, it was always tougher to get here than to win it. We should have won in '82, should have won in '88. We had a better team than Stanford. Same for 1991."
Stephenson will always have 1989. But the former players from 1982 and 1988 and 1991 mean just as much to him as the ones from 1989. It really is about the journey, the one he's no longer on.
"The most important thing of all to any coach is the relationships with those players, from the time they come on your campus," Stephenson said. "You'll probably have more impact on their lives than you'll ever know.
"Sure, the wins matter. But is that relationship strong with those guys? Did you give them your best every day? Did you help make that guy, a youngster, into a real man, being able to cope with life?"
Stephenson has the national title. But that didn't matter in 2013, when he was fired by WSU with one year left on his contract. There are few happy endings for college head coaches, especially ones who hang on into their 60s and 70s.
"It's always going to be taken away from you," Stephenson said. "It's never going to end the way you want it to end. And so the whole point is, did you enjoy the ride? I had such passion for what those guys were trying to achieve and do. The joy of the ride together, each and every year. I'm standing right here and I have goose bumps thinking about it."
What a ride for Martin, whose first CWS came in 1980, the year he took over for Dick Howser. He's had 40 straight years of NCAA tourneys, but only six trips to Omaha since 2000. In the coaching world, he's a survivor. And grateful to go out on his own.
"The last game I coach," he said, "will be in Omaha."
Beg to the gods if you want. But you could say in some ways, Martin has already won.
Photos: College World Series through the years
Check out the best photos from the College World Series, dating back to the 1950s.