Hail, hail to the Comedians.
The Big Blue Machine keeps rolling along, first through Corvallis, then Tinseltown, on to Omaha and now the winners bracket on Monday night.
These are Big Ten survivors, just barely making the NCAA tournament field. But there was a time when it looked like the Wolverines' season was left for dead.
The ESPN cameras told one story. One by one, the parade of Michigan relievers who entered the ninth and looked scared to death. An elimination game with CU loomed the next night, but the Wolverines looked like they were already checked out of 2019.
As the team sat on the bus that would take them back to their hotel, Michigan right fielder Jordan Brewer, the Big Ten player of the year, had an idea.
Soon, his teammates were all laughing.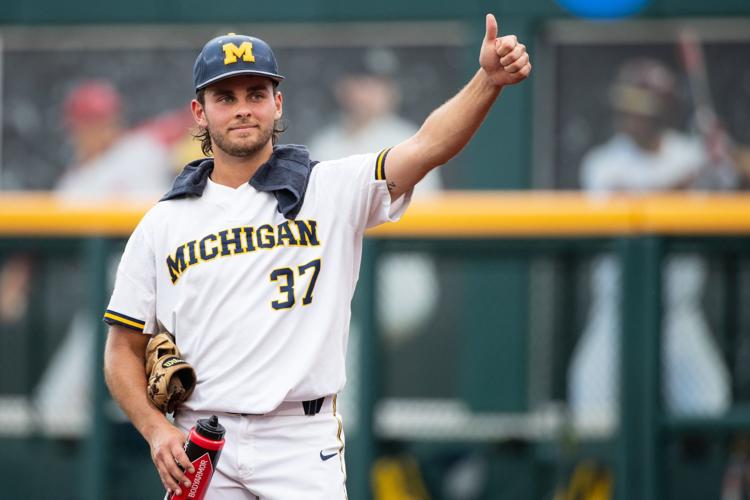 "We got on the bus and the first thing was laughter," Brewer said. "It was like, 'What a joke.' We're better than this. It's baseball and crazy things happen in baseball.
"It happens. It's baseball. So laugh about it."
The comedy wasn't over, though.
The next day, Michigan coach Erik Bakich entered a meeting room to give the team a scouting report on Creighton and some words of encouragement.
And Bakich promptly fell down. Face plant on the carpet.
"He absolutely fell," catcher Joe Donovan said. "He ate it. I thought he hurt himself."
Not to worry. Bakich bounced up and dusted himself off.
"He said, 'Fellas, that's what we've got to do,'" Donovan said.
Bakich said he always comes to those meetings with a "power point" but this time he wanted to use a "skit." It set the tone for the team.
"My emphasis the next day was about slipping and falling, getting back up and using adversity to your advantage," Bakich said. "You get back in the fight.
"I talked about it being a character check and then (that night) we got down 4-1 and it looked like we could totally blow it. But our guys never wavered."
And how. Michigan's offense got all over Creighton pitchers. They won 17-6.
Character? Check. Guts? Check. Confidence? Check, check, check.
The Wolverines then went to Westwood and took down No. 1 overall seed UCLA. The super regional went three, but they came close to sweeping the Bruins. It was no fluke.
Sign up for World-Herald daily sports updates
Get the headlines from Creighton, Nebraska, UNO, high schools and other area teams.
Suddenly, Michigan was headed to Omaha to plant the Big Ten flag in TD Ameritrade Park. But they aren't here as a northern curiosity. This is a legitimate national title threat. The wins over UCLA said that.
The 5-3 opening win over Texas Tech reiterated it.
It's a terrific story, with the "Hail to Victors" fight song blaring at the CWS and an army of fans wearing navy shirts and hats with the gold (sorry, maize) block M wandering around.
Their team is a story of resolve and toughness in this double-elimination world. How in the world did they pull it together after that loss to Creighton?
They say it started May 23 in the Big Ten tournament, here on Creighton's home field at TD Ameritrade Park for you fans of irony.
Michigan was in the losers bracket, having lost to Ohio State then trailing 4-3 to Illinois and down to its last out. Lose and you can kiss the NCAA tourney goodbye.
Somehow, they clawed back, getting runners on base then winning it on a double by Jordan Nwogu.

"When we lost that first game in the Big Ten tournament, our guys were pressing," Bakich said. "They were squeezing it, they were puckered up. We weren't playing free. We weren't playing loose.
"And we needed some authentic moment to happen on the field. For a program who hasn't been here and hasn't navigated its way through the postseason, we needed something to happen to ignite a hot streak."
That was Nwogu's game-winning double. Michigan didn't win the Big Ten tourney, eliminated by Nebraska in the semifinal. But as Bakich said, the damage was done. Michigan had "a different mindset."
"It's confidence," Brewer said. "Our confidence was here, but now it's way up here (lifts his hands). We really started believing in each other. Then we started passing the baton."
This Michigan outfit is pretty complete. There's talent. Five Wolverines were drafted last week, including pitcher Tommy Henry, who beat UCLA twice and starts for Michigan on Monday night.
The missing piece was mental. Tell it to Tech.
The Red Raiders swept Michigan in a nonconference series in March. But Saturday, on the biggest stage, the Wolverines put up a run in the first and strung together three hits to make it 4-0 in the third.
If there's an Achilles' heel, it's the bullpen (ask Creighton), but Bakich used No. 2 starter Jeff Criswell as a two-inning closer Saturday to the backdrop of "Let's Go Blue" chants.
"My favorite part was hearing the chants," Donovan said. "That was ridiculous. Our fans aren't always there for us at home, but they've been great (in the postseason).
"We've played so many games here in the Big Ten tournament that we know the stadium pretty well. But, yeah, this is kind of surreal. This is the Big Ten tournament on steroids."
It's a long week, with plenty of SEC power looming. But the Big Ten boys showed they're not just here for the souvenirs. They're going to be a tough out.
"Earlier in the season, if we had blown that ninth-inning lead (to Creighton), I don't know if we come back and respond the next day and put up 17 runs," Bakich said. "That's all confidence. That's belief.
"Total credit to the kids for just being able to get off the mat and get back in the fight."
Their coach showed them how. Next time, Coach Bakich might want to use a video.
Photos from 2019 CWS Day 1: Michigan defeats Texas Tech, Florida State beats Arkansas