College World Series, you've never looked better.
No, we didn't get an epic championship game. In the end, the Vandy Boys were too good.
But for nearly two weeks, the college game put on a brilliant display. It never looked healthier.
So many close games. So many well-played games. Great pitching. Big hits. Home runs. Won by an elite program, an elite champion.
The most outstanding player was Vanderbilt pitcher Kumar Rocker, a freshman who passed on the major league draft because he wanted to play college ball and win a national title.
And it's safe to say it now: a CWS where nobody talked about the stadium. No complaints about it being too big. No gripes about how it doesn't represent the entire college game.
Next year will finish the first decade at TD Ameritrade Park, and it's all about the games now, the players, coaches and fans.
We said a long farewell to a part of the game's glorious past. And please, NCAA, let Mike Martin's voice narrate the CWS from here on. He never won the title, but he won over Omaha and he'll always be part of this event.
We also said hello to the future.
The Wolverines were the biggest part of this CWS, the most compelling story. A northern team, a Big Ten team, that brought a refreshing air from the great lakes down to the Heartland.
If Michigan had won, this would have been the most important CWS in decades.
There have been underdog winners, like Coastal Carolina. And while Oregon State is in the northern part of the Pac-12, it's more west coast than "north," playing and recruiting in warm sunshine states.
A Michigan win would have been different, would have turned so many heads, because of the Michigan name.
But even in defeat, won't they have leave a legacy of inspiration? Won't they leave footsteps to follow?
You hope so. The college game needs more Michigans. It broadens a game that always seems like a closed shop, a private club, at the highest levels.
It needs more teams from the Big Ten, which always seems to have one foot in and one foot out. Big Ten money and dreams always seem to be weighed down by lack of belief.
Michigan defied that narrative. For two weeks, we watched and heard an advertisement for northern ball.
For two weeks, Wolverine coach Erik Bakich's kids from Chicago, Wisconsin and Michigan put on a clinic of big pitching and clutch hitting and down-in-the-dirt passion for the game.
For two weeks, we heard Bakich laugh at all the old, tired excuses about northern and eastern teams not being able to get here. His brightest moment might have been talking about how he makes his team practice outside, embrace the cold, rise above.
Michigan was one of the last four teams into the NCAA dance, had to spend over a month on the road and shined in every moment but the last.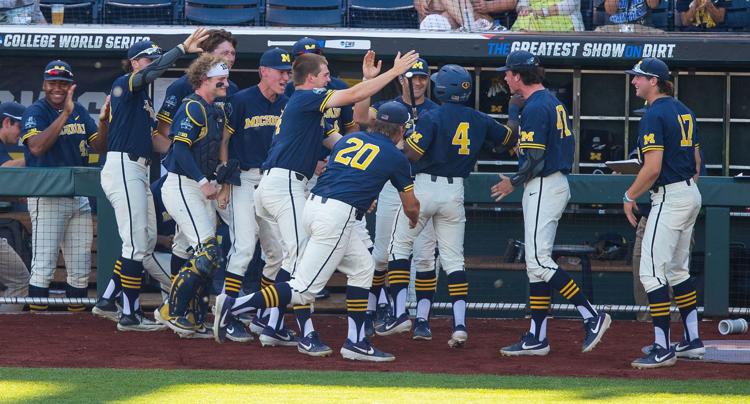 A Michigan victory would have made every athletic director in the north and east pay attention. But they should still be taking serious notes.
Let this Michigan run be the reason that conferences pass the proposal to add a third full assistant — a measure voted down by both Big Ten and Big 12, for the record.
Let this Michigan run be the reason the Power Five — or Football Money — leagues propose an increase in baseball scholarships to 13 or 15.
Let this Michigan run be the impetus for more coaches to diversify their rosters — taking kids from all neighborhoods and develop their talent in big-time baseball players.
Yes, you can agree with Bakich that Michigan caught "lightning in a bottle," and yes, with the weather and RPI hurdles, getting to this point will always be a battle in the north.
But this CWS showed what is possible if you believe. And while Bakich didn't want to carry the flag for all northern and eastern programs, his postgame message was clear.
The dream didn't end here Wednesday night. It's only just begun.
"I can just speak for Michigan," Bakich said. "It's a tipping point for Michigan.
"We've talked about in a recruiting pitch that Midwest kids don't need to go south to develop into professional players and to make post-season runs, and we've talked about kids from outside of the Big Ten footprint, outside of the Midwest, that they can come to Michigan and have that same experience.
"We needed a magical type of season. Inside of our locker room, believing is seeing, but maybe externally seeing is believing."
That belief will start with the Michigan administration and Bakich. The school needs to lock up Bakich with a long-term deal that includes a big raise. And Bakich needs to accept.
The suitors will soon come, most of them from the south or west, with millions of dollars. They'll want whatever Bakich is selling, whatever he is coaching. He's got Vandy on his résumé, too. Nobody will be hotter when the jobs come open next spring.
The surest sign that something big happened here, that this could be the future, is Michigan and Bakich locking arms together.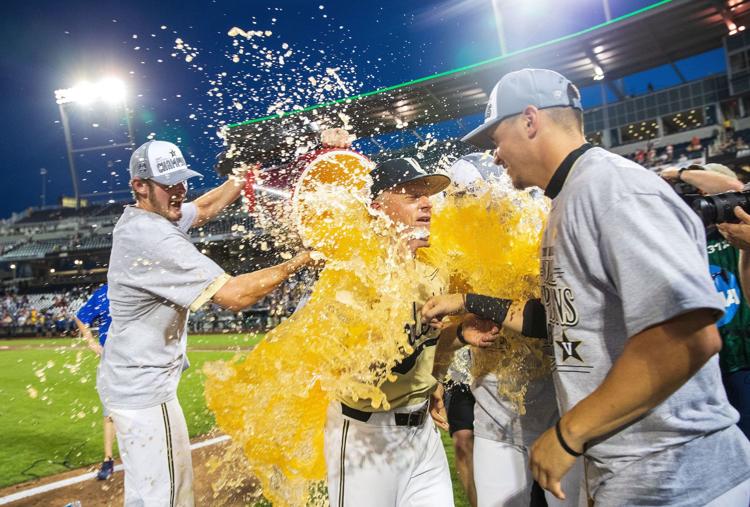 Meanwhile, the Vanderbilt story continues. And though the Commodores cash SEC checks, it's noted that Vandy is not a powerful athletic machine. Coach Tim Corbin (with Bakich's help back in the day) built an underdog program into an elite member of the CWS history club.
And Vandy's classy champs will no doubt build off this second natty. The best team won. And that always validates a CWS.
But did something more important happen here these past two weeks? Time will tell. Come back anytime, Big Ten. Don't be strangers.
Photos: 2019 CWS title series game 3