Texas Tech is still alive in Omaha one week after losing its College World Series opener, and its coach is not at all surprised.
Tim Tadlock kind of predicted this.
After the Red Raiders lost their opener to Michigan in Omaha on Saturday, the seventh-year coach sat down for his postgame press conference and spoke confidently about a hard-nosed team he knew would respond well.
"We'll take our team with our backs against the wall any day of the week," Tadlock said.
One wouldn't blame Tadlock if he had some resignation in his voice that day, or if he hinted at the reality that the Red Raiders' season could soon end.
Navigating the losers bracket at the CWS is treacherous. Oregon State did it last season — and won the title. But that was the fourth time in 38 years that the champion rebounded after losing its opener.
Yet Tadlock, just moments after a tough 5-3 defeat to Michigan, already was getting himself back into game mode.
Forget the fact that he and his program had been in this spot before. The Red Raiders went 0-2 in their first Omaha trip in 2014, then got bounced after three games in 2016 and 2018.
But this Texas Tech ballclub knows how to battle, Tadlock said. He said the same thing about his players Wednesday night.
"They're not going to let some type of circumstance, the results dictate their effort and their preparation," Tadlock said. "They've been really good about respecting the game and trying to play the game the right way. Not saying we always get great results, but as long as the preparation is right, we're happy with them."
The Red Raiders held off Arkansas for a 5-4 elimination-game win Monday — despite a pro-Razorback crowd. Then they spoiled the feel-good story of the CWS by knocking out Florida State 4-1 Wednesday.
Now Texas Tech has to beat Michigan twice to earn a spot in the championship series. The first game is set for 1 p.m. Friday.
They'll have to find a way to solve the Wolverines' pitching staff, particularly junior Karl Kauffmann. The right-hander, who surrendered three runs in seven innings against the Red Raiders last Saturday, will start Friday.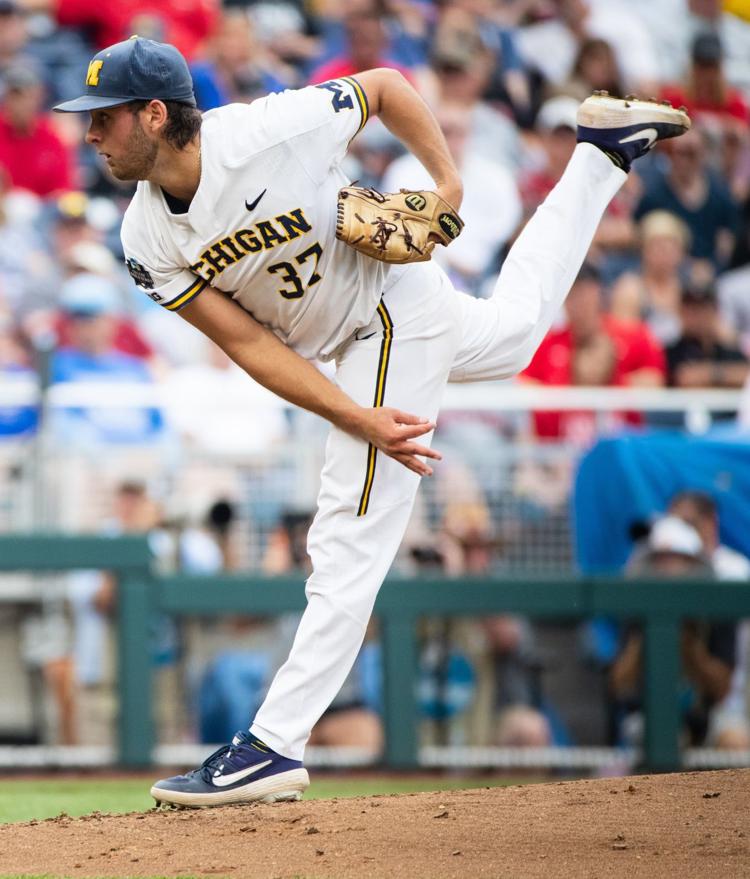 But Texas Tech has momentum now.
Four players have hit home runs during the past two games. Leadoff hitter Gabe Holt, despite a recent thumb injury, returned to the lineup Wednesday. The Red Raiders start ace Micah Dallas on Friday — he gave up four runs to the Wolverines in the first three innings but only threw 61 pitches.
"Whoever we put in that lineup," Texas Tech junior Brian Klein said, "I have full confidence that they can play."
Photos: 2019 CWS Day six: Louisville, Mississippi State