When high school players are daydreaming about their potential baseball careers, they're pulling up YouTube and typing "Vanderbilt" into the search bar.
At least that's what Michigan sophomore Joe Donovan once did.
Before his team faced off against the Commodores for the national title this week, he talked about this "gold standard" program with a reputation that resonates with young ballplayers — how he and everyone else in this sport has likely cycled through Vanderbilt highlight videos at some point.
"I know a lot of schools across the country look up to them as far as the point you want to reach," Donovan said. "They've definitely inspired a lot of young kids to want to go play college baseball instead of pro ball, just because it looks so much fun with everything they do. And they obviously set the bar for where you want your program to be."
The bar has been raised even higher.
Vanderbilt did knock off Michigan in the College World Series finals, earning an 8-2 win in the best-of-three rubber match Wednesday to cement its status atop the college baseball hierarchy.
It's the first team to win two titles since the CWS moved to TD Ameritrade Park in 2011 — it has a 16-7 record in Omaha during that span. The Commodores have also won more games in the nation's toughest conference than anyone else over the last seven seasons.
But the appeal of Vanderbilt goes beyond the on-the-field success, according to senior shortstop Ethan Paul.
The roster has players from 14 states — plus a guy from Canada. There are seniors who put off their pro careers one more year so they could stick around. There are rookies with roles and some without, yet they wouldn't trade their experiences for anything.
"I think there's such a bond with each other, and we do all those things off the field, and we celebrate each other so well," Paul said. "I'm happy that we were able to have this moment, and it's going to be a memory forever, but just being able to share this team and this experience with these guys, I mean, friends for life."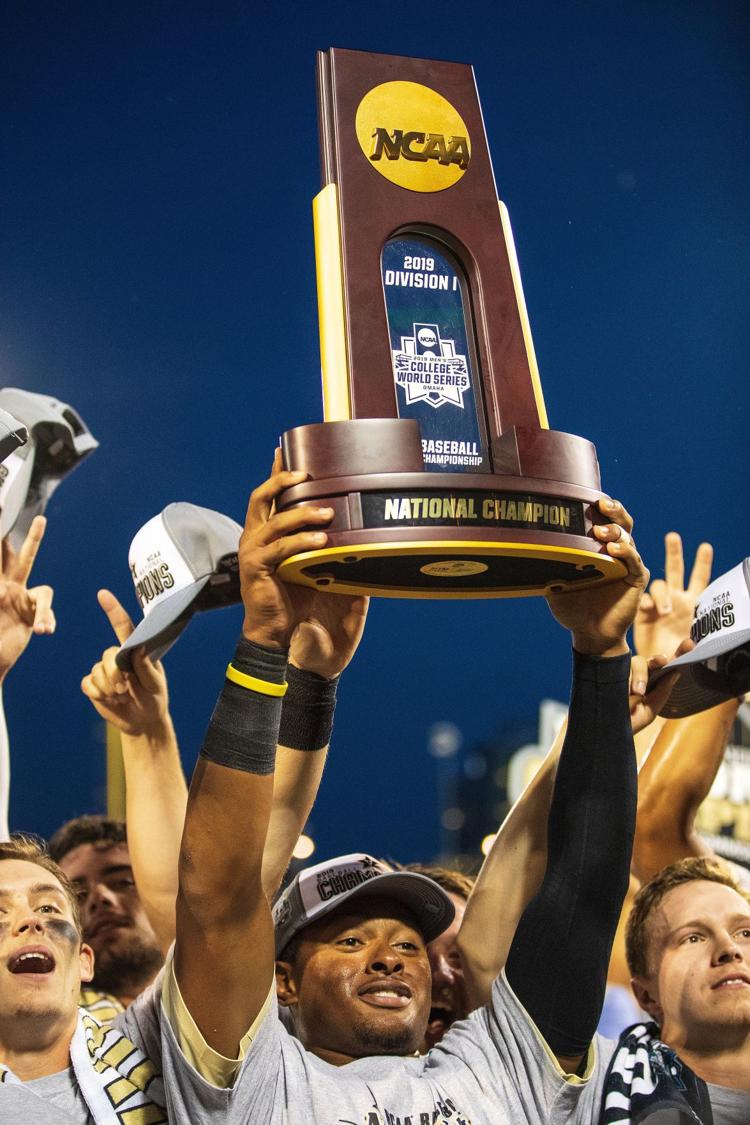 Don't expect that culture to change as long as Vanderbilt coach Tim Corbin's around. He's built the Commodores into a powerhouse. And everyone's now trying to replicate the blueprint.
Here's our recap of the 2019 CWS:
Best game
Texas Tech beat Arkansas 5-4 in a well-played, intensity-filled elimination game on the series' third day. The Red Raiders hit three home runs to erase an early three-run deficit. The Razorbacks tied it back up in the top of the eighth, but Texas Tech went back ahead with a two-out, go-ahead RBI triple in the bottom half of the inning.
Best pitching performance
Michigan's Tommy Henry surrendered just three hits and struck out 10 batters in a complete-game shutout against Florida State. The left-hander's 100-pitch outing improved the Wolverines' Omaha record to 2-0.
Best defensive play
Vanderbilt second baseman Harrison Ray charged in on a low-arcing bloop and made a diving catch for the final out in the Commodores' thrilling 3-2 win over Louisville. That victory sent Vanderbilt to the CWS finals.
Worst collapse
Auburn just needed an on-target, third-to-first throw to win its CWS opener. But third baseman Edouard Julien airmailed one across the diamond. A run scored on the play to tie the game (after Mississippi State had entered the ninth inning trailing 4-1). Four pitches later, the Bulldogs won it with a walk-off hit.
Most memorable moment
Louisville pitcher Luke Smith struck out Vanderbilt's Julian Infante. Then came the staredown. Then came a shouting match — and ESPN's slow-motion cameras caught Smith yelling obscenities in Infante's direction. Smith would later say that the adrenaline got to him. The Commodores' lineup eventually did, too. They spoiled his complete-game bid by scoring twice in the ninth and earning a 3-2 win.
Notable trend
There were a lot of strikeouts. Michigan's hitters tied a CWS team record by striking out 74 times — and the team they matched, Coastal Carolina, played two more games here. The eight CWS teams combined to strike out 294 times, the most for a single series in 61 years.
Best quote I
"We just figured out that we were pressing and worried about just trying to win or trying not to lose, and now we're just playing loose and having fun at TD AmeriPlayground." — Michigan center fielder Jesse Franklin
Best quote II
"Go out there and watch that game. There's 30,000 people in that stadium. A million people watching it. Come on. It's time to change. It really is." — Mississippi State senior Jake Mangum, campaigning for a third paid assistant coach in college baseball
Best quote III
"Yeah, he ordered a dadgum calamari plate that cost me 50 bucks. I ate half of it, though, so anyway. ... We had a great time." — Now-retired Florida State coach Mike Martin, who had dinner with his son the night before his final game
Photos: 2019 CWS title series game 3