Griffin Doersching had competed in home run derbies before, but never won.
The Northern Kentucky slugger made sure his first victory was one he wouldn't forget.
"This is the coolest thing I've ever done," Doersching said after winning the College Home Run Derby at TD Ameritrade Park on Saturday night. "I was talking to (fellow competitor) T.J. Collett (of Kentucky) earlier. He said every college baseball team dreams of getting to Omaha and us six, we're in Omaha. We're here in the park. It's something you hold high in your heart. It's every kid's dream."
Doersching defeated Tyler Keenan of Mississippi 20-15 in the final round, thanks to a strong finishing kick.
Players had four minutes each round to hit as many homers as they could. They also had a 30-second timeout within those four minutes, and Doersching took his with 1:40 left. He went on a tear after his timeout, hitting 14 homers in the final 100 seconds.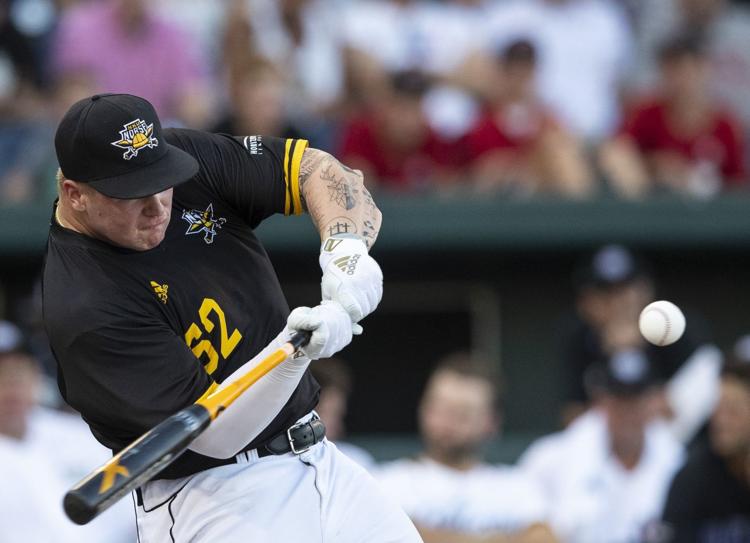 "One of the guys told me to take my hat off to switch it up. Then I started rolling, so we could say it was the hat. But in reality, I realized I'd come so far and I had to get it done," said Doersching, who led Northern Kentucky in homers and RBIs this spring.
The 6-foot-4, 250-pound Doersching was hitting prestigious shots to close out the win. He hit homers of 446, 461, 442, 437 and 442 after the timeout, some clearing the concourse in left field.
Doersching said he has hit a home run 465 feet during a game.
"If I swing hard and run into it, it will go a little ways," he said with a smile.
Doersching also handled the heat and humidity all night as he led after each round. It was still in the low 90s when the derby ended after 9 p.m.
"I got off to a good start in my last round, but I just died after that," said Keenan, who hit 11 of his 15 homers in the 2½ minutes. "Hats off to Griffin. That's impressive."
Doersching, who plays during the summer in Minnesota's Northwoods League, made sure he stayed hydrated during his stay in Omaha.
"I just drank unbelievable amounts of water last night," he said. "I mean, I went to bed full."
Keenan reached the final by winning a second-round tiebreaker over Duke switch-hitter Mike Rothenberg. The tiebreaker was most homers hit in the second round — Keenan hit 13, Rothenberg 12.
But it was Doersching's night, and he becomes the latest player from a non-Power Five conference to win the event. Before Doersching, the most recent four derby winners had been from Air Force, Morehead State, East Tennessee State and North Dakota.
Final round: Doersching (N. Kentucky) 20, Keenan (Mississippi) 15. Second round: Doersching 31, Keenan 25, Rothenberg (Duke) 25, Collett (Kentucky) 16. First round: Doersching 15, Rothenberg 13, Keenan 12, Collett 9, Selma (California) 8, Lanzilli (Wake Forest) 6.
Photos: 2019 Home Run Derby and Omaha World-Herald fireworks show