The glass slipper, it appeared, fit.
In six pitches, from 6:09 p.m. to 6:13 p.m., Michigan put three balls in play and scored a run. Second baseman Ako Thomas stomped on home and was mauled on his way to the dugout as the Wolverines took a 1-0 lead.
Cinderella was on her way.
Vanderbilt shortstop Ethan Paul met Mason Hickman on the mound as the ballpark organ played for the first time.
"This is a big park," Paul said over the cheers. "Just keep the ball down and let's get a ground ball, turn two and we'll be out of this thing."
Hickman nodded. He took a deep breath.
Then began to mow down the maize and blue.
He struck out three Wolverines to get out of the inning, then sat down seven of the next eight. By sunset, Hickman would throw 101 pitches in six innings, giving up one more hit after the initial three with 10 strikeouts.
He kept the hot-hitting Wolverines at bay, improving to 9-0 on the year — that ninth win for a national title.
"It all came down to pitching tonight," Vanderbilt coach Tim Corbin said.
Hickman, a sophomore, is often lost among this deep Vanderbilt roster. He pitches third behind Drake Fellows, who led the NCAA with 13 wins, and freshman Kumar Rocker, who threw a no-hitter against Duke in the super regional and was named the College World Series most outstanding player.
But Hickman was just as good as the MOP in Omaha.
Against Louisville last Friday, he threw six shutout innings in a 3-2 win. He gave up two hits and struck out three with two walks.
In total at TD Ameritrade Park, Hickman pitched 12 innings with 13 strikeouts, six hits and one earned run.
"You saw normal Mason," Rocker said. "We watch from the dugout each game, and he does it again. And he did it again."
Hickman is a 6-foot-6 righty from Hendersonville, Tennessee, and was a freshman All-American last season. He ranked third among freshmen with eight victories a season ago. He entered Wednesday's game 8-0 with a 2.08 ERA in 90 2⁄3 innings.
Still, he was a little nervous as he took the mound.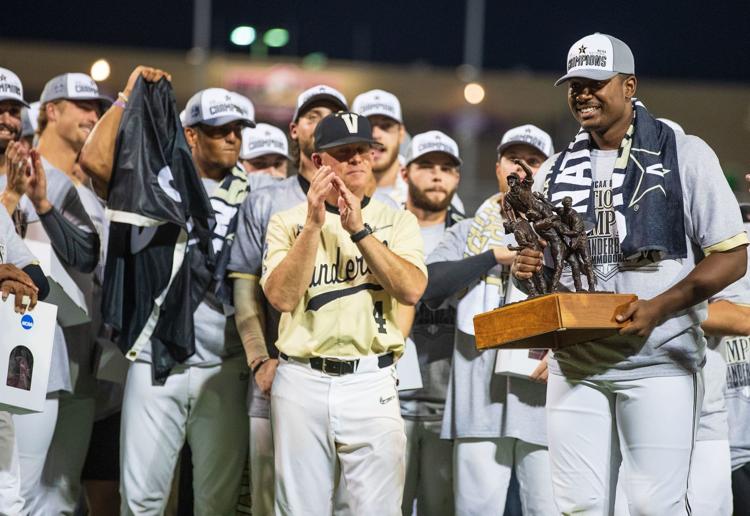 The three hits pinged off the Michigan bats. The mound visit happened. Then the game changed.
"It was just a small adjustment pitching with two strikes, it just seemed like I was doing fine living in the zone, but I kinda needed to expand a little bit," Hickman said. "I was just giving them a little too much to handle with two strikes and tried to make that adjustment it seemed going forward."
After that, Hickman found himself in a bind just once. At the top of the fourth, he loaded the bases on a walk.
He aimed low with Thomas at bat. On a 1-1 pitch, Thomas popped up to left. The 4-1 lead was safe.
Michigan left fielder Christan Bullock stomped on the plate in frustration on the jog from third.
Hickman strode by, stepping over the white paint on the third-base line, cool and collected with his head down. The Wolverines would never get closer to closing the gap, which ended up at 8-2.
In the postgame celebrations, Hickman, despite registering the win, wasn't the focal point. Fellows got a loud cheer when announced to take the podium. Rocker's was the loudest cheer of all, especially after being awarded MOP.
Hickman didn't seem to mind. He's used to it, and fine with it. He swatted Rocker on the butt after the photo session while fireworks cracked above. Hickman hugged family in a gray national championship shirt and white hat while "So Long, Farewell" from "The Sound of Music" played through the loudspeakers.
"Surreal," he said to a friend in the stands.
Photos: 2019 CWS title series game 3