Three decades separate the major league pitching careers of Eddie Bane and Huston Street.
But they do have a connection with one of the biggest stars in the game today, Mike Trout.
Bane was scouting director for the Angels when the franchise signed the two-time MVP and eight-time All-Star. Street, a closer for the Angels as recently as 2016, said Trout is the best player he played with — and Street also was a teammate of players such as Frank Thomas, Albert Pujols and Todd Helton.
"My boss, Dave Dombrowski, introduced me once as the guy who signed Mike Trout," said Bane, who has been special assistant for player personnel for the Red Sox since 2012. "I said, wait, I signed a lot of other guys, too. But I thought if that's what I did, that's pretty good."
Bane and Street now have another link. They were the 2019 inductees into the Omaha College Baseball Hall of Fame. Bane and Street were honored during Saturday night's College Home Run Derby.
They were dominant on the College World Series mound in different eras.
Bane pitched for Arizona State from 1971 to 1973, compiling a 40-4 record with a 1.64 ERA. When ASU made the CWS in 1972 and '73, Bane made three starts and finished with two complete-game shutouts. His shutout in 1973 came against Dave Winfield's Minnesota squad. Bane is one of three players in CWS history to throw multiple shutouts.
Bane said he had a great curveball in college, but he couldn't control that in the majors. His pitching career in the majors was brief — he finished with a 7-13 record in 44 appearances — but he's had a long career in baseball. He spent 11 years as a scout for the Dodgers before working for the Angels and Red Sox.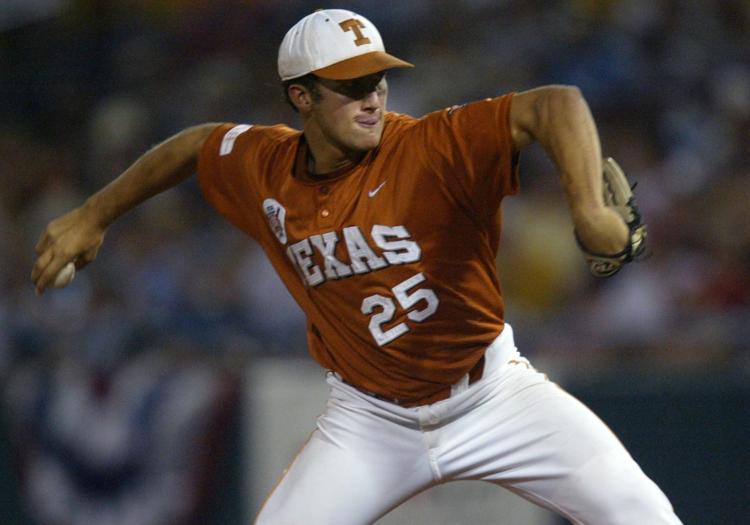 Street said he didn't initially expect to compete in sports in college — he thought he'd go to Texas to become a lawyer. But he ended up on the Longhorns' baseball team and, as a true freshman in 2002, became a dominant closer.
Street is the CWS career leader in saves with five, setting the single-series record with four when Texas won the 2002 national title. He was named the Most Outstanding Player of that series, and then he pitched at the CWS when the Longhorns returned in 2003 and 2004. Overall at the CWS, he had a 1.62 ERA.
"One of the coolest memories is my first appearance, warming up in the bullpen and the realization that you're going to pitch in the College World Series," Street said. "You grow up, you watch all these names and these faces and see those blue (outfield) walls. ... I was a huge college baseball fan."
Street became a three-time All-American before enjoying a lengthy career in the majors. In 13 MLB seasons, he finished with 324 career saves while pitching for the A's, Rockies, Padres and Angels. He had at least 33 saves in a season for each of his four teams.
He announced his retirement last March. Does he miss it?
"All the time," Street said. "I don't miss the lifestyle, I miss the games. I don't miss the work, I don't miss the pain."
Photos: 2019 CWS title series game 3