Score another one for northern baseball, courtesy of Michigan starter Tommy Henry.
The left-hander pitched a three-hit shutout Monday night as the Wolverines defeated Florida State 2-0 at the College World Series in front of 23,541 at TD Ameritrade Park.
It also came in front of longtime Seminoles coach Mike Martin, who was blunt about Henry's performance.
"That was a masterpiece," he said. "He really made it tough on us."
Michigan coach Erik Bakich also lauded Henry.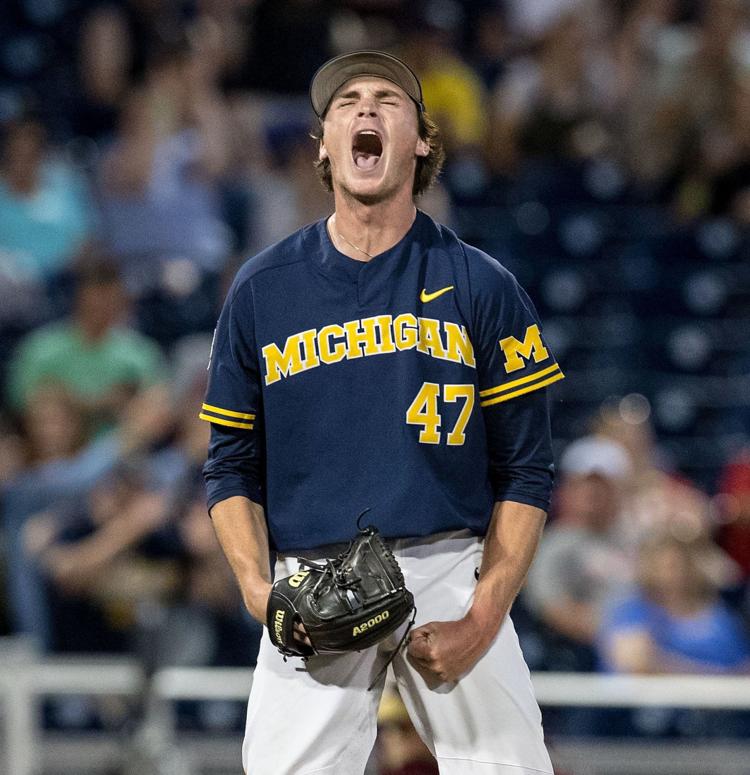 "In the biggest game in Michigan baseball history in a long time, he gave us something magical," the coach said. "I don't know if there's an adjective to describe him tonight."
Henry combined 10 strikeouts with pinpoint accuracy — he didn't walk a batter — to boost his record to 11-5. He yielded a single and a pair of doubles but the Seminoles only had one runner reach third base.
"I tried to attack the strike zone," Henry said. "You force the issue and let the defense work."
That defense played errorless ball behind him and turned in several outstanding plays. Two of the best were diving stops by first baseman Jimmy Kerr in the fifth and one by second baseman Ako Thomas in the ninth.
"They played beautiful baseball," Martin said. "There are no excuses because they kicked our fanny."
Michigan grabbed the lead in the first inning off Florida State starter CJ Van Eyk. Jesse Franklin lined a homer to right, which turned out to be enough offense for the Wolverines.
The lead grew to 2-0 in the fifth.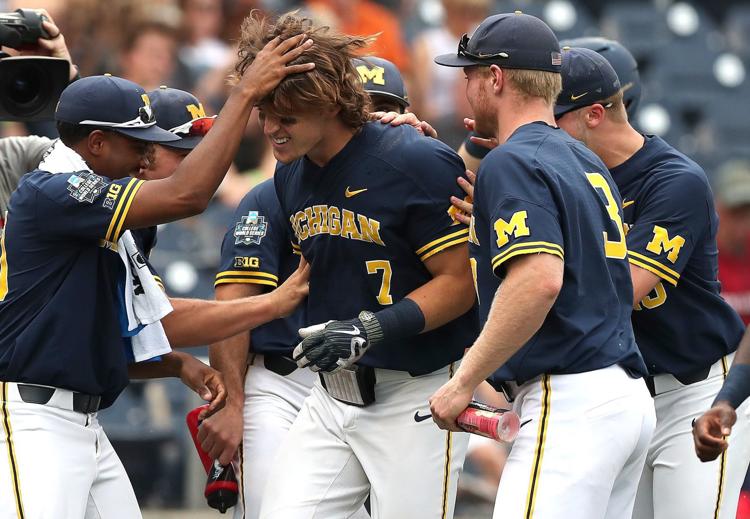 Jordan Nwogu led off with a single, went to third on a single by Franklin and scored on a single by Kerr.
Michigan did little offensively after that three-hit inning as relievers Chase Haney and Jonah Scolaro shut the door. The Wolverines went hitless the rest of the way while striking out eight times.
The problem for Florida State was that it could get nothing going against Henry, who was drafted 74th overall by Arizona in the MLB draft two weeks ago.
Florida State leadoff batter Mike Salvatore, who singled and doubled, said the pitcher kept the Seminoles off-balance.
"He was hitting his spots and mixing his speeds," Salvatore said. "And when we did square it up, we hit it at people."
Salvatore added there was no problem with the Florida State offense, which has generated one run in two CWS games.
"I don't think anything is missing," he said. "That's how this game goes sometimes and this was just one of those days for us."
Henry said it was a proud moment, not just for him but for his school.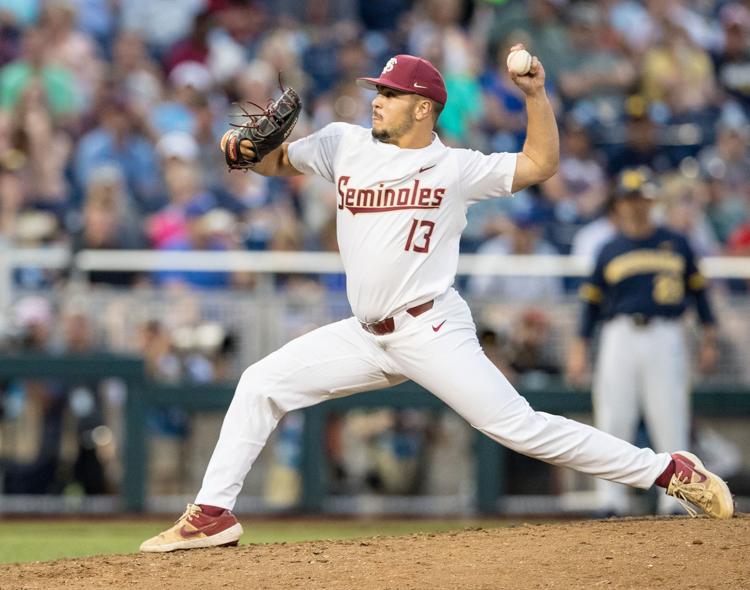 "I felt pure joy at the end of the game," he said. "You show up and play them one at a time for the block M on your cap."
The victory puts the Wolverines (48-20) in the driver's seat in their bracket. They will be idle until a 1 p.m. game Friday.
The CWS hill got a little steeper for Florida State (42-21), which will play Texas Tech at 1 p.m. Wednesday in an elimination game.
It also could be the last game in the 40-year coaching career of Martin, who is retiring at the end of this season.
"We'll need to be ready when our time comes," he said. "And that's what we intend to do."
Spotlight
It came on the second pitch — a home run. Sophomore Jesse Franklin set the tone with a shot in the top of the first inning, giving the Wolverines a 1-0 lead by smacking the ball into the right-field bullpen.
Tommy Henry. Two days after teammate Karl Kauffmann held Texas Tech to three runs through seven innings in a win, the left-hander delivered an outing that was even more masterful. Henry tossed a shutout, striking out 10 Florida State batters and surrendering just three hits.
The bottom of the fifth and sixth innings. Henry hit a batter to begin both frames, but kept Florida State from building momentum each time. After plunking a batter in the fifth, Henry recorded two strikeouts and a popup. In the sixth, he needed seven pitches to finish off FSU — and all seven were strikes.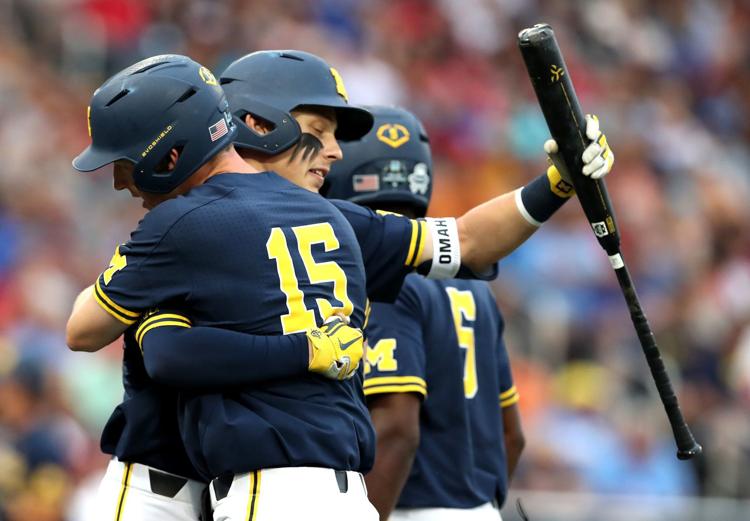 Letting Henry finish the game probably wasn't too difficult of a call for Michigan coach Erik Bakich. There were relievers getting loose in the bullpen late, but Henry needed exactly 100 pitches to slice up Florida State's lineup. The Seminoles had one man in scoring position all night.
Jordan Nwogu belly-flopped into third base. No joke. Maybe Nwogu started his slide a bit too early. Maybe he lost his balance. Whatever the reason, the result was far from graceful. Nwogu, trying to avoid a tag, braced his awkward landing with his hands as his chest skidded across the dirt. His helmet popped off, bounced off the ground and then knocked him in the face. The good news? He was safe.
If you can stay in the CWS winners bracket and you have a couple stud starting pitchers, you have a good chance to win a national title. No matter what your lineup looks like or how reliable your bullpen may be. Arizona used five pitchers in Omaha en route to the 2012 championship. A year later, UCLA won it all with six arms. Michigan is following that blueprint.
Franklin on Michigan's hot streak: "We just figured out that we were pressing and worried about just trying to win or trying not to lose, and now we're just playing loose and having fun at TD AmeriPlayground."
Photos: 2019 CWS Day three: Arkansas, Texas Tech, Florida State, Michigan