There's a larger story Michigan continues to write. About ending a long drought for its baseball program, conference and region.
But on Friday, the Wolverines' opponents left the TD Ameritrade Park field for the last time with one lasting question. Who are these guys?
Texas Tech swept Michigan in a three-game series in late March. And while the Red Raiders went on to become champions of the Big 12 and earn the No. 8 national seed, their Northern counterpart was among the last four at-large teams into the NCAA tournament.
But the Wolverines left no doubt as to the better team Friday. They scored in seven innings and Karl Kauffmann fired a quality start en route to a 15-3 victory that propels them into next week's College World Series championship while giving the Big Ten its first finals appearance in 53 years.
Michigan will play Vanderbilt in the CWS best-of-three final series, which begins at 6 p.m. Monday.
"That's not the same team we played," Texas Tech coach Tim Tadlock said. "Their starting pitching is phenomenal. To a man, in their lineup, every guy in their lineup has gotten better since we've seen them."
The offense was like lava — slow, damaging and unstoppable. The Wolverines scored multiple runs in five innings and plated a season-high 10 RBIs with two outs. They drew 12 walks. They hit .385 (5 for 13) with two away. Jesse Franklin logged a three-hit day with four RBIs while Jimmy Kerr finished 4 for 6 with a pair of solo homers.
And it could have been worse: Michigan left 14 runners on base.
Kauffmann, the junior right-hander and 77th overall draft pick of the Colorado Rockies, threw 100 pitches in six innings to hold down a top-20 offense. After Texas Tech forced him to throw 34 pitches in a three-run second, he didn't need more than 17 in any subsequent inning.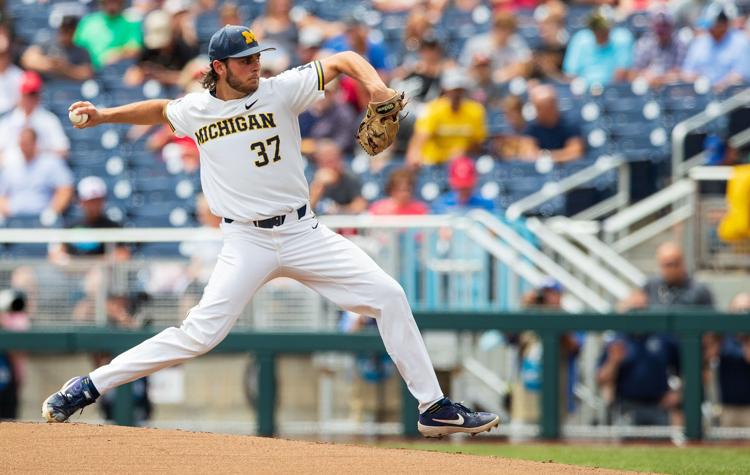 He had earned the win over the Red Raiders in Saturday's CWS opener, going seven innings in a 5-3 triumph. He said his approach was the same this time.
"There's plays all day being made," he said. "So just giving us the best chance to win and keeping the game close, that was kind of my mindset."
Michigan became the first team in nine years to score in each of the first four innings of a CWS game. Kerr and Blake Nelson connected on consecutive RBI hits in the first.
The Red Raiders (46-20) took a 3-2 lead in the top half of the second inning. RBIs from Dru Baker and Easton Murrell highlighted the inning as they made Kauffmann work.
But a run-scoring single from Michigan's Ako Thomas in the bottom of the second knocked out Tech starter Micah Dallas.
After Michigan (49-20) went ahead 4-3 on a two-out, two-run Franklin double, Thomas saved a pair of runs in the top of the third. The senior second baseman ranged up the middle on a spinning grounder and threw to first to preserve the lead.
The Wolverines pulled away from there, including a two-run Franklin double in the third and a wild pitch that scored a run in the fourth. A five-run sixth, which broke open the game, began with a Kerr bunt single against the shift. He hadn't bunted all year.
"I thought I'd try it out," Kerr said with a grin. "I guess the team fed from that and kept scoring the rest of the game."
Thomas drew a bases-loaded walk and Jordan Nwogu and Franklin added two-run hits as the Wolverines extended to 12-3.
Texas Tech put the leadoff man on six times and finished with two CWS wins for the first time in school history, but heads home empty-handed.
"Every out was tough; they made us play for all 27," shortstop Josh Jung said. "I think back in Lubbock, they gave us some runs and it seemed like the tables were turned. This time we gave them a few runs."
Michigan, which last reached the CWS in 1984, last made it this far when it won the national title in 1962. Michigan coach Erik Bakich said he hopes this run provides a boost for Big Ten teams, and Northern schools in general, as they work to grow the sport.
"It's a great step," Bakich said. "We don't want 35 years to go by before we get back here. But we don't recruit that way.
"We recruit more on par with all the conferences at the top of college baseball. Hopefully, this experience has moved the needle enough to where our program now is consistently competing to have these types of runs."
Spotlight
Michigan was dominant offensively with its death-by-paper cut approach. But a web gem by second baseman Ako Thomas in the third inning claimed the momentum permanently. With the Wolverines leading 4-3 and Tech putting two runners in scoring position with two outs, Thomas made a sliding snag of a Dru Baker roller up the middle. He corralled a tricky hop and got the out at first. Michigan pulled away from there.
Senior first baseman Jimmy Kerr drove in Michigan's first run with a double in the first and dropped down a bunt against the shift to begin his team's five-run sixth. Then he added a pair of solo home runs to finish 4 for 6 with four runs scored.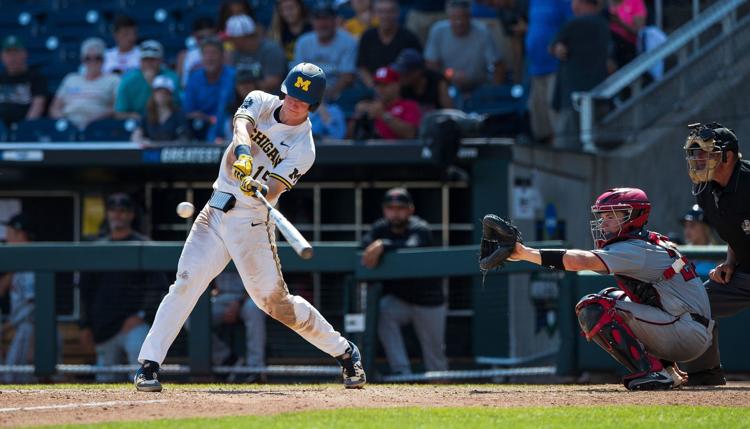 It probably didn't feel like a highlight for Texas Tech after falling behind 12-3, but left fielder Kurt Wilson's sliding catch in foul ground to end the sixth inning while avoiding a charging infielder was like something out of "The Matrix."
Michigan literally ran into a tough-luck out in the bottom of the third. After Christan Bullock walked, he attempted to steal second when a liner off the bat of Jack Blomgren hit him in the right calf. Blomgren was credited with a single, while Bullock was out by rule. Whether Tech second baseman Brian Klein would have reached the ball unimpeded is debatable — it could have resulted in Michigan runners at the corners or a double play.
Ten two-out RBIs is a season high for the Wolverines. Four of those came in the first four innings, including run-scoring hits by Kerr, Blake Nelson and Jesse Franklin along with a wild pitch.
The Wolverines have trailed for approximately 15 total minutes while moving to 3-0 at the CWS. Becoming the first Big Ten school to reach the final in 53 years is a great story at the macro level, but this team is playing loose and has used three pitchers so far in Omaha. After surviving the Corvallis Regional and beating UCLA, Michigan keeps refusing to cave in the big moments. Why not the north?
Michigan coach Erik Bakich: "I feel like I handed the keys off and (am) letting someone else drive right now, and I'm just a passenger. And they're taking a lot of us for a ride right now."
Photos: 2019 CWS Day seven: Michigan, Texas Tech, Vanderbilt, Louisville