After his third hit of the game, Drew Campbell just wanted to keep running.
By the time the Louisville right fielder had rounded second base late Thursday night, Campbell had to change his route from third base to the grass in left field.
That's because his teammates were racing onto the TD Ameritrade Park field to celebrate what Campbell had just done in the bottom of the ninth inning for the Cardinals in their elimination game against Mississippi State in the College World Series.
Campbell drove in designated hitter Danny Oriente with the winning run that powered Louisville to a 4-3, come-from-behind victory over the Bulldogs before an announced crowd of 24,201. It's the first time Louisville has won two games in a single College World Series.
The win moved the 51-17 Cardinals into Friday's 6 p.m. game against Vanderbilt needing a win to force a decisive second game Saturday. That's because the Commodores are still undefeated in the double-elimination tournament.
Entering the game Mississippi State was 47-0 when leading a game after eight innings. Louisville was just 1-16 when trailing after eight; the lone win in those situations came March 24 against Georgia Tech.
Trailing 3-0 heading into the bottom of the seventh, the Cardinals scored two runs to slice State's lead to 3-2. Louisville's sluggers began to heat up after Mississippi State starter JT Ginn left the game following a strong six-inning outing.
Bulldogs relievers Jared Liebelt and Cole Gordon combined to give up six hits and four runs in 65 pitches in the final three innings.
"Our bullpen has been awesome," Bulldogs coach Chris Lemonis said. "Things just didn't go our way tonight. They had big hits when they need to get those big hits. It was just two really competitive teams getting after it tonight."
Louisville coach Dan McDonnell said there was a lot of belief in the dugout entering that pivotal seventh inning.
"We showed a lot of fight," McDonnell said. "We didn't play great, but we hung in there. Fortunately we got into their bullpen. You have to tip your hat to JT; we just didn't get a lot of good swings against him."
Neither team got a runner to second base until the top of the third inning. That's when Cardinals starter Nick Bennett issued a one-out walk to the Bulldogs' No. 9 hitter Marshall Gilbert before hitting center fielder Jake Mangum with a 1-0 pitch.
Bennett battled back to strike out Jordan Westburg before coaxing a fly ball third out from Tanner Allen to center field to get out of the inning.
It took until the fourth inning to get the first two runs of the game posted. Bulldogs second baseman Justin Foscue got things started with a one-out single to left.
After MSU catcher Dustin Skelton struck out swinging for the second out, Bulldogs left fielder Rowdey Jordan sent a shot to right field that Campbell could not run down.
The ball went over Campbell's head and caromed off the base of the right-field wall. Foscue sprinted home from first base, and Jordan made the turn at second base to try to turn his hit into a triple.
A record-setting single started the Bulldogs' march in the seventh inning.
Mangum laced a one-out single through the right side for his 108th hit of the 2019 campaign, a total that now makes him State's all-time single-season leader. The senior from Pearl, Mississippi, also finished his time as a Bulldog fourth all time in NCAA Division I history with 383 career hits.
Westburg followed with his own single through the left side, and those two hits chased Louisville reliever Bryan Hoeing from the game. Garrett Schmeltz took the ball from Hoeing and on his fourth pitch gave up an RBI single to center field by Allen that scored Mangum for the 3-0 MSU lead.
Louisville pared State's lead back with that two-run rally in the bottom of the seventh. Liebelt got the call and promptly gave up back-to-back walks to Tyler Fitzgerald and Alex Binelas, followed by an infield single to Jake Snider to load the bases.
After Liebelt got Oriente to strike out on five pitches, Campbell singled through the left side to drive in Fitzgerald for Louisville's first run.
Justin Lavey then reached on a fielder's choice to second base, and that allowed Binelas to score from third to pull the Cardinals within 3-2. Those two runs put Louisville in position for the dramatic ninth-inning rally.
The ninth inning began with a walk to Snider, who then advanced to second base on a botched pickoff attempt at first base. Oriente's single to left-center got Snider home to tie the game before Campbell's single to center on a 2-2 pitch.
"Tip your hat to Louisville; they got a couple of big hits late," Lemonis said. "That's kind of how you had to beat us, on the last swing, because our guys have that 'never-die' attitude."
Spotlight
Louisville's Drew Campbell was trying to bunt the potential winning run from second base to third. But he couldn't get the bunt down. He kept fighting, though. After fouling off a couple of two-strike pitches and taking two out of the strike zone, Campbell ripped a drive into right-center field for a walk-off in the bottom of the ninth.
Campbell had three hits and two RBIs. His RBI single in the seventh gave Louisville its first run of the game. Then he clinched the victory in his final at-bat.
Player of the game, Part II
Mississippi State freshman JT Ginn, who hadn't pitched in 20 days because of injury, set the tone for the Bulldogs. He surrendered three hits over six scoreless innings and retired 10 of the last 11 he faced.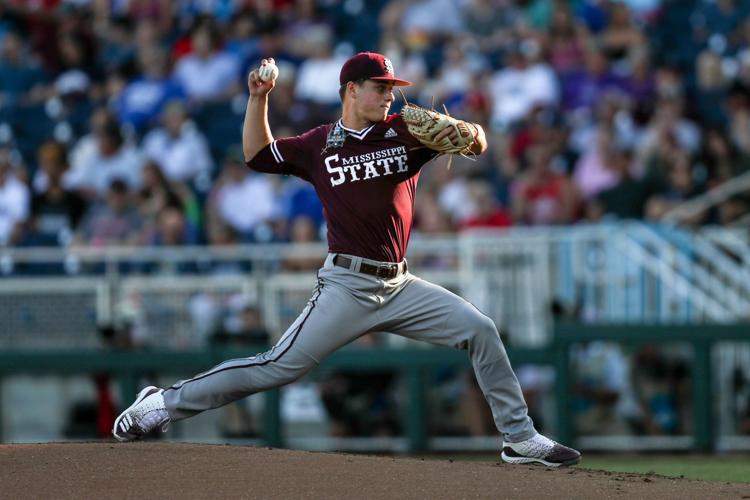 Rowdey Jordan gave Mississippi State a 1-0 lead with an RBI double in the fourth inning. It could have been a triple. Jordan was running like a man destined for third base. But after he rounded second, he lost his balance and fell. He had to scramble back to second and settle for a double. He ended up scoring anyway.
Louisville's offense isn't overpowering anyone in Omaha. It's totaled 10 runs in three games with a team batting average of .250. Twenty-two of the Cardinals' 24 hits have been singles. They had no extra-base hits Thursday. Yet they won.
Incredible. This game so rarely disappoints. Mississippi State appeared to be in control for six-plus innings, but Louisville's collection of scrappy hitters found a way to produce a classic CWS comeback. The Cardinals, who trailed 3-0, scored twice in the seventh and twice in the ninth. Can they recreate the magic twice more?
Photos: 2019 CWS Day six: Louisville, Mississippi State