Vanderbilt's vets didn't need to say anything to their stoic pitching phenom before Tuesday's game.
No inspirational pep talk. No reassuring words. No passionate reminder of what would be at stake.
Kumar Rocker's the guy who closed down the pitching lab in the fall with sophomore closer Tyler Brown. Rocker's the one who at a practice once buzzed teammate Philip Clarke with a mid-90s heater before the sophomore had finished his pre-swing routine. Rocker's the stud who told his roommate one Saturday morning that he felt a little sick and just hoped to give his team five or six innings — then he hurled a 19-strikeout no-hitter to keep the Commodores' season alive.
Rocker would be ready for Tuesday's do-or-die rematch against Michigan. The Vanderbilt players were sure of it.
The touted right-hander held the Wolverines to one run over 6⅓ innings of work, guiding the Commodores to a 4-1 victory and forcing a winner-take-all finale for the College World Series title on Wednesday.
"It's great to have a freshman that we can trust like that," Clarke said.
Rocker sure didn't waste any time Tuesday making his presence felt against a UM team that had scored in the first inning of all four CWS games up to that point.
He blew a 96 mph fastball by Michigan's leadoff man to pick up his first strikeout. Two batters later, the bottom dropped out of his breaking ball and the Wolverines' cleanup hitter swung right over the top of it.
Rocker struck out the side in the third inning. High heat. A bullet on the outside corner. An ankle-high curveball.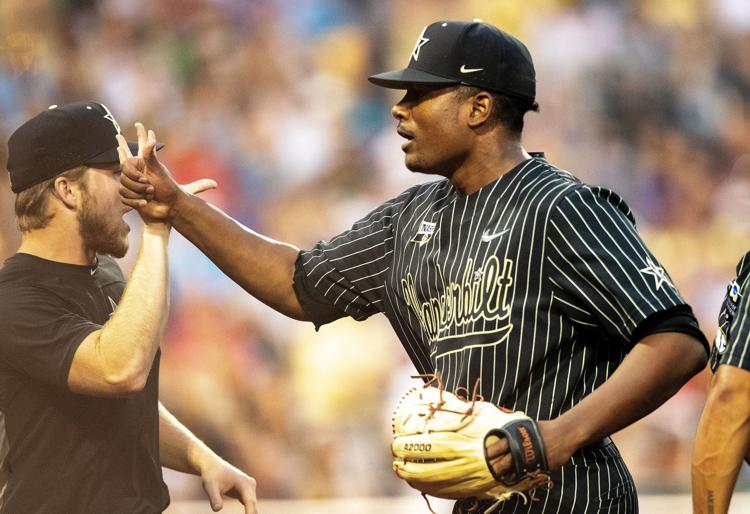 Every time Michigan seemed to generate some momentum, Rocker buried the Wolverines with his pro-ready pitching arsenal. He has a changeup, too, but he didn't even need it Tuesday.
"Once you sit on a curveball, he's coming with a 95-mile-per-hour fastball, either inside or outside," UM junior Jordan Brewer said. "It's hard to see, and it comes out of his hand really well."
Michigan's best chance to score came when it put runners on first and second with no outs in the sixth inning. Vanderbilt already had a 3-0 edge, though. Rocker ended up recording a strikeout and inducing two lazy flyouts.
"We had the right guy on the mound," Commodores coach Tim Corbin said. "I haven't been around him that long, but I know the fibers of the kid. I know how he's directed. I know how he thinks. I know how he attacks, and I felt like we had a chance (Tuesday) with him on the mound."
And now Vanderbilt and Michigan will face off in a rubber match.
It's the fifth time in the last six years that the CWS finals will come down to a decisive third game. The Commodores were involved in two of those — they won in 2014 but lost in 2015.
The Wolverines are seeking their first national championship since 1962. They'll be closer to full strength on Wednesday — starter Jeff Criswell took a day off after throwing Monday and ace Karl Kauffmann will be available after four days rest.
Vanderbilt didn't have the luxury of playing it safe Tuesday.
It turned to its surging star, just like it did in an elimination game against Duke (no-hitter) and in last week's winners bracket showdown against Mississippi State (one run over 6⅔ innings).
Rocker was at his best again on the big stage Tuesday, setting a school record at the CWS with 11 strikeouts.
"I just think about my team and I think, yeah, they're going to hit," Rocker said. "They've got me if I fail."
Spotlight
Freshman right-hander Kumar Rocker held Michigan to three hits and one run over 6 1⁄3 dominant innings. He struck out 11. He took control from the get-go.
Michigan put its first two men on base to begin the sixth inning, trailing 3-0. But it couldn't mount a rally. Slugger Jimmy Kerr struck out. Blake Nelson and Christan Bullock both flew out. If the Wolverines were going to get back into the game, that was their moment. And they missed it.
Vanderbilt second baseman Harrison Ray dived to his left and gloved the hard-hit grounder. He hopped to his feet and fired to first base for the first out of the ninth inning. Ray took a leadoff single away from Michigan's Jack Blomgren and ensured that the Wolverines wouldn't be rallying.
Nelson barehanded a slow-roller in front of third base and fired to first — the throw just beat a sprinting Austin Martin for the second out of the sixth inning. Vanderbilt had a runner on third, so it did score on the play. But the defensive effort was special.
After the Commodores took a 1-0 lead on an RBI groundout in the fifth inning, Michigan chose to intentionally walk the next two batters (Vanderbilt's two- and three-hole hitters). That loaded the bases with two outs. But reliever Benjamin Keizer induced a groundout to escape the jam.
The three pitchers who've spearheaded the Wolverines' run to the CWS final all had to rest Tuesday. And Vanderbilt went with Rocker. The result favored the Commodores. That's no surprise. But it wasn't exactly an overwhelmingly dominant performance. Both teams will likely enter Wednesday's finale with confidence.
Michigan sophomore shortstop Jack Blomgren: "We've been resilient all year. Those two (pitchers) coming in (Monday) have been great all year, so we have so much confidence in them, and it's going to be about how bad (each) team wants it."