With two of the final at-large teams to make the NCAA tournament knocking off a pair of national seeds, Saturday's first day of the College World Series proved that anything can happen at TD Ameritrade Park.
Florida State followed Michigan's 5-3 upset of No. 8 Texas Tech with a 1-0 victory over No. 5 Arkansas in front of 26,155, scoring the game's lone run on a sacrifice fly in the ninth inning.
J.C. Flowers threw his hands in the air as he crossed the plate after right fielder Heston Kjerstad hauled in a fly ball by Nander De Sedas. Flowers then pitched a 1-2-3 ninth to close out the win.
"There was a lot of emotion," said Flowers, FSU's center fielder. "It was a close game all the way through. Arkansas played really, really well. At the end of the day, one team's going to come out on top. I was just happy to be able to score the first — and only — run and be able to close it out for my team."
Florida State starter Drew Parrish (9-5) threw eight shutout innings, stranding the potential go-ahead run at third in the bottom of the eighth with a pair of strikeouts to send it scoreless to the ninth.
Flowers was hit by a Cody Scroggins pitch to open that inning, then was racing toward second on a hit-and-run when teammate Carter Smith sent a ball up the middle that Scroggins got his pitching hand on.
Arkansas shortstop Casey Martin fielded it near the second base bag and tagged Flowers, who had gone into a hard feet-first slide. The collision sent the ball and Martin's glove flying across the infield.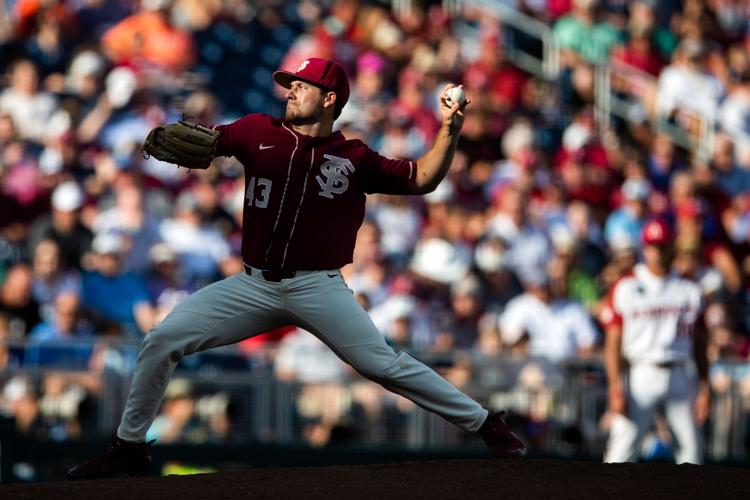 "I stuck my glove out to try to touch him and ended up putting it right on his chest," Martin said. "He came in hard and took my arm with him. The ball went flying. My glove went flying. It wasn't intentional. That's just part of the game sometimes. That's just baseball.
"Some days the ball just hops a little funny."
Martin, who had an ice bag taped to his glove-side shoulder after the game, did what he could on the play. But Flowers was safe because the ball had been jarred loose. Matheu Nelson then bunted him to third.
De Sedas lifted the fly ball to right field off Matt Cronin, who had replaced Scroggins after the play at second base. Kjerstad's throw to home from right was short and up the line. Flowers scored standing up, then recorded a groundout, lineout and strikeout to end the game after coming in from center to pitch.
Parrish, an eighth-round pick of the Kansas City Royals, traded zeroes with Arkansas starter Isaiah Campbell, who was stellar in seven shutout innings. Campbell, the losing pitcher in last year's CWS championship finale, fanned 10 while never allowing a runner past second base. Like Parrish, he gave up five hits while walking two.
"It's fun when you're battling, putting up zeros," said Campbell, who got a no-decision. "It's the biggest stage in baseball. And to do it in front of 26,000 fans, it's special. We gave the fans a treat, pitcher duel."
Parrish ranked Saturday's performance above all his others because of the stage it was on.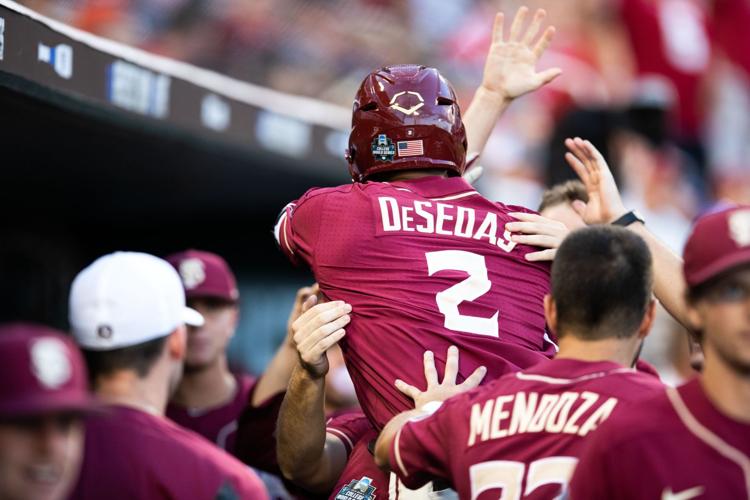 "Every kid dreams of playing at that field," he said. "Being in a situation like there was tonight — with great fan support from both sides and great competition — it was probably the best game of my career."
Parrish got out of a jam in the third when Matt Goodheart lined into a double play with two runners in scoring position and one out. He fanned Martin and Goodheart in the eighth with a man at third base.
The win, the first in an opening game by FSU in its past six CWS appearances, advanced the unranked Seminoles (42-21) into a winners bracket game against Michigan (47-20) Monday night. Texas Tech (44-19) and Arkansas (46-19) meet in an elimination game earlier that day.
Retiring Florida State coach Mike Martin, a sentimental favorite in this tournament at the end of his legendary career, said the heart and togetherness of his team have stood out during this late-season run.
"You learn a lot about people when things don't go their way," he said. "And there were some things that so-called didn't go our way. But they fought. They're still fighting. They know they haven't decided anything. There's a lot of baseball left. That's encouraging as a coach to know that you have a team like that."
Spotlight
Florida State's J.C. Flowers tagged up from third base on a fly ball to right field with one out in the top of the ninth inning. He sprinted home — the throw was up the line — so an elated Flowers raised both arms in the air as he crossed the plate. The lone run, pushed across by Nander De Sedas' sacrifice fly, proved to be the winner.
Both starting pitchers. Arkansas' Isaiah Campbell struck out 10 and scattered five hits over seven innings. Florida State's Drew Parrish threw eight scoreless innings, helping shut out the potent Arkansas lineup for the second time this year.
In the second inning, Flowers took extra bases away from Arkansas' Heston Kjerstad. The FSU center fielder made a leaping grab in the left-field gap, slamming into the wall as he snagged the fly ball for the second out.
A hard-hit bouncer skipped off the pitching hand of Razorback reliever Cody Scroggins in the ninth. Shortstop Casey Martin scooped it up and tried to apply the tag as Flowers slid into second. But he couldn't hold on. The ball squirted out of the glove. The contact actually ripped the mitt off Martin's left hand and launched it several feet into the air. Flowers was safe and the Florida State scoring threat was on.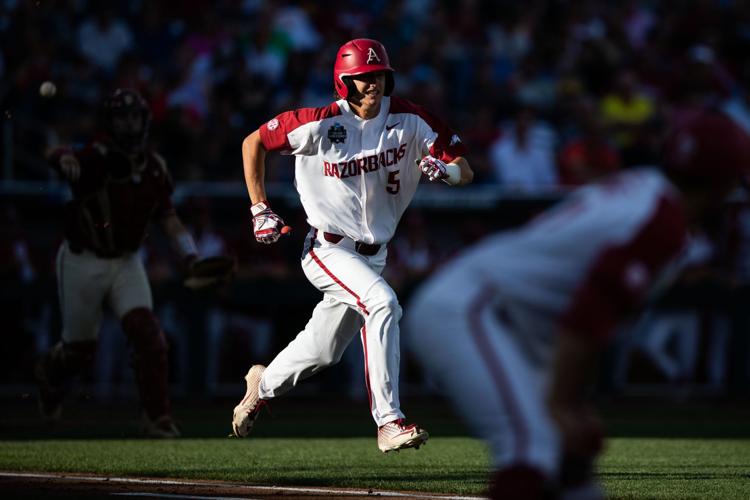 Arkansas put the potential go-ahead run on third base with one out in the eighth inning. The Razorbacks had put together a few chances before, but that was clearly the best one of the evening. And they couldn't convert. Parrish recorded back-to-back strikeouts to escape the jam, giving Florida State all the momentum.
Team. Of. Destiny. … OK, maybe we shouldn't get that hyperbolic. But coach Mike Martin is retiring, and he's here for the 17th time, and he's never won the CWS. And the Seminoles (one of the last teams to earn an NCAA tournament at-large bid) are on an improbable hot streak.
Martin: "It was a game that if you knew you could go to a baseball game every night, you could be big-time baseball fans — because that's the way that you hope your team plays every night."
Photos from 2019 CWS Day 1: Michigan defeats Texas Tech, Florida State beats Arkansas