Chances are you've heard Rod Bramblett's voice.
The radio play-by-play announcer dubbed the "Voice of the Auburn Tigers," Bramblett provided the soundtrack to so many iconic moments in Auburn's history.
That includes the "Kick Six," when Auburn's Chris Davis returned an Alabama field goal for a touchdown to win the 2013 Iron Bowl.
"Auburn's gonna win the football game!" Bramblett bellowed over the exultations of broadcast partner Stan White. "They're not gonna keep them off the field tonight!"
Bramblett, who called Auburn baseball games for 27 years, and his wife, Paula, were killed in a car accident May 25 in Auburn, Alabama.
Since then, the Tigers have been playing for him.
"Rod was a big part of who we are as a university and as a baseball team, especially," sophomore pitcher Jack Owen said. "He was nothing but kind. He was always supporting us."
Freshman pitcher Richard Fitts said the loss of Bramblett, Auburn's voice for football and men's basketball as well as baseball, hurt. But it brought the baseball team, and the school, closer together.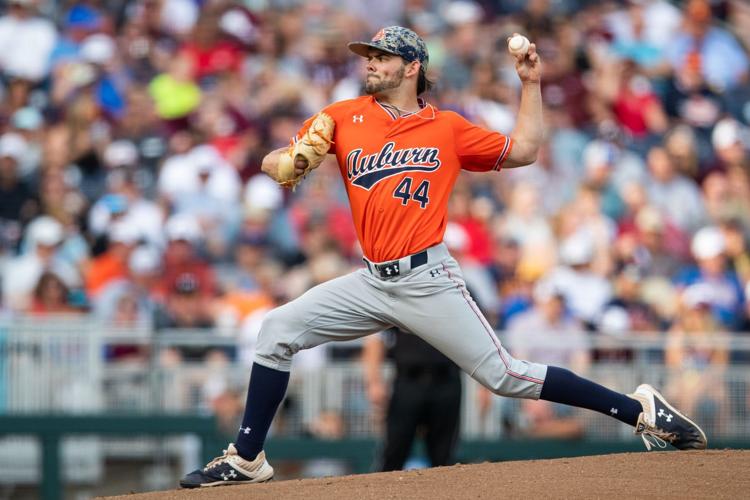 "The whole Auburn family has grown even closer than they were before under tragic circumstances," Fitts said.
Coach Butch Thompson called the team together, trying to boost spirits.
"He was basically making sure that we were OK with it," Fitts said. "In this time, everybody's trying to be uplifting of everybody."
Bramblett died two days after Auburn was eliminated from the SEC tournament.
Then Auburn swept its NCAA regional in an upset, beating No. 3 national seed Georgia Tech twice to advance. In the Tigers' first game against the Yellow Jackets on June 1, Steven Williams socked a walk-off homer to give Auburn a 6-5 win.
"There's no question when that ball came off that bat you didn't have a feel for a second as it was traveling that Rod Bramblett wasn't with us tonight," Thompson said.
The Tigers won again the next day, then took two out of three from host North Carolina in the super regional the weekend after.
Sign up for World-Herald daily sports updates
Get the headlines from Creighton, Nebraska, UNO, high schools and other area teams.
"For you, Rod Bramblett, for you, Paula Bramblett, Auburn is going to Omaha," said Andy Burcham, Bramblett's longtime broadcast partner and close friend.
Now, Auburn is playing in the College World Series for the first time since 1997 — back when their late play-by-play man was just a few years in.
"(Bramblett) would have loved this," Burcham tweeted Sunday afternoon, as the Tigers prepared for their opening game against Mississippi State. Auburn players honored Bramblett again Sunday with hat and helmet decals in his honor.
Auburn took a 4-1 lead into the bottom of the ninth, but an error allowed Mississippi State to tie the game. The Bulldogs won it two batters later.
But the Tigers' CWS run isn't over yet. And though Bramblett isn't behind the mic to take it in, Auburn knows he's still there.
"I know he's with us and he's watching over us as we've gone along this journey through the postseason," Owen said. "I know he's proud of us."
Photos: 2019 CWS Day two: Vanderbilt, Louisville, Mississippi State, Auburn