Michigan's junior right fielder launched himself headfirst toward home plate in the first inning of the biggest game of the season, shouting with glee as his 6-foot-1 frame skidded across the dirt.
Jordan Brewer screamed. He hopped to his feet. He stared at his teammates who were pouring out of the dugout to celebrate another tone-setting start here in Omaha — and Brewer started clapping and yelling some more.
So much for pressure. Or nerves. Or timidity.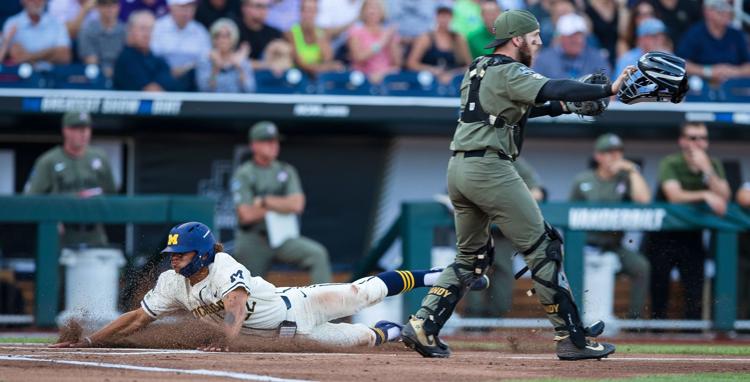 The Wolverines were sporting the replica jerseys worn by the program's last national title winners — 57 years ago — yet strutted around TD Ameritrade Park with the fervor and flair of an Omaha regular. They had a four-run lead on an SEC giant before the 24,707 in attendance had all found their seats.
Michigan went on to secure a 7-4 victory over Vanderbilt in Game 1 of the CWS finals. Now the Wolverines (50-20) are one win away from a title.
"We're out there just having fun and goofing off — and when good things happen, it just explodes even more," Brewer said. "This is what our team is."
Vanderbilt (57-12) found out the hard way Monday. From the get-go.
Jordan Nwogu stepped into the batter's box for the game's first at-bat the same way he always does. He shuffled the dirt and took some deep breaths — it's the routine he uses to block out the noise and focus.
Five pitches later, Nwogu was on base. Two batters later, Michigan had a 1-0 lead. Then senior Blake Nelson lined a single into left and Brewer bolted to the plate to make it 2-0.
The blitz was on. And amidst the high-fives, the back-pats and the helmet taps, Brewer eventually skipped past his teammates and found UM starter Tommy Henry in the dugout.
You've got our back and we've got your back, Brewer told the talented lefty.
"After that, we just started rolling," Brewer said.
Henry, who pitched a complete game last week, held a potent Vanderbilt lineup to seven hits and four runs over 8⅓ innings.
He stranded the potential tying run at third base with a strikeout in the sixth. His defense produced moments of brilliance behind him — like first baseman Jimmy Kerr's pick to complete a double play in the third and Brewer's assist from right field to nail a runner at third base in the eighth.
"They obviously came out and got us," Vanderbilt junior JJ Bleday said. "And credit to their guy. (Henry's) been their man all year. He put us away."
Bleday and his teammates make up the prospect-loaded ballclub that won both the regular-season and tournament titles in the nation's best conference yet had to climb uphill all night.
The Commodores trimmed their deficit to 4-2 in the second. They closed to 4-3 on Bleday's 27th home run of the year in the sixth.
They never did figure out how to extinguish the Wolverines' zeal, though.
Michigan was one of the last four squads included in the 64-team tournament field. It hadn't made an Omaha run in 35 years.
But its players aren't thinking about that. They're just grateful to have more games to play, because they now know what they're capable of.
So when Kerr jettisoned an 0-2 pitch over the right-field bullpen and into the first row of bleachers, Michigan's players started flexing like champions.
"There's certain moments like that when you just know you have all the momentum," Nwogu said. "And it's over for the other team. Those moments are key."
And they're not ready to relent. Game 2 is set for 6 p.m. Tuesday.
Spotlight
Senior first baseman Jimmy Kerr belted a no-doubt, two-run homer in the top of the seventh inning, pushing his team's lead to 6-3 and giving the Wolverines the momentum for good. It was his third long ball of the CWS.
The eighth-inning throw from Michigan right fielder Jordan Brewer, who loaded up and nailed a Vanderbilt runner trying to advance from first to third on a one-out single.
Tommy Henry. The junior left-hander threw a complete game shutout last week. He followed that up with another gem Monday, holding a potentially treacherous lineup to seven hits and four runs over 8⅓ innings of work.
The top of the first. Or the top of the second. Take your pick. Michigan scored twice in both of those innings, setting the tone right from the start. Seven of the first nine Wolverines reached base. They forced Vanderbilt starter Drake Fellows to throw 51 pitches in his first two frames.
Henry was teetering in the sixth. He gave up a monster solo home run. After a two-out error came back-to-back wild pitches. The potential tying run stood on third base. But Henry abruptly found his poise. He struck out left-fielder Stephen Scott and preserved Michigan's lead.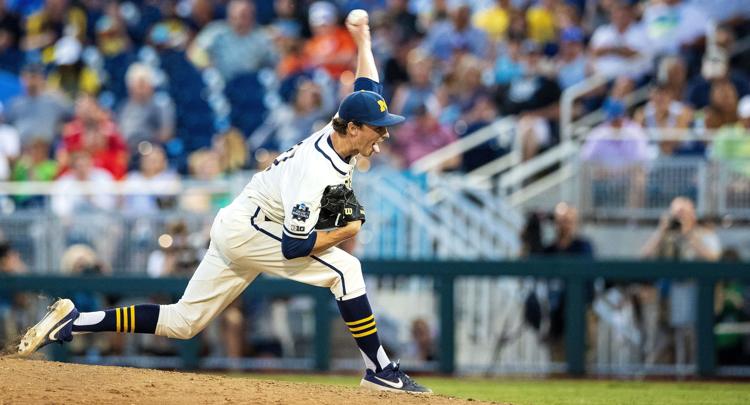 The Wolverines' improbable run continues. They upset the tournament's No. 1 overall seed, UCLA, in their super regional. They went 3-0 to clinch a CWS finals spot here last week — and two of those wins came against No. 8 seed Texas Tech. Now they're 1-0 against No. 2 seed Vanderbilt. Michigan's playing great baseball.
Vanderbilt coach Tim Corbin: "I don't give a crap where they came from. They got into the tournament. Once they got into the tournament, they're a good team. Fresno State did it, Coastal Carolina did it. It doesn't matter. Once you get into the tournament, then it's a new lease on life. They played well. They were the better team (Monday)."
Photos: 2019 CWS title series game 1