Longhorn fans packed the area around the ballpark. Burnt Orange strolled around like it owned the place.
UT fans were all smiles amid the high-fives, aroma of various grilled foods, picturesque urban living and plentiful spots to grab a beer. Man, Austin, Texas, sure is fun in mid-June.
That's actually the scene in downtown Omaha, largest city in a state that bleeds Husker red. A place where we live and breathe Nebraska football. Not to mention, a place that has experienced heartache many a time at the hands of Texas.
So why are Husker fans mingling with Longhorn fans?
Why are they taking pictures in front of a Cadillac with longhorns on the hood?
Why are they cheering for SEC schools?
To an outsider it looks like blasphemy. Yet to a trained CWS fan, this is the norm.
There is no way to fully explain why we suspend our bitter rivalries and root every June for Texas, Miami and Florida State, as well as Big Ten schools that aren't Nebraska.
How could you explain it?
That's just Omaha. That's just college baseball. That's just the CWS.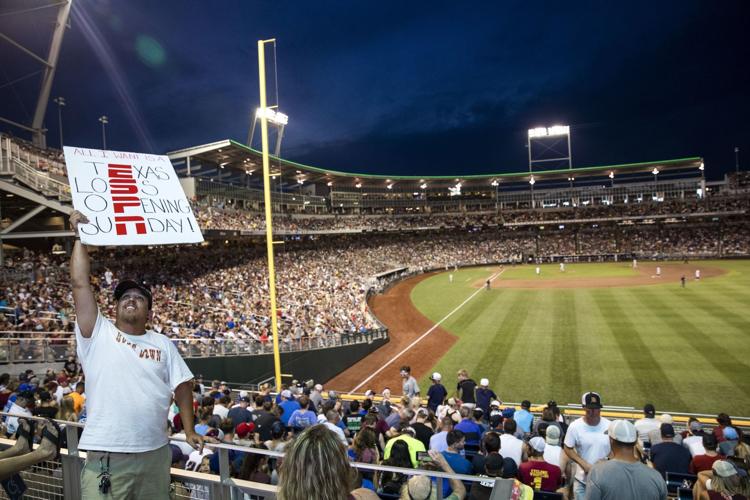 We love every team for two weeks in June. And they return the favor.
C'mon, those Texas folks are pretty fun, once you get to know them. LSU fans feel right at home.
Former Longhorn coach Augie Garrido could have run for mayor. And won.
Is that odd that a fan base so devoted to Husker football can take a "love thine enemy" attitude in baseball? Maybe.
Where else would you see such behavior? Nowhere but here.
The 10 most successful teams in College World Series history