ESPN's slow-motion video clip of Louisville pitcher Luke Smith shouting presumed obscenities toward a Vanderbilt hitter circulated social media Friday night.
But both players involved downplayed the moment afterward.
Smith initially stared down senior Julian Infante, who struck out to end the eighth inning. Then Smith started shouting toward Infante, who was barking back as he walked toward his own dugout.
Smith said he was just celebrating an adrenaline-fueled moment. "I love that part of baseball," he said.
And Infante? He's not sure why he was the target of the passionate outburst, but he indicated that he had no issue with the confrontation.
"Honestly, it's just irrelevant," Infante said. "Emotions get high when games are going like that. He's a great pitcher. Really, it's fine. Nothing happened. It's just baseball."
But the incident probably did inspire the Commodores.
The next time they came to the plate was the top of the ninth inning, when they flipped a 2-1 deficit and scored the go-ahead run in a 3-2 win over Louisville. During the rally, umpires twice issued reprimands to Vanderbilt players, who spilled out of the dugout to celebrate each time a run scored.
"I definitely think it helped," Infante said. "We're always fired up, but if you see something like that, we've got each other's backs. It worked out."
Sign up for World-Herald daily sports updates
Get the headlines from Creighton, Nebraska, UNO, high schools and other area teams.
Ray's catch secures victory
The looping blooper looked like it might land just over the head of Vanderbilt's pitcher with two outs in the ninth. And for an instant, second baseman Harrison Ray was reminded of a similar play he had earlier in the year.
He didn't make the catch the first time.
But on the big stage Friday, Ray delivered. The junior charged through the infield dirt and made a diving catch on the grass for the final out of the game.
"The crazy thing is I had another one of those earlier in the year — same exact thing — and I laid out, but I didn't catch it," Ray said. "So when I saw it off the bat, I was like, all right, I've got to get this one."
If Ray hadn't been able to secure the catch, Louisville likely would have had runners on first and third with two out for leadoff man Lucas Dunn.
Instead, the Commodores got the win.
"It almost feels like a walk-off," Ray said. "Our emotions are very high right now."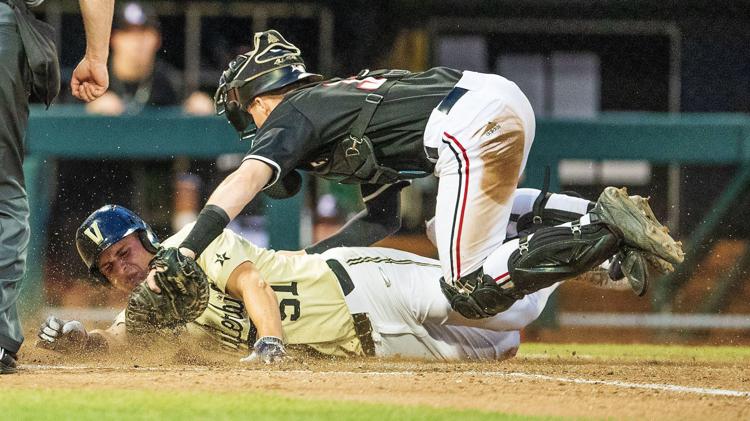 'Bizarre happenings'
If Vanderbilt would have lost Friday night, coach Tim Corbin would have pointed to a couple of unusual plays — one in the seventh inning and another in the ninth.
The first came shortly after Louisville had tied the game 1-1. The Cardinals then took the lead on an RBI single by Dunn, a ball that deflected off the pitcher's glove into left field.
The second came when Vanderbilt was holding a 3-2 lead. Louisville's Drew Campbell hit a one-out grounder toward first base that would have been fielded, but it struck the bag and caromed into right field for a double.
"There were some bizarre happenings tonight,'' Corbin said. "It's just one of those games.''
Relay not good enough
Louisville coach Dan McDonnell said his team failed to execute on a crucial play in the ninth, one that produced the tying run for Vandy.
With a runner on first and one out, Ethan Paul doubled into the right-field corner. Drew Campbell chased it down and threw to the relay man, but that throw was up the line enough that catcher Henry Davis was unable to tag the sliding runner at home.
A good throw probably would have gotten the runner at the plate.
"He's out if we make a clean relay,'' McDonnell said. "It just reminds you next year that you'd better work on those tandem relays.''
Bleep it out
The microphones designed to pick up game sounds for ESPN caught a little too much sound from Louisville catcher Henry Davis.
Twice when Smith got a strikeout to end the inning, Davis unleashed a "(bleep) yeah!'' before heading to the dugout.
Photos: 2019 CWS Day seven: Michigan, Texas Tech, Vanderbilt, Louisville